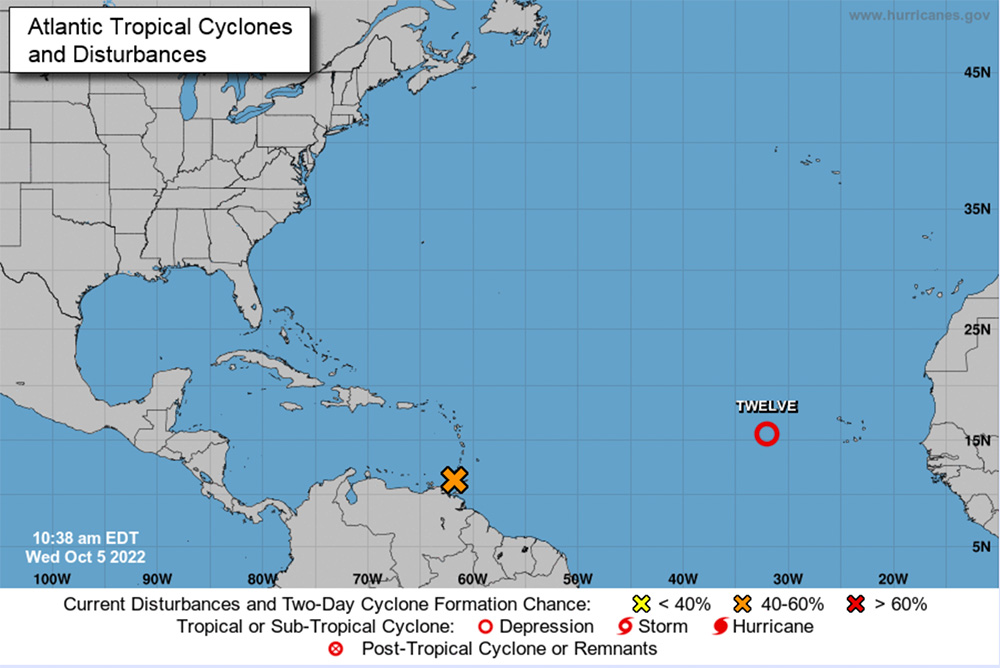 Tropical wave approaching Windward Islands has high chance of development
The National Hurricane Center (NHC) is monitoring a broad area of pressure located near the southern Windwards island which continues to produce a large area of disorganized showers and thunderstorms.
As of 8 am on October 5, the NHC has indicated there is a 60 percent chance of formation over the next two days and an 80 percent chance over the next five days.
Radar imagery from Barbados and surface observations indicate that the system has not become any better organized since Tuesday. However, upper-level winds are forecast to become more conducive for development, and a tropical depression is likely to form over the next several days if the system remains over water while moving generally westward at about 15 mph over the southeastern and southern Caribbean Sea.
Regardless of development, heavy rainfall with localized flooding, as well as gusty winds to gale force, are expected over portions of the Windward Islands, northern portions of South America, and the ABC Islands during the next couple of days.
An Air Force reconnaissance mission was launched to investigate the system on Wednesday morning.
The St. Vincent and then Grenadines Meteorological Services has advised that a strong tropical wave is affecting the island and a flood watch remains in effect until 6pm on Wednesday, October 5.
A wind and marine advisory have also been issued.