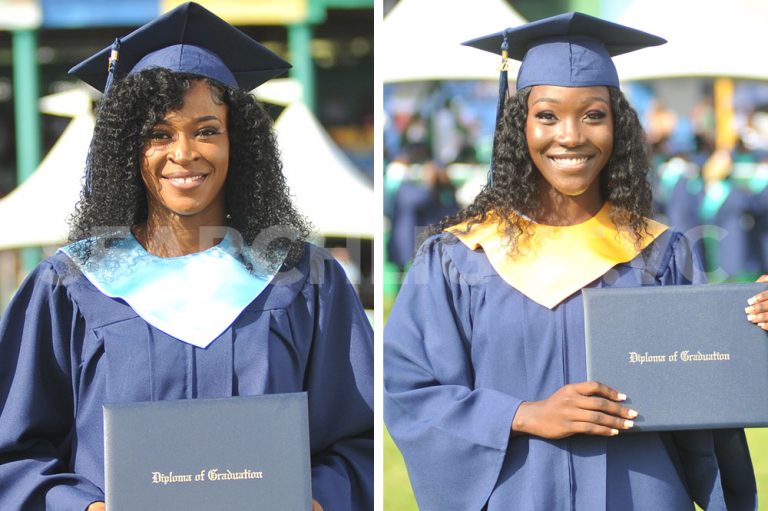 Top netballers celebrate academic success in the face of challenges
TWO PLAYERS on the National Senior Female Netball team, Kaywanna Charles and Shania Pompey were among the more than 700 persons who graduated from the St. Vincent and the Grenadines Community College (SVGCC), last Wednesday September 28.
The two are in the national squad which has been called up to compete in the Netball World Cup Qualifiers scheduled to take place in Jamaica from October 16-22 this month.
Pompey, who did Business Studies, specializing in Sales and Marketing told SEARCHLIGHT, "Being a member of the senior national netball team and a St.Vincent and the Grenadines Community College graduate makes me proud of my accomplishments. I had faith in my ability to succeed. I completed my degree and am now on the right track to achieving my goals in both academics and athletics." She said the volcanic eruptions, COVID-19 pandemic, and the dengue fever outbreak made her two years of college challenging "but I was able to persevere thanks to the aid of my family and the Almighty God."
Pompey shared that the Bible verse that has helped in her daily journeys is from the book of Philippians 4:13, "I can do all things through Christ who gives me strength".
And Kaywanna Charles who studied Primary Education, said that she also had some challenges. "Managing my studies and the sport I love was a big challenge, but with determination, self-discipline, hard-working, and the willingness to succeed I conquered my many challenges. In order to get what one wants, one must put in the hard work, see the bigger picture and work towards it.
"With this milestone of being an SVGCC graduate from the Division of Teacher Education, and a St.Vincent and the Grenadines senior netball player, I can boldly say that I am proud and filled with joy that even words cannot explain".
Pompey said that her focus at this time is on "the sport I so deeply love," as the national netballers prepare to compete in the upcoming tournament in Jamaica where teams will be battling to secure one of two available qualifying spots to the Netball World Cup in South Africa in July, 2023.