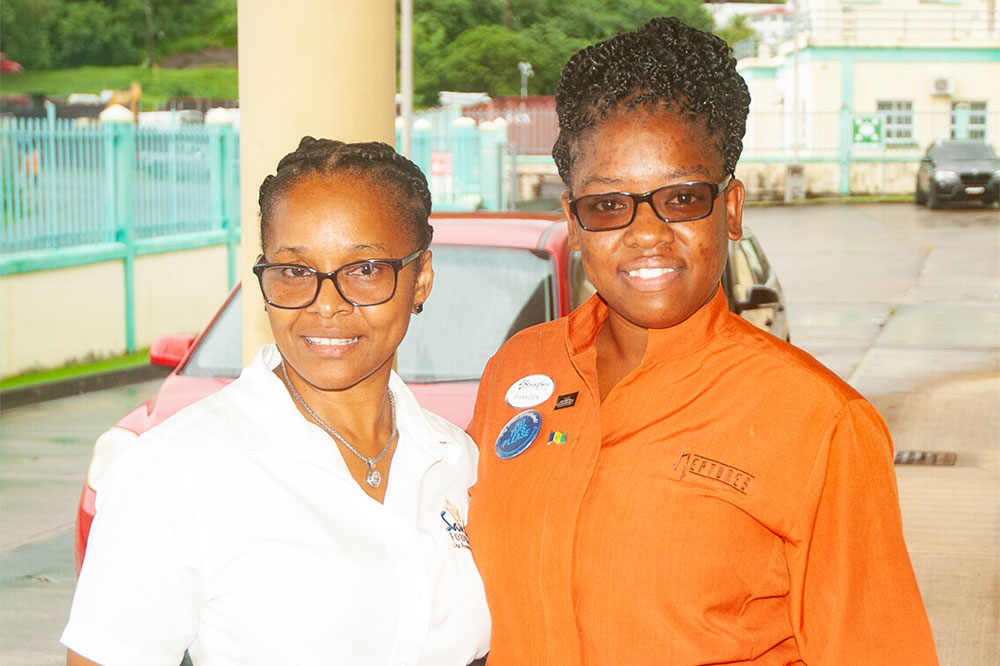 Vincentian employee 'a find' for Sandals
A 26 year old employee with Sandals Resorts International is looking forward to a fruitful career with that tourism entity.
In fact, Shakeen Antoine, formerly of Rillan Hill and currently residing at Campden Park, was bubbling with enthusiasm when SEARCHLIGHT spoke with her at the Sandals Resorts International job fair at the St. Vincent and the Grenadines School of Hospitality Studies in Diamond on Thursday morning, September 29, 2022.
She has been training at Sandals Resorts International, working at Beaches, Turks and Caicos in the department of dining room service.
Speaking of her 'Sandals experience' Antoine said this has been " tremendously great because I learned a lot".
" I never went into hospitality when I was in St. Vincent [and the Grenadines], but I got the opportunity to learn something new so I did seize the opportunity and I ran with it."
She spoke of being very impressed with the Sandals product, the training and the impact on one's personal development.
"I will tell my fellow Vincentians that hard work brings success, there is nothing easy in life, right? You have the need to achieve something, you have to go for it, you will face challenges, but it is the way you deal with the situation which will bring you the success," she said.
"If we deliver a situation with a positive mindset, you have a positive ending to that. So when you have the opportunity, you take it because you never know what the opportunity can bring to you. You never know what is out there from the opportunity," Antoine added.
The Training and Development Manager at Sandals Halcyon Beach Resort in St Lucia, Claudette Wilfred has had the opportunity to interact with Antoine on numerous occasions and expressed her delight at the progress she has made.
"She is a gem to work with and I am proud of her and how far she has come. She is definitely a find for us," Wilfred told SEARCHLIGHT.
Antoine envisages herself in the near future as part of her employment with Sandals Resorts International, "talking to my fellow Vincentians, for I am a proud Vincentian."
According to Antoine, "I believe that it is an opportunity for them, because when they go out there, what they learn out there at Sandals and when they come back home, they are going to share their experiences and what they learn to those who want to be as them so they become a motivation for those who want to get that same opportunity."
Antoine preferred to dwell on where she is now without forgetting her roots. She said that she is always cognizant of those who helped her in her formative years at school, and when she entered the Sandals Resorts establishment.
She is among several Vincentians being trained overseas by the Resort to take up employment at the Sandals Resort which is currently under construction on mainland, St Vincent.