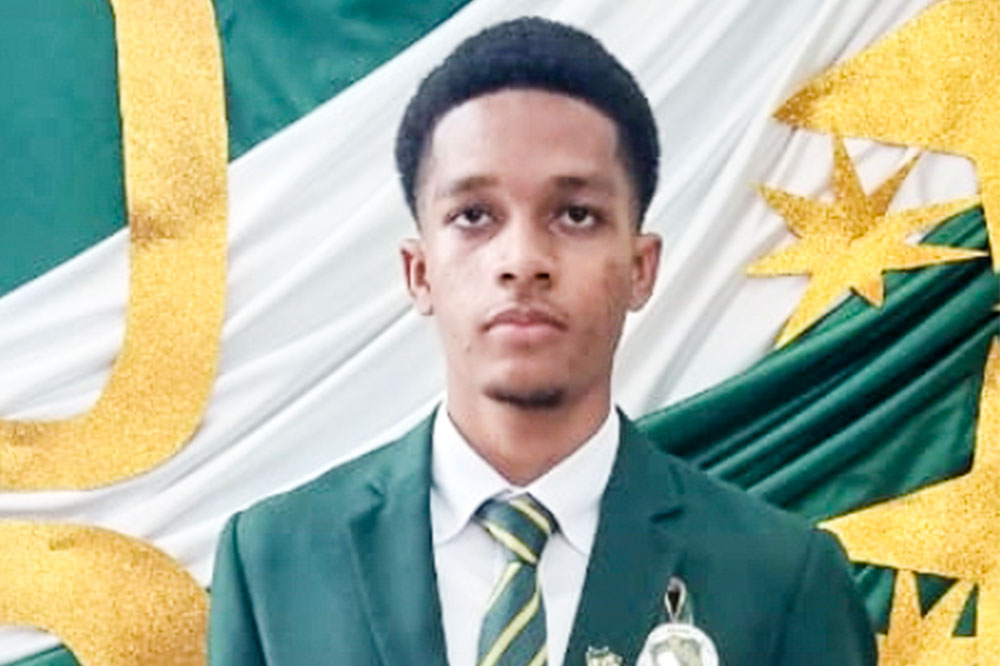 Keanu Child is top national male performer in CSEC 2022 (+video)
SEVENTEEN-year-old Keanu Child of New Chapmans Village, Georgetown is the nation's top male performer in the Caribbean Secondary Education Certificate (CSEC) Examinations 2022. The aspiring aerospace engineer, who is also the top performing student of the St Vincent Grammar School (SVGS), returned grade ones in all 12 subjects he wrote this year. These are in addition to the grade one he obtained in 2021 for mathematics.
Keanu sat additional mathematics, English A, English B, information technology, Spanish, French, geography, chemistry, physics, biology, principles of business (POB) and principles of accounting (POA).
The St Vincent Grammar School has commended its students for accomplishing an "extraordinary feat" amidst the challenges of the last academic year.
The school secured the second-best overall performance nationally with a 91 per cent pass rate.
"Amidst the challenges of the academic year, our boys responded to the pressure with an admirable display of perseverance," the school said in a release.
In an interview with SEARCHLIGHT on Thursday, September 22, Keanu said he was only able to study nine of the 12 subjects at school. He therefore had to take classes for POB, POA and French privately, which meant having to attend after-school and Saturday classes.
"I made sure to do all of my work on time because if I left them for last minute, then I would have to be rushing. I had to make sacrifices like staying up a little late to get some extra work done because I would come home late from classes."
The son of Drusilla Caesar and Lawson Child thanked several members of his family for their support throughout his educational journey thus far. His aunt Roucha Caesar came in for special mention. "She has been of vital help to me since primary school because she helped me perform well in the CPEA examination."
The former pupil of the Georgetown Government School placed second for boys and fourth overall in the primary school exit exam in 2017.
He said even though his aunt migrated to the UK when he was in the first form of the SVGS, she still continued to help him.
He also thanked his parents, aunts Kimmesha and Vasha Caesar, grandmother Doren Caesar, his three brothers and his sister. He expressed appreciation for the support of his father's side of the family who "always tell me nice things and encourage me and support me."
The SVGS said other exceptional performers for 2022 were Denil Joseph, Kerell Joseph, Zane Edwards, Joshua Browne, Nicholai Williams, Zenol Gaymes, Joshua Harry, Teon Myers, Omario Dick, Jhamari John, Jéan-Paul King, Ethan Lewis, Jhaeden Daniel Francis, Avishai John, Denari Joseph, Matthew Israel, Daequan Lynch and Pierce Henry.