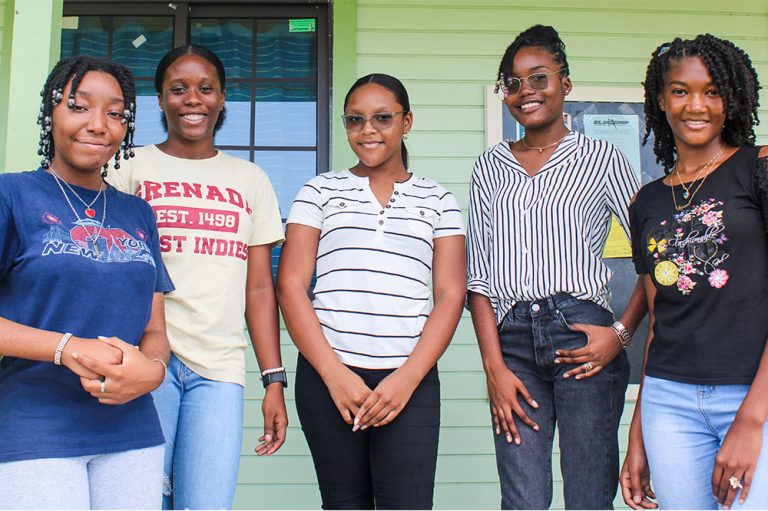 5 GHS students gain 14 or more subjects at CSEC (+Video)
THE GIRLS had a strong showing at the Caribbean Secondary Education Certificate (CSEC) 2022, with four gaining 14 subjects, only to be beaten for the top spot by their classmate.
Chenise Harper had the most sterling performance with 15 grade ones for this year's examinations but Kerese Cozier and Halei Douglas were neck and neck with her returning their 14 grade ones.
Ashlyn Francis and Aneilia Cato also had impressive showings, each attaining 14 subjects. Francis collected 13 grade ones and a grade two while Cato snagged five grade ones, eight grade twos and one grade three.
"I was definitely thrilled to have performed so well. I was definitely a bit nervous, will I really get all ones, will I get a two here in this subject because usually I did some subjects that people don't normally get ones for – History and Music," Douglas told SEARCHLIGHT on Tuesday.
The 16-year-old piano player also plays the steel pan and does voice.
In keeping with the of deputy headmistress' description of the girls as dedicated, Douglas noted that in terms of preparation "In school I'm usually known as the student who's always studying and always bringing text books."
"Focusing in class is important and always reviewing and having your schedule. But I always try to be disciplined because motivation could only get you so far but once you're disciplined and you study well you will get your results."
She had no major challenges, she said, and found online schooling to be enjoyable.
Douglas is a budding civil engineer.
Bequia resident, Cozier spoke about her thoughts when she realized that she had attained 14 grade ones.
When her grades finally popped up and she saw the line of ones, she admitted that she was expecting it.
However, she had to scroll down to find out her grades for all the subjects she wrote.
When "I saw the straight line of ones I felt very ecstatic, very jubilant, excited, overjoyed. So I was a bit relieved because I was a bit anxious and nervous before. I was a bit surprised for one or two of the subjects based on how the exams went."
She explained that "Earlier on they released the statistics and when I found out six percent of the candidates got ones for geography I kind of had a little doubt about geography as well." The Bequia resident admitted to having had challenges.
"I had to journey from St Vincent to Bequia every day and I would get home late and then I had to go back in my books again."
However, she noted that preparation for CSEC began "ever since I stepped forth into this institution."
She also explained, "I always used to hang my hat high and I wanted to do well and be in part of the top performers, to also get a scholarship. I always enjoyed looking at my results."
She has her hopes set on becoming a neurosurgeon.
For Ashlyn Francis, "I cried the first time I saw my results because when you know you've worked hard, and you actually see the fruits of your labour, it's quite amazing. The feeling you get is uncompared to anything else in this world."
Francis, said she hates procrastination and would make a study table.
"My bedtime is 9:30 p.m," she admitted, "don't laugh. Everybody laughs when I say this but I have a younger brother so when he comes home and he's there it's really hard to study with him around so I have to wake up at one till three, sleep at four, get up at six and get ready for school."
"I would try my very best, I'd always have my coffee, to stay awake in class. It involved a lot of reading up on extra resources, a lot of Youtube videos," she added.
However, her family is her motivation.
"My brother's quite annoying," she joked, "but there's a certain lifestyle I want to give him. He is my biggest motivation. I look at him and I see another piece of me. I want him to have opportunities that I did not have."
The student, who is considering being a data analyst, also said that she wants a good job.
Diamond resident, Cato, revealed, "I'm very excited and proud of myself because I was also top for CPEA so I feel really ecstatic about it because I feel like I'm there again so it's just a really happy moment."
The student noted that in preparation, "I knew the examinations would start around May/June so I started studying from around January and I also cut down on some electronic times and I made a timetable for my study period so I would have specific hours."
"I also furthered my studying using textbooks and the internet and I stuck to my notes as well, asked questions and made sure I had everything set so I wouldn't forget anything."
She acknowledged that "studying 14 different subjects it was hard because I had to make sure I got everything. Sometimes I would be really tired but I had to stay up or go to sleep and then wake up early to finish up some stuff. And I'd sometimes be stuck because it's either I couldn't get answers for certain things, or I had to be going from different places to try to find out one simple thing."
Her subjects of interest going into college are: Biology, Environmental Science and Geography and Sociology.
Asked what advice she would give to other students, the young lady reasoned that "It does get difficult at times and the best thing to do is to not be discouraged and to keep your head up because if you do let everything overwhelm you then it's going to be a lot more difficult."