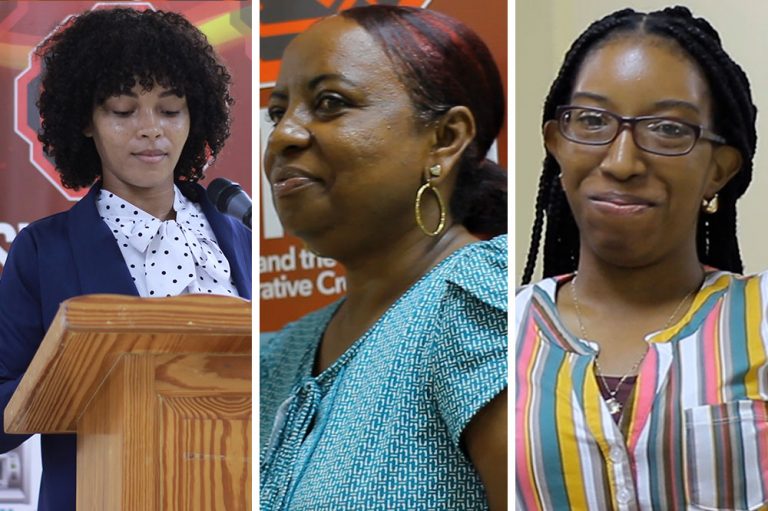 Teachers Credit Union awards four university bursaries (+video)
Four members of the St Vincent and the Grenadines Teachers Co-operative Credit union ( SVGTCCU) on September 16, each received $3000 in bursaries to assist with their university education.
The recipients are Marcella Friday, Rukersha Jackson, Breana Marksman and Cheryl Peniston.
Friday, a teacher has been a member of SVGTCCU for six years and is in her first year at the University of the West Indies (UWI) Open Campus pursuing a Bachelor's of Education degree in early childhood development and family studies. Rukersha Jackson who has been a member for eight years is in her second year at the UWI Open Campus pursing a Bachelor's degree in Phycology and HR Management. Peniston, a teacher by profession who has been a member of the credit union for more than 25 years is also in her second year at the UWI Open Campus pursing a Bachelor's degree in Education Literacy. Marksman is a first year student at the UWI Cave Hill Campus, Barbados where she is pursuing a Bachelor's degree in Health Science.
Treasurer of the SVGTCCU, Gilbert Frederick in his remarks told the award recipients that the credit union recognises the importance of their commitment towards their education journey and advised them to continue working hard towards success. He also encouraged them to take pride in their education so that they can be a source of encouragement and motivation to others through their story.
He added further that "money… runs out so we need it. Therefore the SVGTCCU understands the need for a bursary. The on-going challenges faced by our country and the world at large post COVID-19 and the volcanic eruption has been tremendous on individuals community and society…"
Senior education officer, Mavis Findlay- Joseph representing the Ministry of Education congratulated the recipients noting they are very fortunate and are being held up as worthy examples of students and educators committed to the nation's education. She urged the recipients to continue their pursuit of excellence in education and advised them to be good examples to those who look up to them as models at all times.
She advised them as well to work diligently and be good ambassadors of SVGTCCU, noting that without God they can do nothing.
Speaking on behalf of the recipients Jackson expressed gratitude for the assistance received. She noted that this semester she can take a step back from hustling and fully focus on just studying for first time since they started their education journey because of the bursary provided by the SVGTCCU.