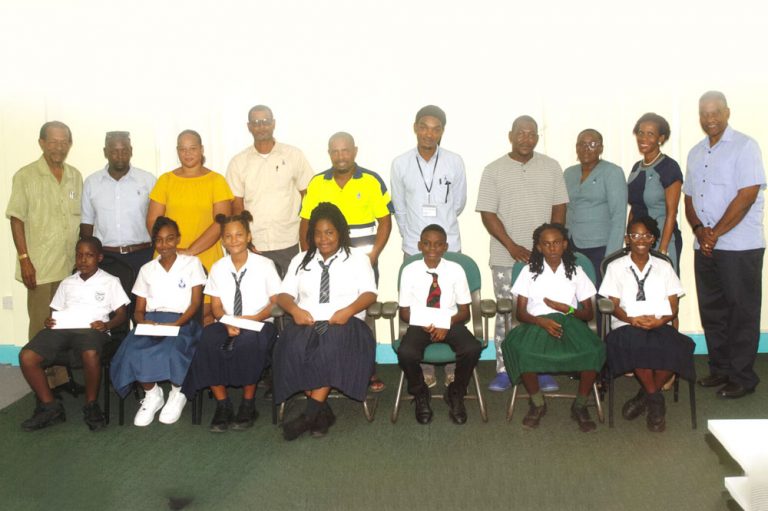 CWSA scholarship, bursary recipients advised to step boldly
The Central Water and Sewerage Authority (CWSA) has awarded seven scholarships and one bursary to children of employees.
At a ceremony held on September 12 at CWSA headquarters at New Montrose, Yvette Daniel, the Human Resources and Administration Manager at the CWSA advised the students to set goals for their education and do everything they can to achieve them.
"Your goal can be something as simple as doing all your homework, paying attention in class, or spending time each day reading a book. Or you will decide to take better care of yourself so you can be more ready to learn. Whatever you resolve to do, I want you to commit to it. I want you to really work at it.
"…I implore you to continue soaring, continue boldly stepping forward, continue marching towards the success beat of your drum and pursue your dreams," Daniel said.
Nia Forde, Jonique Forde, Kemira Lucas of the Girls' High School; Zoey Bailey of St. Joseph's Convent Kingstown; JahMari Alexander of the Thomas Saunders Secondary; Jaziah Edwards of the Canouan Secondary, and Rolando Prince Jr of the Troumaca Ontario Secondary are
the 2022 scholarship recipients.
LoAndre Franklyn of the Dr J.P. Eustace Memorial Secondary was the lone recipient of a bursary.
The scholarships awarded to children of CWSA employees is as a result of an agreement made between the CWSA and the Commercial, Technical and Allied Workers Union (CTAWU) about 25 years ago when two scholarships were offered.
Garth Saunders, general manager of the CWSA, expressed his pleasure at the mutually beneficial relationship between his organization and the union.
"… Over the years, we have always had cordial relationships, frank discussions, and at the end of the day, all employees should really feel special because they had two entities (CWSA and CTAWU) fighting on their behalf."
Gabrielle Mathias, a 2004 recipient of a CWSA scholarship, addressing the students encouraged the students to welcome their years at secondary school.
"Secondary school is five years of very interesting things, so welcome it. There are going to be good days, bad days, not so good days, all right days, but it is all to a big, bright future. And if you constantly put in any effort, you are going to achieve that, no doubt and also, faith in God is important."
She also encouraged the students to set goals and work towards them, reminding them that goals need not always be academic, but may be something that helps them to develop discipline.
Joseph Burns Bonadie, general secretary of the CTAWU also made remarks at the ceremony.