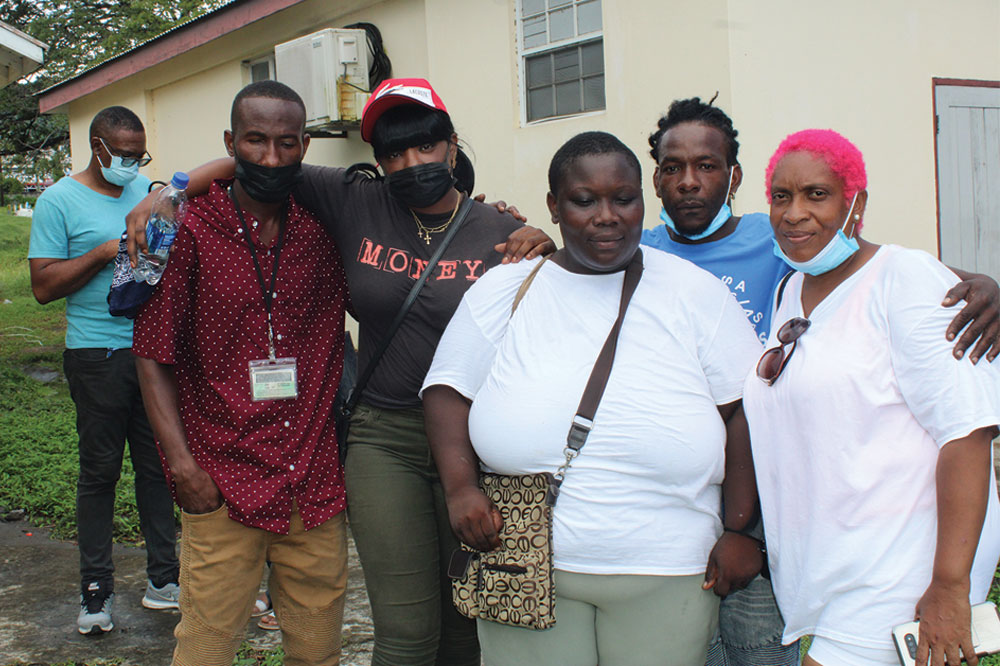 Family members speak highly of crash victims
KIND HEARTED, easy going, lovers of the bayside, helpful – these are some of the attributes that the Clare Valley crash victims will be remembered for among their relatives and the community.
The memories are all that remains for the grieving South Leeward village after five young men from among their tight-knit circle died on Sunday when the minivan they were travelling in to go to the funeral of Rohan "Charla" Rawlins ran off an embankment at Old Sandy Bay.
Giovanni Barker, Ishmael 'Darrel' Bruce, Elvis Harold, Collin Robin and Kenroy Phillips either died on impact, on the spot or were pronounced dead at the hospital.
Shaqueen Theobalds is one of the seven siblings of crash victim Giovanni Barker, who was only 21 years old.
She recalled the moment she found out about her brother's death on Sunday.
"I hear a commotion outside, so when I come outside now I see people running and screaming down the road so I asking, 'what happened?'.
"They saying, 'a Clare Valley van turn over in Sandy Bay, and couple people dead'," Shaqueen remembered, "Which and while I ain't even know my brother was there yet until when I go down the road and people telling me how my brother was there and my brother die."
Another sister left to go to the scene of the crash in order to confirm whether or not this was true.
"When my sister go, my sister confirm that yes, is he; he die," Shaqueen said, "Just a lightening just come through the whole family, just shock the whole family."
Two days later, she was identifying his body at the morgue.
It is devastating, the sister explained, "Feel like my heart been ah drop out my chest. Because my brother nah even get fuh see life yet when this happened."
"Die a very innocent death there. Even though an accident but…it hit we real hard. Real, real hard," she explained.
Another sister, Malika Theobalds revealed that this will be the second shock for her in a short space of time, as she lost her baby last year.
"It hit the whole village. The whole village right now like it dey in shock. Cause everybody in the village related by something," she said, noting that everybody is "one".
Their brother Kenshire Theobalds was also there as the family supported one another.
The siblings remembered their brother as easy going, and quiet.
"…He never talk much," Kenshire explained, "he kinda silent, humble. And always willing."
He said Barker loved vehicles. Shaqueen said he loved playing music, but "Sometime you don't even hear him because he so quiet."
They said he loved the bayside. "Every day he have to go to bathe ah sea. He have to go in the beach," Shaqueen said.
Asked whether this is the first they know of such a tragedy rocking Clare Valley, Shaqueen said it is.
"It shock the whole village," she said, "The whole village in mourning right now."
Malika noted "As I speak now down there(Clare Valley) in silence right now because people still can't get over this."
Everyone who died was apparently always together.
Joel Bruce, the uncle of Ishmael Bruce also known as Darrel took on the duty of identifying his nephew.
The uncle was asked and he confirmed that Bruce died on the scene of the crash, noting "The condition he in there when you go and see him you could see he die on the scene."
On Sunday it was through a call that he found out about the incident.
He then went to the side of Ishmael's mother, who has health complications, while others went out to Sandy Bay.
'Darrel' was over the age of 40, and was a fisherman.
He said his nephew was kind hearted and that if someone wanted help he would ask "When? Where you want me to go?". "Always ready" he noted.
'Darrel's' cousin Donna 'Jill' Glynn is handling the funeral arrangements.
She said that Ishmael was "friendly, helpful, there's nothing too hard for him to do for you. He's somebody that you can rely on. He's a man of business. If you have something to do you can depend on him to get it done for you. He was just special."
Glynn also noted that Clare Valley is in shock, but that everyone is coming together to support each other.
"The community seems to be bonding together and rallying around each other," she noted, and that there was a candlelight vigil being held on Tuesday night to offer prayers for the affected families, as well as those injured who are in the hospital.
Kendol Haywood was waiting to identify the body of his only child, 30-year-old Kenroy 'Pressure' Phillips. Alongside him in his grief was Kenroy's mother Agnes Phillips.
The father remembers his son, a deep sea fisher, as a quiet, friendly person.
He last saw Kenroy on Sunday morning, when he passed by his house and then his uncle's.
Afterwards, Haywood went to work and when he returned home he was greeted by the news of Kenroy's death.
"It come like real funny," he said, noting that his son doesn't really go to funerals.
When asked about the crash, the father said he was told the brakes of the van "dropped in", "so you only coulda turn the corner instead of the van go over the bank and drop in the sea."
The father said, "When I watch up the accident I see like it's something that never happened before. I 57 and I never see them thing there happen before."
He also confirmed that the entire community is in mourning and trying their best "to come together and get them bury because right now we kinda rough with the dollars."
However, Prime Minister Dr Ralph Gonsalves, who visited the families on Tuesday morning, has pledged the assistance of the Government with laying the deceased to rest.