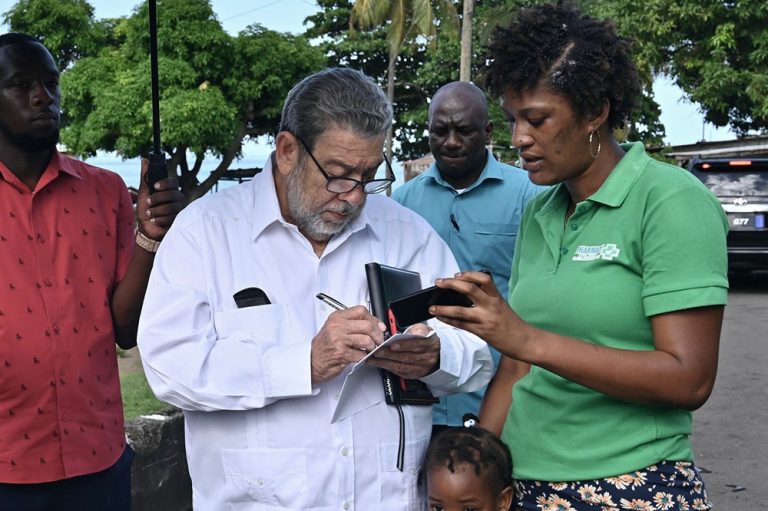 Children of five accident victims receiving psychosocial support – PM
GOVERNMENT is providing psychosocial support for children of the five accident victims and other children in Clare Valley who were traumatized by the tragic death of five young villagers on Sunday, September 11.
Prime Minister Dr Ralph Gonsalves on Tuesday visited Clare Valley and offered condolences and support to the families of all five men who died in the accident at Old Sandy Bay.
Speaking on NBC Radio on Wednesday September 14, the Prime Minister noted that since learning of the accident on Sunday, he had been in touch with the relevant state agencies, mainly, the Ministries of Education, Health and Social Development.
On Wednesday afternoon, there was also a meeting between government officials and relatives of the deceased.
Gonsalves said this meeting was held in relation to making funeral arrangements for the accident victims.
The Prime Minister added that the relevant ministries have been providing psychosocial support to pupils of the Clare Valley Government School.
The ministries are also offering similar support to students at other schools, but who are also affected by this tragedy.
Gonsalves said he declined an invitation to visit the school at Clare Valley because he wants the psychosocial work to be done first.
However, he was able to meet with several of the affected children when he visited their homes on Tuesday.
The accident on September 11 claimed the lives
of Giovanni Barker, Elvis Harold, Khalil Robin, Ishmael Bruce and Kenroy Haywood.
The deceased were among passengers in mini van H 8190 which was travelling from Clare Valley to Owia.
The van which overturned while heading down an incline at Old Sandy Bay, was owned and driven by Napata Louis of Clare Valley.
The cause of the accident is being investigated by members of the Royal St Vincent and the Grenadines Police Force.