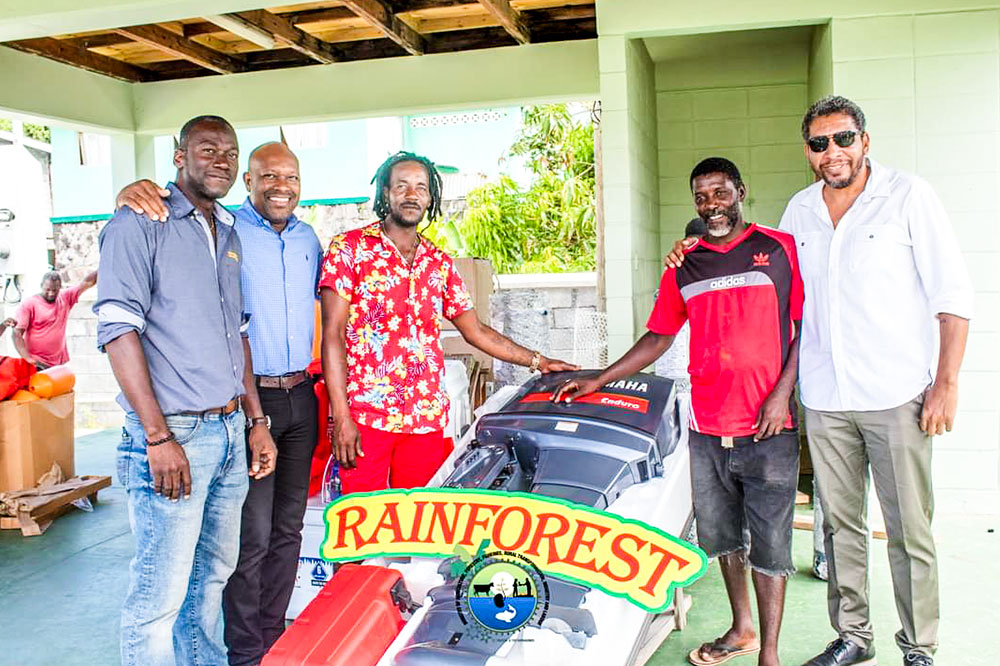 Fisherman of the year collects his prize
He had to wait a few weeks, but Earl Medford is now the grateful owner of a brand new boat engine as his prize for being the top fisher for 2022.
Medford in his boat "Humble Me" returned the heaviest catch of 411 pounds in Class 1, to cop the 2022 Fisherman of the Year title in the June 6 scaled down competition.
Last Thursday, September 1 he received his winning prize, an engine donated by Rainforest SVG.
At the short ceremony held at the Calliaqua Fisheries Complex, fishers were also presented with a quantity of equipment and supplies which included buoys, ice boxes, ropes and wire, for use in constructing fish pots.
Delivering remarks at the ceremony, Minister of Economic Planning, Camillo Gonsalves spoke of the "immense potential for fisheries" which he said is "larger than it has ever been in St Vincent and the Grenadines".
He noted that fish landings, as well as earnings have more than doubled what is was even as recently as five years ago. The minister,who is also Parliamentary Representative for East St George, underscored the support of government in providing some of the means to help with the development of the fisheries sector and promised to ensure "that Calliaqua remains the capital for fisheries in St Vincent and the Grenadines."
Minister of Agriculture and Fisheries, Saboto Caesar, also delivering remarks, declared that this is a good time to be a fisher, noting that the coming on stream of the Argyle International Airport has "opened a list of opportunities" not just in tourism, but for persons to have direct access to external markets for fish and fisheries products.
The minister told the gathering that the government was delivering on promises made in budget presentations, the manifesto of the ruling Unity Labour Party (ULP) and elsewhere. Caesar said on Wednesday of this week he would be taking to Cabinet a list of names for 34 boats and 27 engines to be added to the fisheries register.
"The fishing industry is a thriving one globally", and "people are looking at St Vincent and the Grenadines to be productive and produce more", the minister said.
He spoke of the need for more people from various locales across the state to become part of the fisheries sector adding that, "at some point in time" the ministry will have to look at training younger fishers to provide continuity and expansion of the sector.