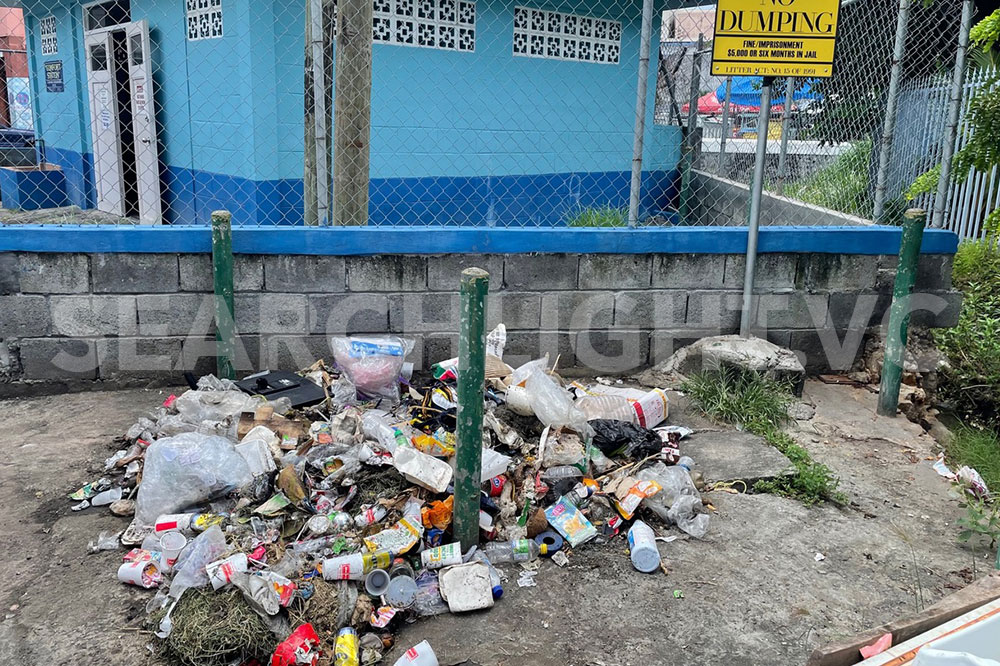 Soroptimist goes public over illegal dumping of garbage outside comfort station
Piles of pungent, smelling garbage repeatedly dumped and left outside the Soroptimist International comfort station at Heritage Square is distressing to the charitable organization.
The officer for Governance and Organizational Development at Soroptimist Intl SVG, lawyer Rene Baptiste, says they have been highlighting the issue to the relevant authorities for months.
"I have pictures going back to July 18th and then I have another one here, August 19th. And I have now today. It's ridiculous," Baptiste commented yesterday, August 29.
The organization has been operating the station for decades, and uses income generated from the comfort station to fund various projects for women and girls.
Although there have been periodic renovations to the exterior and interior, Soroptimist International SVG recently organized a complete renovation, replacing toilets, wash basins, and installing a baby change station.
Baptiste noted that there was a sign placed outside prohibiting dumping.
It warns illegal dumpers who ignore the Litter Act that there is a "fine/imprisonment, $5000 or six months in jail".
During her investigations, Baptiste disclosed, "They were telling me 'oh the sanitation does let them heap this so the truck could' – How the hell you gonna do that? That don't make sense. No it doesn't make sense."
"Habitual nastiness," Baptiste concluded of the situation.
"…We're tired of it now and we have to bring it to the attention [of] the public and the newspaper because it doesn't appear as though somebody is taking us seriously," the Governance and Organizational Development officer explained.
Member, Christine DaSilva observed the piles of garbage intermittently over the weeks.
She noted that an employee of the organization works at the station daily between 9:00 a.m and 4:00 p.m.
The scent of the refuse last week was apparently "so unbearable" that it became difficult for this person to do her job.
"…It's just loose, nasty garbage so it is a public health issue because I'm sure there's a million rats there in the evening," DaSilva said.
She added that she has spoken with multiple persons at the public health department, the last of whom apparently promised to investigate and get back to her, but did not.
DaSilva said she was also informed that the area is cleaned on Saturdays by the sanitation department "which is fine but Monday morning there's a big lump of garbage."
The pile of refuse seems to contain a lot of food.
An employee of the sanitation department told SEARCHLIGHT that businesses in the area were responsible for the problem.