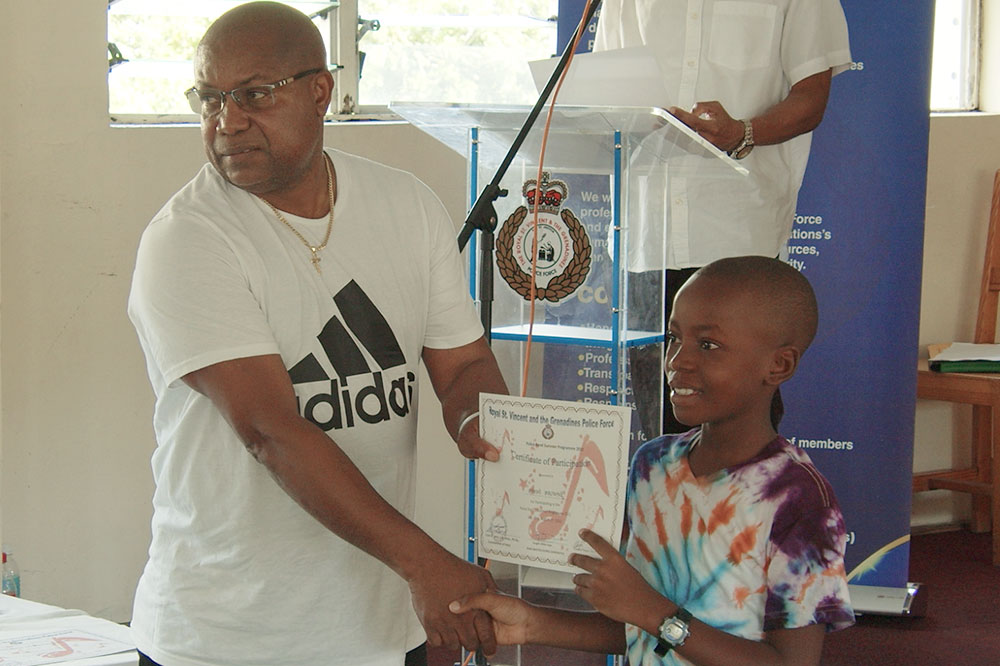 Curtains come down on RSVGPF Band Summer Programme (+video)
The Royal St Vincent and the Grenadines Police Force (RSVGPF) is continuing to counter the influence of persons seeking to sway youths into unwholesome activities.
So says Commissioner of Police (COP) Colin John, who was engaged in the closing ceremony of the 2022 Police Band Summer Programme on Saturday, August 27, 2022. He handed out certificates to some of the more than 120 youngsters who took part in the six-week music programme.
"This programme is part of the crime prevention initiative of the Royal St Vincent and the Grenadines Police Force (RSVGPF). It dovetails with the Coastguard Summer programme, also the Pan Against Crime programme, the police youth club," John reiterated in an interview with SEARCHLIGHT.
The theme: "Feeding the Positives, Starving the Negatives" was chosen for this year's event.
"We know that persons out there have less than noble intentions and would want to sway the youths in negative ways, so as an Organization we are trying to counteract that," said John, who noted that he fully endorses the programme.
He appealed for sponsorship support and the support of the public in this regard.
"I really would like persons to assist us in order to make St Vincent and the Grenadines safer by instilling positive values in the youths of St Vincent and the Grenadines," the Commissioner noted.
Band Master, Inspector Vaughn Miller, revealed that he was impressed with the numbers of young people embracing instruments and the number of females who gravitated to learn to play the wind instruments.
"Over the six week period these kids were exposed to different instruments like the drum sets, keyboards, bass guitar, rhythm guitar, recorders, clarinet, trombone," he explained.
They also participated in tie-dyeing, and other recreational activities.
Retired Inspector, Bernard Haynes who was also integral to the activities, noted that the summer programme was initiated by retired Commissioner, Keith Miller in 2008 and is geared towards giving "the children a chance to learn music and an opportunity to have a career in music."
Copping the best all round participant award was the energetic Presley Peters, a student of the School for Children With Special Needs.
"I'm so happy that I got this award," he said.
"I feel so amazing, I feel so great."
Another participant and steel pan aficionado, Shania Thompson noted that, "This might be the eighth certificate I have received and I feel good about it because music is my passion and it's just something that I love and I can't stop doing it."