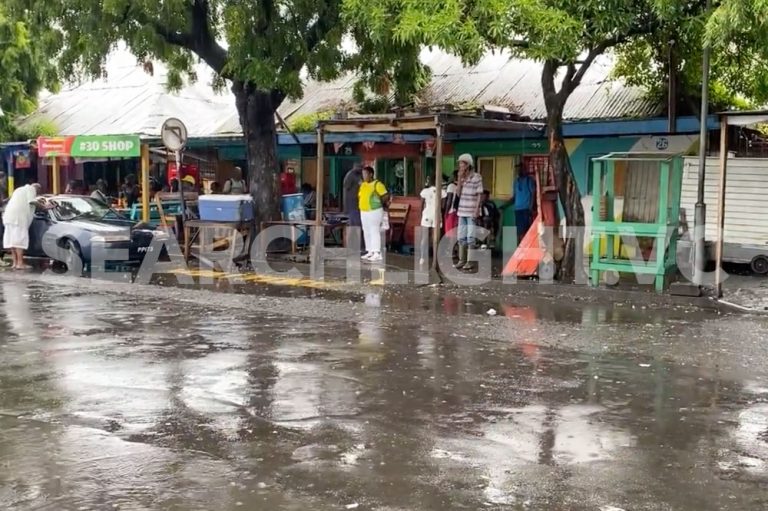 Bullets rain at Little Tokyo as man gets shot in the back
Gunshots rang out at a busy, rainy bus terminal on Monday, August 22 causing one man to end up in the hospital after apparently being shot in the back.
However, approximately one hour after the bloody scene played out at Little Tokyo, Kingstown, the area appeared as normal. The crowd was drinking and "liming" outside the line of shops, and the police had left the scene.
While there were said to have been dozens of persons in the area when Roen Richardson was shot, many insisted they knew nothing of the crime.
Others say they saw nothing, but heard the gunshots which numbered three to five.
One bystander who was inside a shop during the incident, witnessed what happened afterwards.
"When he get shot there, he left, he go over so. People running come from him, come back so. All body running from him. Somebody come and throw he hand round (the victim) and carry him in a van," the person explained.
Asked whether the incident made them afraid, one woman said "I'm so scared."
She said that the victim had tried to talk to her, flirted with her and "If I been dey round him…all now so, all now so…The first shot he get, he woulda turn round. Next thing me get three bullet again."
"…All now so me dead…Ah praise God me nah go meet um," she said.
The woman also believed that Richardson was drinking rum and this was what prevented him from feeling the pain of the bullets.
She said he was walking and "all body just following the boy, before they call the police them…All body just walking around the boy. It come like you nah sorry for people. If that been your child you would vex."
"If that been all yuh children, all yuh woulda never like it. They wicked nowa these days yah," the woman, who said she was frightened at the time, noted.
When contacted yesterday, police indicated that Richardson was in a stable condition and was receiving medical treatment at the Milton Cato Memorial Hospital.