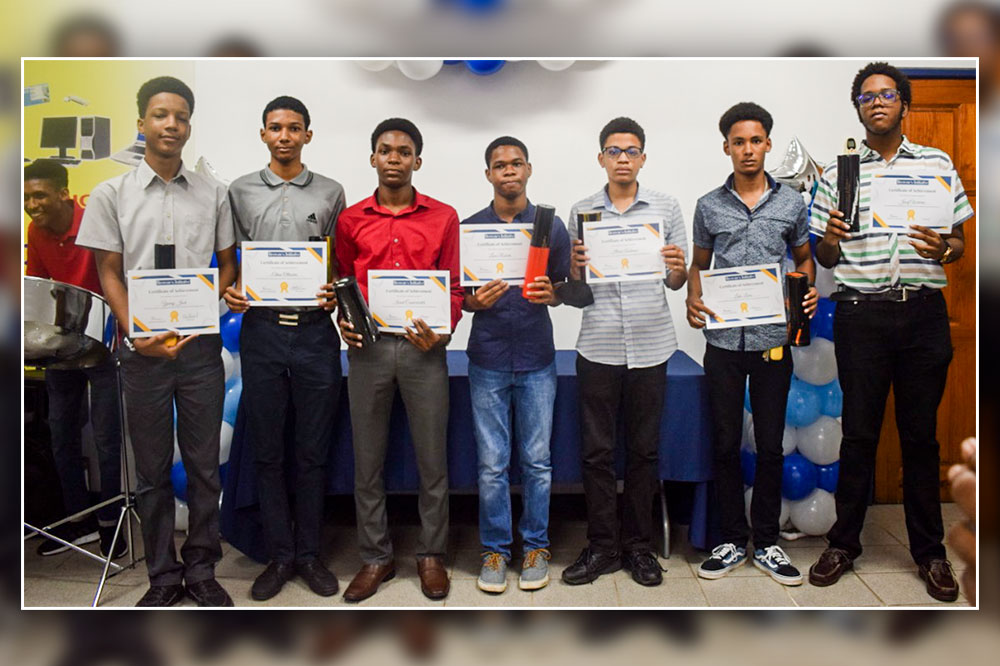 Students have wider view of professional options following internship project
Seven students who will enter their final year at the St Vincent Grammar School in September have completed two and a half weeks of internship at various local establishments, thanks to the Browne's Initiative project.
A pilot programme, targeting male fourth form students and initiated by Khyle Browne, provided Illario Anderson, Luca Roberts, Israel Cumberbatch, Ethan Ollivierre, Luke Lewis, Jasof Warren and Yuvraj Jack with first-hand work experience, as well as insights into possible career paths.
During the internship period, Anderson was attached to Silvakast; Roberts was at Browne Valuation and Quantity Surveying Services (BVQSS); Cumberbatch – Metrocint Insurance; Ollivierre- Big Tigga Garage; Lewis- Bytelands; Warren- V A Barnwell & Associates; and Jack – KP Technology.
The seven, along with their supervising personnel, all attended a closing ceremony last Wednesday, August 17, at the Computec Conference Room.
The project was the brainchild of Khyle Browne, a former student of the St Vincent Grammar School, who is in his final year at University.
He revealed that the concept of the internship stemmed from his personal exposure to a similar initiative.
Browne, who is pursuing studies in Quantity Surveying in Jamaica, expounded: "I went on an internship… I saw how it opened my eyes, as the level at which they operate is very good, so I saw the need for the different levels of professionalism. So I sat down and brain stormed and said had my parents not prepared me for that kind of environment, I would have struggled".
With this life changing exposure, Browne thought it best to do a programme here in St Vincent and the Grenadines to give students an earlier familiarization with the world of employment.
He felt that schools should offer financial literacy courses and help young men even before they leave their respective educational institutions.
"Time is changing, the world is changing we need to get on board and give St Vincent and the Grenadines that edge on everybody in terms of producing the next generation of professionals", Browne told SEARCHLIGHT.
He said the seven interns now have a greater understanding of the employment options and some of the emerging trends, that are diversions from the traditional professions.
Looking ahead to future programmes, Browne disclosed that already the format of selection will change.
"This year, because it is a pilot, I just asked the school to send me a list of names who they shortlisted for their prefect appointments…
But, next year what we want to do is give every student in Form Four an opportunity to sign up… We plan to increase the time next year and the number of businesses and the following years, move on to different schools."
Browne thanked all the businesses and others who helped in the execution of the programme, including schoolmates Shane Cadogan and Leslie Hadaway, who assisted with the administrative side of the programme.