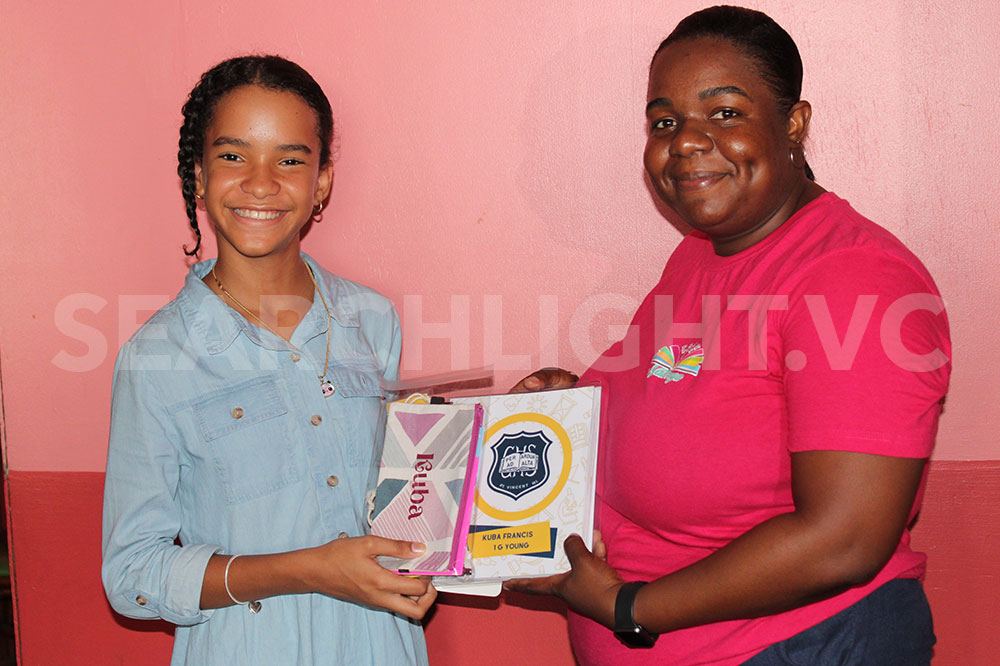 Natonya's customized planners make keeping track of one's life easier
A local businesswoman is adding colour, excitement and an individualised touch to the otherwise mundane task of keeping track of one's daily, weekly and monthly engagements.
Natonya Richardson, owner of 'PlanwithNatonya', launched her latest line of planners this week for students and teachers to make planning for the upcoming academic year easier.
Richardson's business is three years old and offers a stationery-based personalised product to its customers.
"I love planning. I've always been a fan of planners and… I can never find a planner to fit all my needs so why not create one?" she told SEARCHLIGHT at a small launch party this week.
The entrepreneur said she never imagined that Vincentians would be interested in such a product, but she was encouraged by friends to give the business idea a try.
But it was not until her application for a PRYME grant was rejected that she began to take the idea seriously.
"I did all the applications and I didn't get through, but I still decided to follow through with the idea after doing up my business plan and my proposal. It actually gave me the start to see what the business would be, how it would expand and grow within the years…"
Richardson said.
'PlanwithNatonya' is now known for its line of fully customisable yearly planners, teacher planners and academic planners for students that run from September to August.
Included in the recently launched academic planners are pages to help track one's goals, monthly notes and productivity and class schedules.
There are also detailed pages for projects and exams.
The planning business also offers add-ons for planners and other fully customisable stationery, including notebooks, pencil cases and sticker sheets.
"I really wanted to meet the teachers' needs. A lot of teachers were using the regular planner but it wasn't based for school. They weren't able to keep their grades and they were saying the Ministry planner is not as fun and creative as the planner that I create," Richardson told SEARCHLIGHT.
"I also wanted to do a little more on the stationery side this year, where I introduced the customisable sticker sheets, the pencil case that goes along with the book, keeps your book together, the tabs in the back where you can add papers and pages…"
Richardson noted that planners help to keep persons organised and meet their deadlines by knowing the tasks ahead of them and their respective deadlines.
She also shared her belief that physical planners are a better option than digital ones as it allows the owner to look back on everything they've achieved in a past year as opposed to a digital planner that can be corrupted or lost if an individual loses their device or forgets their password.
The entrepreneur said reception to her business has been "great" as she not only makes planners for the local market.
"…I've had opportunities to do planners for businesses on a large scale. I do commercial planners. I've done planners for Banks Barbados last year. I've done some for a lot of the boards…" she said.
Persons looking to purchase their own 'PlanwithNatonya' planners, stationery and other accessories can visit www.planwithnatonya.com.
The entrepreneur can also be contacted at 1(784)593-4162 or via email: [email protected] or Instagram @planwithnatonya.