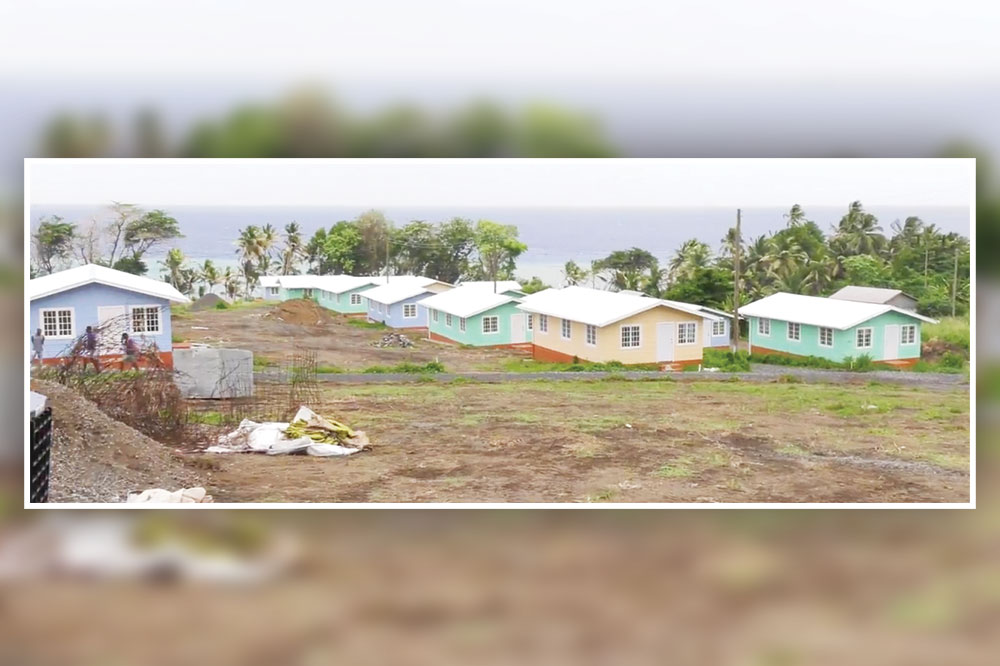 Two families already in houses built by volunteers at Orange Hill
Families will soon be called upon to select a number in a lottery type system, as the selection process moves in gear for the occupants of newly built houses at Orange Hill.
Member of Parliament for North Windward and Acting Prime Minister Montgomery Daniel explained the process on NBC radio on Wednesday August 10.
"We are creating a lottery system, where you come in and select from a hat."
He further explained that the number selected will correspond with the house which will be given to the recipient.
The 27 houses which were built at Orange Hill have two or three bedrooms.
Minister Daniel stated that even if a recipient had a one bedroom house before, they will now be getting a two bedroom house.
The houses, which were constructed in September 2021 as a response to the April 2021 eruptions of La Soufriere, were a gift from non-profit organization Sri Sathya Sai Baba.
They were constructed by a group of 56 volunteers from Trinidad and Tobago and are said to be fire-proof, hurricane resistant and also resistant to earthquakes and termites.
The houses are now being furnished and street lights are to be put in the area.
The minister said the houses are to be officially handed over at the end of August.
This handing over ceremony will coincide with the first anniversary upon which persons in that area of the red zone returned to their homes after the eruptions.
Apart from roads and street lights, Minister Daniel added that officials from the Ministry of Agriculture will do some landscaping and gardening before the official hand over at the end of this month.
Of the 27 houses at Orange Hill, Daniel explained that two are already occupied and a third house will be occupied soon.
The Minister said on Wednesday that two of the houses are being used to accommodate families who were living near to the Overland River.
He explained that these families were moved two weeks ago, as preparatory works began for the placing of a Bailey bridge across the Overland River.
Work is now in progress by the firm Sea Operations to place a bridge across Overland River to hopefully put and end to the woes of commuters in this area, whenever there is significant rainfall.
Another house at Orange Hill is to be given to an individual who will be displaced from the village of Noel.
Another Bailey bridge is to be placed at the Noel River, where commuters experience similar problems when there is heavy rainfall.
According to the minister, the work at Noel is to be done by the firm Kelectric.
An additional 41 houses are to be built at Orange Hill for other families in the area who were displaced by the volcanic eruptions.
These houses are to be constructed with funding from the Mustique Charitable Trusts.
Construction work will be done through BRAGSA and this project is expected to be completed by April 2023.