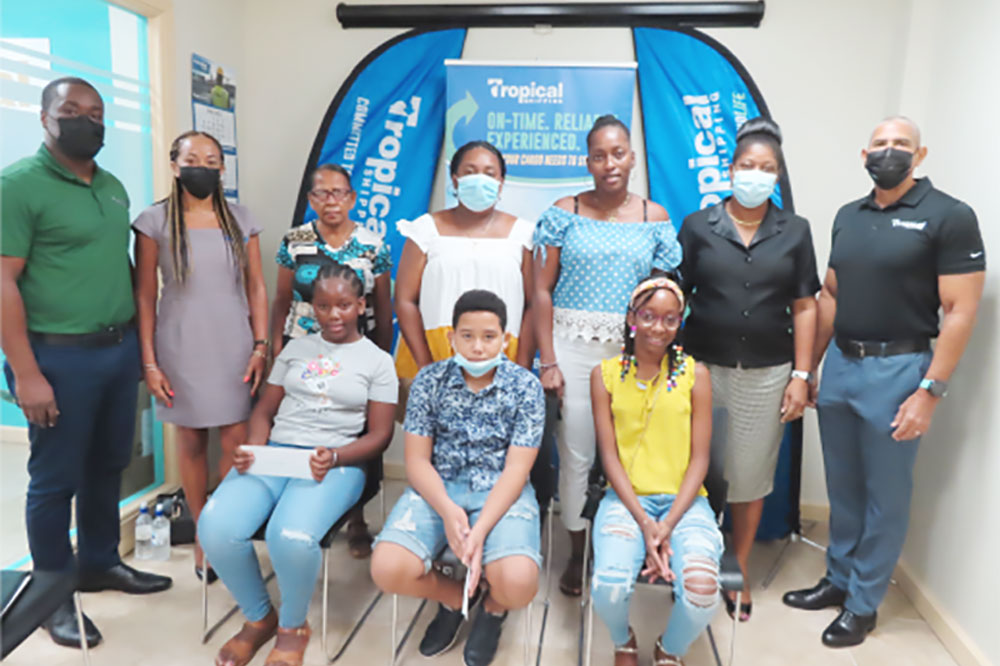 Tropical Shipping donates to successful students
Tropical Shipping on Thursday, July 28, handed over donations totalling $4100 to five students who successfully gained entrance into secondary schools in the country.
The students were selected from various geographical locations across the country; from Sandy Bay in the north to Union Island in the south.
Students and guardians expressed appreciation for the donation received.
Mavis Joseph, on behalf of the Ministry of Education, thanked Tropical Shipping for their effort in offering financial support to the students.
Maxine Howard – Sales Manager, congratulated all the students on their achievements and success and explained how the Tropical Shipping Educational Assistance Program works.
Howard also expressed that it was a privilege to be able to make a meaningful contribution to the students as they embark on their secondary school journey and help to take some financial burden off the parents/guardians.
Cedric McIntyre – Island Manager spoke briefly to the students stressing on key principals such as "Never say you can't"; "Never Quit'' and that "being disciplined, consistent and committed are some of the pillars for success".
Tropical Shipping Educational Assistance Program, falls under the company's corporate social responsibility, of which improving the quality of life of children in St Vincent and the Grenadines is one of their initiatives and is proud to give back to the people and communities they serve.
Tropical Shipping has been serving the Caribbean for over 50 years.
At the presentation were three of the five students, along with their parents/guardians, representative from the Ministry of Education Mavis Joseph, Senior Education Officer; Island Manager of Tropical Shipping Cedric Mc Intyre; Sales Manager Maxine Howard and Sales Representative Kerwin Hinson.