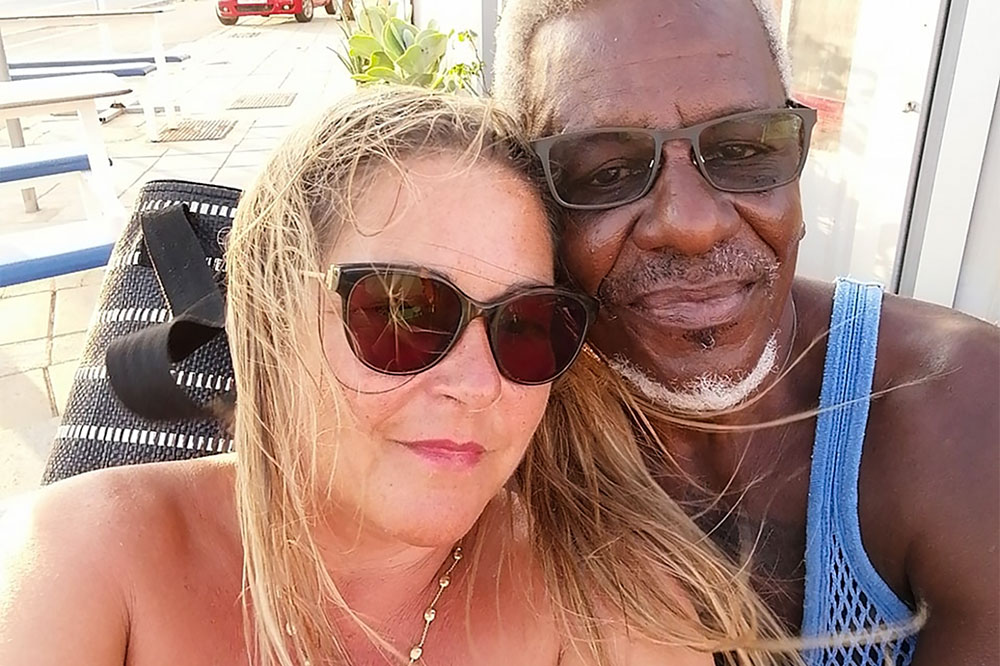 UK-based couple apologizes to local real estate agent
A PROPERTY OWNER based in the United Kingdom says he has apologized to local real estate agent Maurice John for threats he made on the agent's life, saying his behaviour was uncharacteristic.
"I told him I'm sorry for using those words. That's not me. I think I was tested by the devil," Clarence Harry told SEARCHLIGHT on Wednesday.
He admitted to making the threats, saying he did so because of certain statements made to his wife by John.
Harry and his wife Wendy have contracted John to sell some parcels of land they own here in St Vincent.
Somewhere along the line, things turned sour, resulting in John making a report to the police last Friday, July 29, that his life had been threatened.
The Criminal Investigations Department of the Royal St Vincent and the Grenadines Police Force (RSVGPF) confirmed to SEARCHLIGHT that a report had been made, but declined to give any further information.
John, who operates under the brand 'Caribi Dreams' confirmed to SEARCHLIGHT on Thursday that the Harrys had apologized.
"The Harrys called and expressed that they were sorry and that they would honour their commitment to pay me for the sale of the lot on the road. So we have resolved our differences. As long as I am paid I will make a video update on the situation.We have agreed to enter into a contract on those terms," the real estate agent said.
The Harrys, while confirming that they had spoken to John contend that they do not owe John any money.
"He was paid his commission when he sold lands for us, and he still owes us money from that sale from the deposit he is holding. The next sale has not gone through yet as the solicitor made an error on the deeds, so we will only owe him money if that sale goes through….
"We are waiting for new deeds to be sent to us, and waiting for him to send us what he owes, then we could move forward, and yes we did apologise for what was said, but we still feel very badly treated."
The couple is questioning why John, despite making a report to the police, still posted a video about what had transpired on social media, which they said brought quite a bit of distress to them.
"If he wanted to put that on the TV or do whatever he wanted to do, you know, that's fine.You know, we can't control that. But when you put private documents on social media, and people see my passport number and things, to me, that's not correct," Wendy lamented.
"The same way as my husband wasn't correct with the words he used, for which my husband apologizes. He was pushed to that."
Wendy said after her husband sent the voice note with the threat, John messaged them saying, what a "great gift" we had given him, and "if we don't contact the solicitor by the end of the day and close the deal, he's going to put us on the news and go to the police."
She said the deal could have been closed a long time ago, but it was not, because she has not been able to reach the client's solicitor.
" I keep trying to contact the solicitor on the client's behalf. I'm not getting any response back.They sent me a set of deeds. The deeds have the wrong amount on them. So I've said to Mr. John, that the deeds are incorrect."
John admitted to SEARCHLIGHT that a mistake had been made on the deeds, and efforts are being made to get that resolved.
He also said that the Harrys refused to accept the money he was going to send to them, less the charges he had laid out for work done on their behalf.
He said that cheque had been returned and is still in his desk.
"In real estate, you take on expenses that are the clients' expenses, but you do it with the understanding that when you are done with the sale you will be compensated.
"The Harrys did not pay their taxes for nine years. I paid their property taxes. The lot on the main road had unfinished structure on it, and clients requested that that structure be cleared up so they could see what they're buying. They could bring their builders there to assess the structure of the property," John said.
The real estate agent also said he is not happy with the way Wendy spoke to him, claiming that she was rude and had used disparaging language.
But Wendy disputes this. "I've got everything, everything in writing. I've got every conversation in writing, me and Mr. John have had. And if you actually were to read the texts from both of us, I'm sure that you would make up your own mind of who's, who's been rude, and who comes across as ignorant."
John however says despite all this, he will work to get the last land transaction done, so he that he can be paid, in the hope that peace will prevail.