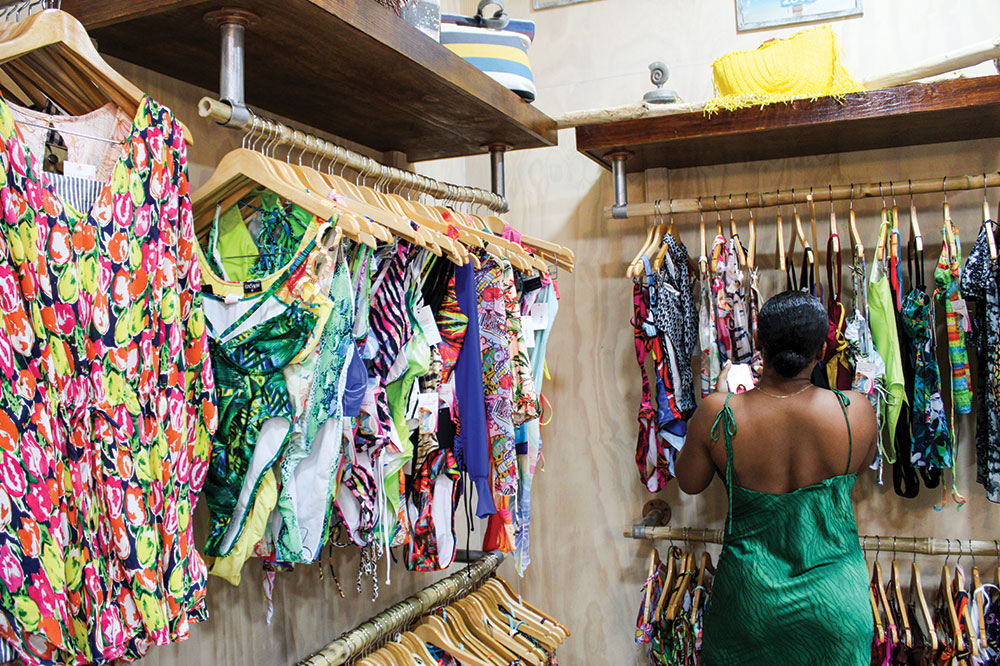 Island Pop Swimwear opens second location at the Joshua Centre
It all started four years ago when Melissa Bonadie went trekking through Kingstown in search of a place to purchase a swimsuit for a trip to the beach.
Four years later, Bonadie has channelled her misfortune of not being able to find good swimwear on that day into, not one, but two swimwear store locations under the banner; Island Pop Swimwear.
The entrepreneur cut the ribbons at the entrance of her second location, Island Pop Swimwear 2, at the Joshua Centre, on July 25 in the presence of a small group of family members, friends and supporters.
"I just want to expand and be like a household name when it comes to swimsuits in Vincy. I think that's really my drive," Bonadie told SEARCHLIGHT in an exclusive interview at her opening.
She expressed her belief that it's human nature "to want to expand and grow", as she described her fortunate stroke of serendipity to learn about the available spots for rent at the quickly developing Joshua Centre, while attending an opening at the mall some time ago.
Bonadie saw it as the perfect opportunity to expand her business, especially since the new location offers customers the option of comfortable and convenient parking — an amenity missing at the Kingstown location which is located upstairs the Bonadie Plaza.
The Island Pop Swimwear store in the capital city is known for its chill, relaxing vibe where customers can take their time browsing through racks of beach apparel for women, men and children.
Bonadie told SEARCHLIGHT that same vibe exists at the second location in Arnos Vale, but with an added touch that's "just a bit more earthy".
She assures that customers can shop at Island Pop Swimwear 2, for the same quality items.
Pieces from Bonadie's own swimwear line, 'Oshun', which she designed herself and are made locally by China Primus of Ching Ling Designs, and Pinky Todd-Williams of Pinky's Creations, are also in stock at the new store.
Plans are also in place for other items from local entrepreneurs to be stocked at Island Pop Swimwear 2.
Already, earrings from local brand, Handmade by Kate can be found at the store, and Bonadie revealed that she will stock body scrubs from the Luxri Skincare line very soon.
"I do want to include local people because I think it's good that we help each other," she told SEARCHLIGHT.
Bonadie thanked her friends and family for believing in her and offering their support throughout her years in business.
And to budding entrepreneurs, she says "just be headstrong".
"Somebody else's experience may not necessarily be yours so if somebody is telling you that you shouldn't do it, I don't think it's a good idea, I mean its always worth a try. If it doesn't work, it doesn't work. At least you can say, you still did it. Just be determined, have a core group around you that's very supportive, and I think you will do well and reach far," she said.