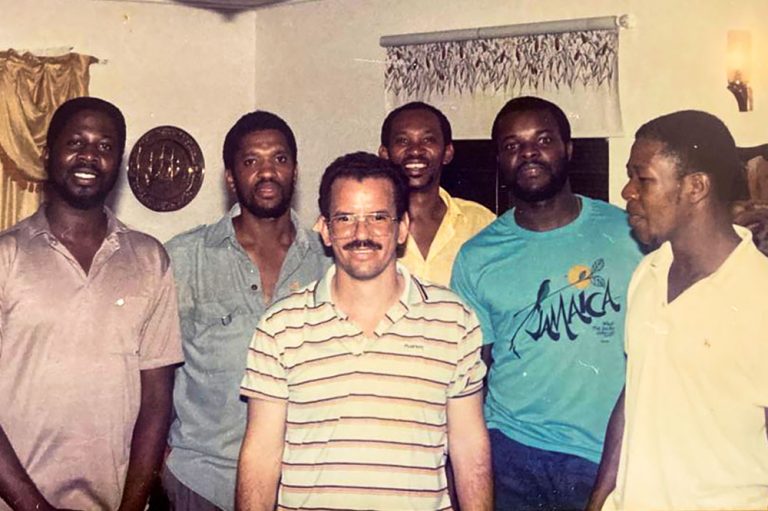 First batch of Vincentian graduates of Cuban universities reach retirement
Last Friday, July 29 was the last day that Thornley Myers spent in the service of this country's national electricity company, VINLEC. He retired after a successful tenure at the company's helm, which lasted 18 years.
Myers has publicly issued as press statement, his reflections on a most challenging mission describing it as "Mission Completed" and offering his thanks and expressing "utmost confidence" in those who would succeed him in management and the future of the company as a whole.
His retirement brings into focus what is often called the "changing of the guard".
He was among the earliest batches of students to leave our shores to pursue tertiary education studies in Cuba. It was a brave decision for young people to take then, in the early eighties at the height of anti-communist propaganda against Cuba.
But education opportunities then were very limited, quite unlike today, so the decision of the United Peoples Movement (UPM) to accept scholarships, on offer to Eastern Caribbean governments, but refused in fear, was both a bold and far-sighted one.
The then General Secretary of the UPM, Renwick Rose, told SEARCHLIGHT that in spite of the propaganda and hostile climate, it was necessary to ensure that our country built up a cadre of committed professionals in many fields.
"We were treated almost as pariahs in those days', he said, and accused of sending "people's sons and daughters" to go and learn "guerrilla warfare in Cuba".
Because of the embargo against Cuba by the US government, it was difficult for the students to obtain many amenities there and it was only when opportunities arose for UPM leaders to attend any meetings and conferences in Cuba, that they were able to take personal items to the students there.
"Even then, it was a real hassle from customs and immigration authorities, both here at home, and in transit in Barbados", he explained.
But the brave students persevered. Not only did they return home, as qualified professionals but they have made outstanding contributions to our country and region.
The late Donnie DeFreitas for instance was instrumental while at the regional organization Eastern Caribbean Telecommunications Authority (ECTEL) in spearheading the break-up of the monopoly of the British multinational Cable and Wireless over telecommunications in the Eastern Caribbean.
Another who has made a regional contribution is the current CARICOM Assistant Secretary General for Human and Social Development, Douglas Slater . He was previously a Cabinet Minister in the Unity Labour Party government.
Myers and Slater have seen their retirement periods approach as have others of the early Cuban graduates.
Two Ambassadors, their Excellencies Andreas Wickham and Dexter Rose, together with their wives, Vincentian Yvette (formerly Barnwell) and Cuban-born Lotier, who were in charge of consular affairs, have retired from the Venezuelan and Cuban missions respectively.
Bernard Hamilton, another of the early grads also retired recently after giving distinguished service to the Bank of St Vincent and the Grenadines, retiring as General Manager.
The passing of the baton is occurring but there are many other qualified Cuban graduates ensuring that Vincentian and regional economic and social development continues.