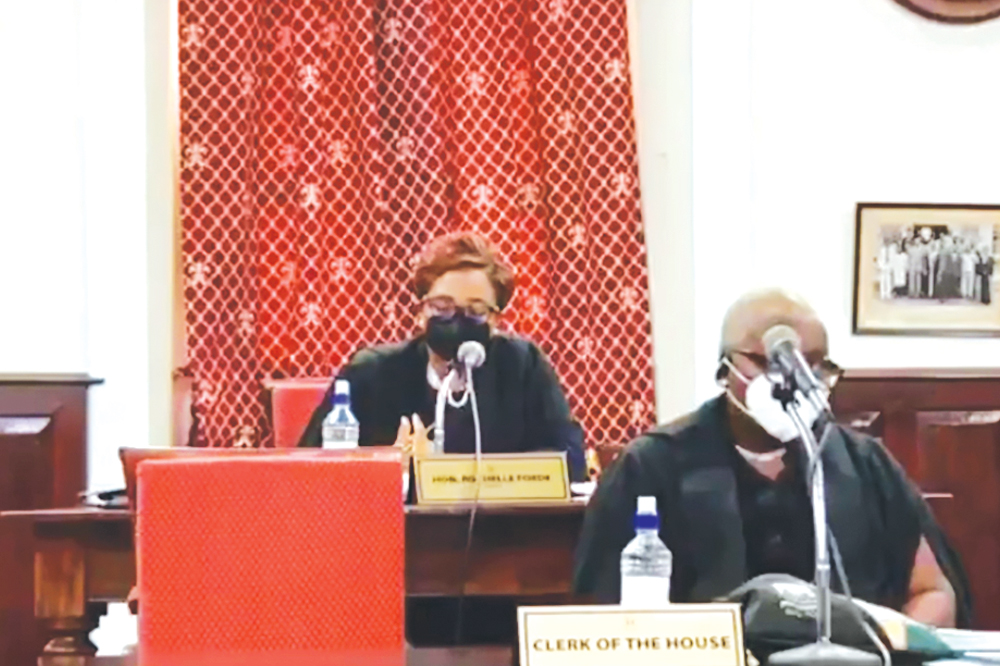 I am the gate keeper of the rules – Forde
Speaker of the House of Assembly Rochelle Forde had to pound her gavel and rise to her feet earlier this week as she tried to put an end to heated cross talk between Member of Parliament for Central Kingstown, Major St Clair Leacock and Member of Prime Minister Dr Ralph Gonsalves.
"I am the gate keeper of the rules," Forde insisted during a meeting of the House on July 25 when tempers flared between the two parliamentarians.
The issue arose after Prime Minister Dr Ralph Gonsalves had answered Question 5, which was asked by Leacock.
The question, which relates to energy, was directed to the Minister of Urban Development, Energy, Airports, Seaports, Grenadines Affairs and Local Government, Senator Julian Francis who was absent because of illness. Gonsalves, who has assumed responsibility for Francis's portfolios provided the answer.
When the Prime Minister had finished answering, Leacock rose to ask a supplementary question.His supplementary question was rather lengthy and the Speaker interjected and reminded Leacock about the rules of the House relating to the length of supplementary questions.
"Stop being a guard rail for the government," Leacock told the Speaker.
"No I am not."
"I am the gate keeper of the rules," the Speaker rebutted.
At this point, the Prime Minister stood up, and the cross talk began.
Gonsalves stated that Leacock was being rude to the Speaker and the cross talk intensified while both members were on their feet.
The situation escalated to the point where the Speaker had to stand and ask both members to "take a seat."
Leacock remained standing even as the Speaker urged him to sit.
He however took his seat after the Speaker repeated her directive in an elevated voice.
After taking her seat, the Speaker repeated "I am the gate keeper of the rules, the gate keeper of the rules, the Standing Orders and I'm quite sure, without question, that my rulings are very very balanced."
The cross talk continued, much to the annoyance of the Speaker who ruled that the House move to Question 6.