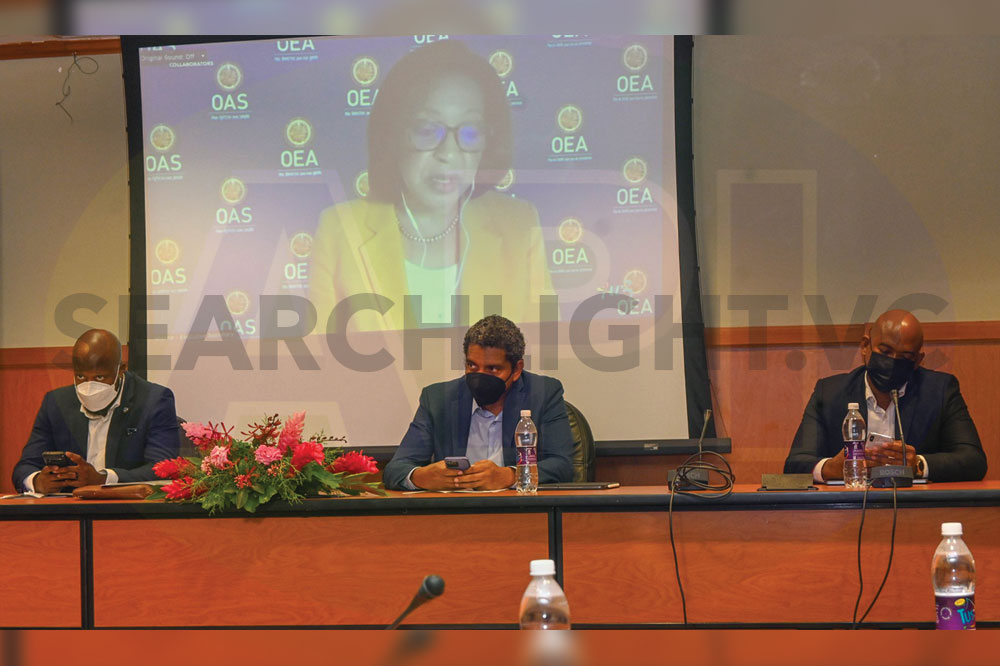 Vincentian creatives encouraged to think beyond SVG
Vincentians in the creative and cultural industries have been encouraged to think beyond this country's borders and embrace the digital opportunities that have the potential to generate significant revenue.
"I want you to expand your thinking. Leave the landmass of St Vincent and the Grenadines and traverse the global spectrum that is emerging on platforms such as the Metaverse and where we can put our creative industry, stakeholders in the creative industry into that global platform where they can earn serious income," minister of Culture, Carlos James told a room full of creatives last Thursday, July 14, at a one-day webinar.
The webinar, dubbed "Unlocking the Metaverse: Digital transformation and the Creative and Cultural Industries" forms part of the Ministry of Tourism, Civil Aviation, Sustainable Development and Culture's efforts to provide sensitisation, training and alternative source markets for creatives to boost their revenue streams.
Earlier this year, James introduced the possibility of hosting Vincymas in the virtual reality of the Metaverse — an idea that many found difficult to grasp.
The tourism and culture minister said last Thursday, that what "we are essentially looking at doing, not just for Vincymas, but across the creative industry, is to provide additional platforms and opportunities where we can reach a larger target audience, strengthen our digital footprint and welcome the potential for revenue growth through these virtual platforms globally".
He noted that there are creatives who earn an income once a year through the cultural festival.
The minister highlighted a growing interest in Caribbean culture in countries like Japan, where just one per cent of the population surpasses that of St Vincent and the Grenadines.
James preferred that there was significant potential and opportunities for creatives, "if we were to get one per cent of that total population of Japan interested in virtually accessing products and services from St Vincent and the Grenadines…"
Camillo Gonsalves, minister with responsibility for information technology also stressed the importance of creatives utilising the virtual realm to maximise their earnings.
"This virtual world, this metaverse, you mightn't know the shape of it today, but it's coming and we're already sensitising our citizens to a world in which the boundaries of St Vincent and the Grenadines are less significant than they use to be," he said.
"So all of my daughter's generation is going to be a short hop from Fortnite and Minecraft virtual reality because they'll have already interacted, they'd have already put on skins, already built universes with other people, they'll already engage in parties or wars depending on the app. It'll be nothing."
Gonsalves noted that the virtual world ought not only be a place to export local talent and artists, but St Vincent's rich culture as well.
It is for this reason that he has requested local artefacts and petroglyphs be digitised for the virtual realm, to further educate on this country's history.
The information technology minister urged persons to "think beyond your borders, think beyond seasonal culture, think beyond village fame and understand that you are standing on the threshold of a new era of globalisation. The only way we are going to grow is if we understand that and take advantage of it".
"We are either going to be producers of content or consumers of content. We are either going to be swiping our credit cards, and large companies in another country are going to make money from it, or we are going to be making money with what we create," he said. "We have the talent, we have the skill, we have the vision, we have the creativity and we will be removing the barriers…that stop local artisans from selling products in other countries because they will be sold as digital items".
The one-day webinar featured a number of local and International speakers including Vincentian artist, Calvert Jones, who delivered an overview of SVG's Digital Development Strategy for Creative Industries and Digital Economy; Kim Osborne, OAS Executive Secretary for Integral Development; Héctor Faya, Director of Latin America Policy Programs and Government Outreach at META (Facebook); and Dr. Ignacio De Leon, CEO Kozolshyk National Law Center, University of Arizona.