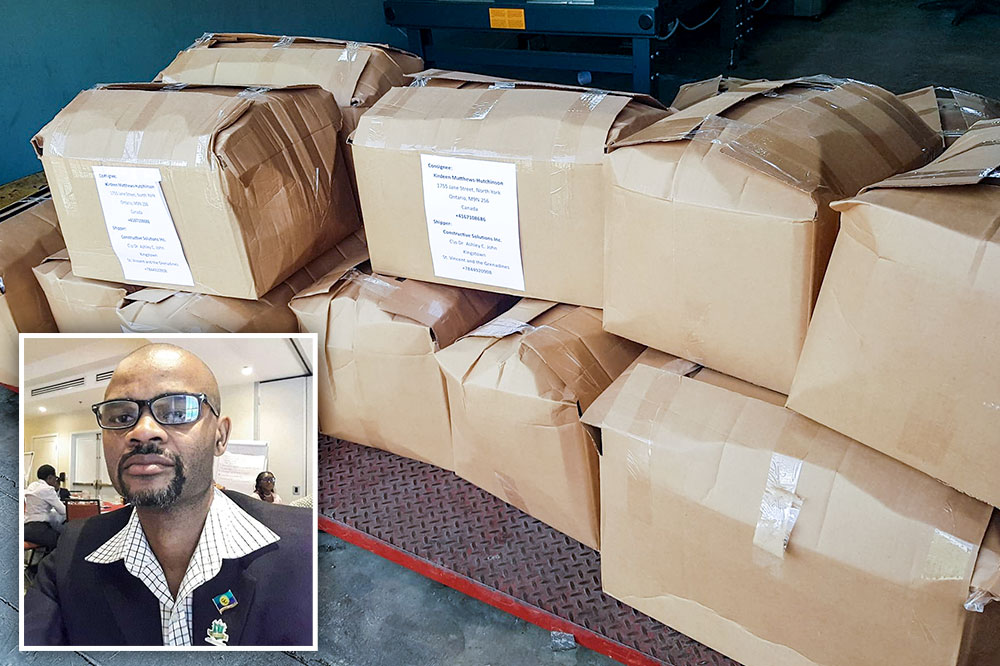 Local farmers export 600 pounds of sea moss to Canada
Six hundred pounds of dry sea moss was shipped to Canada this week — the largest quantity for the year for sea moss farmers being guided by non-governmental organisation, Constructive Solutions Inc.
The feat is one that Ashley John, executive chairman of the company says is a great achievement for this country, but one that only scratches the surface as plans are afoot to ensure sea moss farmers expand even more.
This, in turn, is sure to result in larger quantities being exported from St Vincent and the Grenadines.
In an exclusive interview with SEARCHLIGHT yesterday, John explained that his company began a project in October 2020 with sea moss farmers on Bequia to teach best practices of sea moss farming, benefits of the Blue Economy, among other things.
This programme is ongoing and runs concurrent with one being implemented by SusGren, to expand training to sea moss farmers on other islands including Union Island and Canouan, as well as producers of sea moss products on mainland.
Stemming from that expanded project, which is funded by the GEF Small Grants programme, 28 persons were awarded small grants to upscale their existing sea moss farms or value added product businesses.
"St. Vincent has a lot of potential in terms of sea moss farming. However, it has to be done the right way. You have to follow the best practices and ensure that we have consistent quality of product every single time," John said.
Among the farmers included in the training were the Hutchinsons from Union Island, whose son in Canada formed a business, which involved the import of sea moss from SVG.
John said the first test shipment was in 2021, which was such a success that the quantity was doubled this time around.
The consultant noted however that this is not the first shipment of the year.
In fact, his company facilitates the shipment of sea moss to the United States — their biggest market so far — once every month.
"We have been working through with Amerijet and so on to make sure that it goes up smooth and everything. And, you know, we continue building on this process. We have prospects for the United Kingdom, we have prospects for Qatar, we have African persons who have interest in it, but you know, we have to work through the logistics to get it there and so on. But so far, we have been making progress steadily," John told SEARCHLIGHT.
Some shipments have also been sent to countries in the region including Grenada and the British Virgin Islands, but the businessman said this came to a halt when COVID lockdowns made some ports inaccessible.
He said his company is currently working around the logistics to get cargo moved again into different countries.
Though there seems to be significant interest in sea moss exports, John lists logistical issues as one of the main issues hindering the process.
He also noted that the local market is very small so the main thrust is on export.
"…We have to focus on export and I think that that is a good thing for us because you know that export is a foreign exchange earner. And our country needs to earn foreign exchange and the export markets will be able to receive the quantities that we can produce, because we have not even reached quarter yet of the quota that we want to," the consultant said.
John's research shows that in the Philippines, at least 170,000 tonnes of sea moss can be produced there yearly.
"We have an advisor in terms of sea moss consulting, and he informed us that we can do even more than that, because of the sea conditions we have and the quality of our water," he said.
The Bequia resident added that "we have had an interest in people wanting like 10,000 pounds per month and we can't even come near that. Remember, that it is not just 10,000 pounds, you have to multiply that with 20. So in order to get 10,000 pounds of sea moss, you got to grow almost 200,000 pounds wet".
"We need to have that support to get to that level. We can do far more than we are doing, but we don't have the support so we've basically been doing it in stages…each sale, we go reinvest to expand but we want to get past that," he told SEARCHLIGHT.
John thanked GEF and SusGren for their support through grant funding thus far.
And he is calling on the government and potential investors in the local and international space, to partner with sea moss farmers to assist in building the industry.