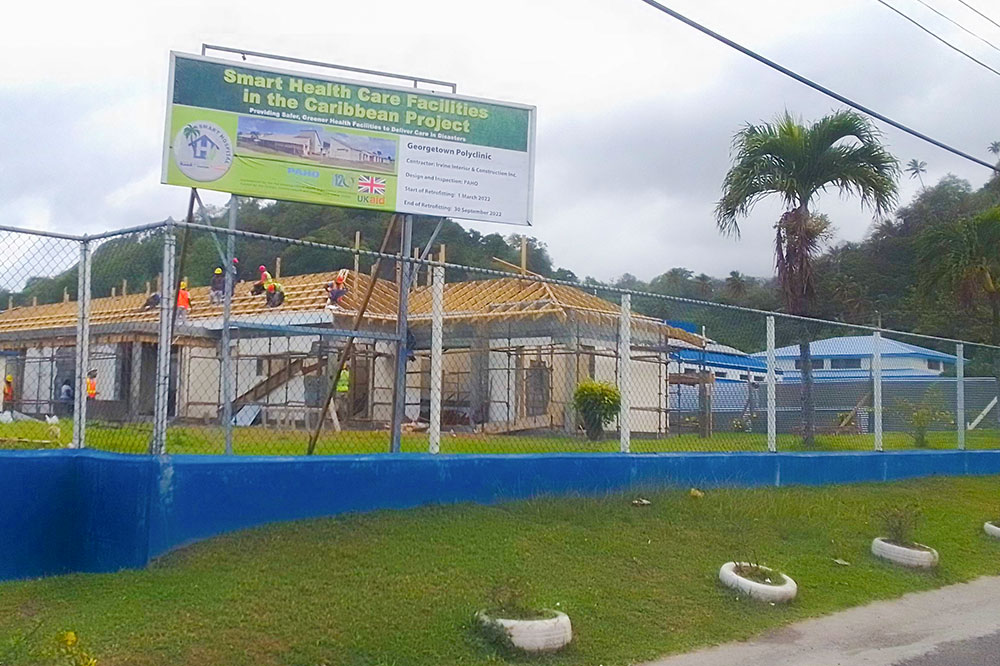 Chilli Village clinic being upgraded as part of Modern Medical Complex
Work is taking place on the Georgetown Clinic at Chili Village to upgrade and expand it into a Smart Clinic.
Word of this came from Prime Minister, Dr Ralph Gonsalves during his weekly appearance on NBC Radio on Wednesday, June 29.
The prime minister said the ongoing work is expected to be completed by December, but workers are promising to deliver the Smart Clinic at an earlier date.
"I was on the site there, and the fellas told me that they suppose to deliver in December, but they want to deliver it to me for Independence.
"And I like that, you know, I hope they manage it," said Gonsalves, who is the Parliamentary Representative for North Central Windward, the constituency in which Chilli Village is located.
The Smart Clinic will form part of the Modern Medical Complex at Georgetown, which includes a Smart Hospital and the Modern Medical Diagnostic Centre.
Gonsalves further stated that work was done to lift the "smartness" at the Georgetown Smart Hospital, and soon the Medical Complex in Georgetown will have a Magnetic Resonance Imaging machine (MRI) to perform MRI testing. There will also be a Computed Tomography (CT scan) machine at the complex.
The Prime Minister assured that the CT Scan machine should be "fully operational" before December.
He reminded listeners that "CT Scans only became available in this country "under the ULP."
Gonsalves estimates the value of the Georgetown Medical Complex to be "in the region of $100 million."
Speaking about the strides made in the delivery of health care under his administration, Gonsalves asked, "do you know in this country today, you can do X-ray in Buccament, Kingstown, Marriaqua and Georgetown?"
He added that the country has also moved from having "no dialysis", to now having "top of the line dialysis facilities" at the Modern Medical Complex in Georgetown, and that the dialysis centre has been expanded "from eight machines to eleven."
During the volcanic eruptions last year, the dialysis unit was temporarily moved from Georgetown to Marriaqua and that unit in Marriaqua is still functional.
"We taking good care of people," Gonsalves noted.