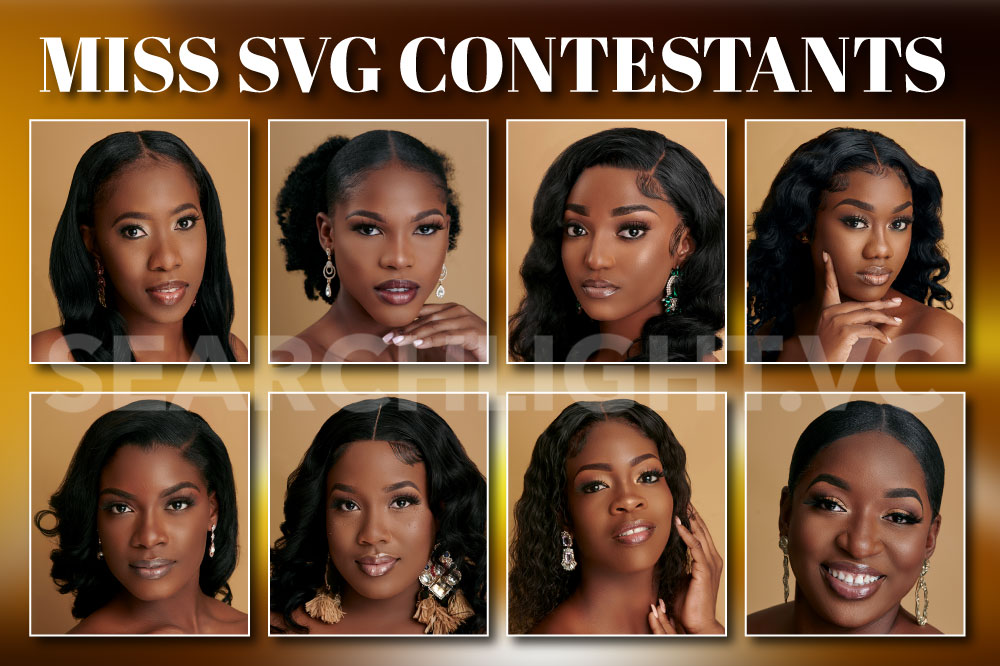 Miss SVG back with a bang
With the return of the Miss St Vincent and the Grenadines (Miss SVG) show, comes the intention to transform the perception of the national queen from one who is merely a crown holder to one who is of service.
This is according to Aviar Charles, chairperson of the Carnival Development Corporation's Beauty Shows Committee Charles was speaking at the unveiling ceremony of the 2022 contestants on June 20, when she declared that, "Miss SVG will be a figure and leading voice for social causes and community and national development projects".
The national queen pageant returns this year and with a new date in October, after a two-year absence due to the COVID-19 pandemic and La Soufriere volcanic eruption.
Eight young ladies were unveiled and sashed at the June 20 ceremony as this year's contestants who will vie for the coveted Miss SVG title on October 29 — two days after Independence Day.
The 2022 contestants are: Pallavi Browne, Miss Play 4; Rockel Coombs, Miss Intransit Export; Shannah John, Miss CEDCO; Shadyn McLean, Miss Davyn; Arielle Ollivierre, Miss St Vincent Brewery Ltd; Shanyah Peters, Miss Flow; Jada Ross, Miss Lotto; and Tanique Swift, Miss Massy Stores Ltd.
In keeping with vision of the organisers for a service oriented national queen, an addition to this year's show is the GECCU Miss SVG Community project.
"The GECCU Miss SVG Community Project seeks to engender a spirit of volunteerism and outreach that will help to bring stronger communities and to awaken the consciousness of Vincentians," Charles said at the June, 20 unveiling.
The Beauty Shows Committee chairperson also thanked the credit union for its involvement in the initiative, which she said speaks volumes of the institution's commitment to community development.
Each contestant will be tasked with completing a project on: education development, community beautification, advocacy for the differently able, health awareness or health promotion, entrepreneurship development, geriatric care, promoting safety and reducing crime, and sports involvement.
More details on this project will be released at its official launch in July.
Charles noted that the 2022 Miss SVG pageant will also see the introduction of a cultural wear judged segment, which will require each contestant to create and display an attire reflective of selected cultural themes within St Vincent and the Grenadines.
Miss SVG 2019, Sharikah Rodney goes down in Vincentian history as the longest reigning national queen.
While delivering remarks at the unveiling ceremony last week, Rodney told contestants, "the fact that you will be here with us this evening is proof that you are already winners and that you are all equally deserving of the title, Miss St Vincent and the Grenadines 2022".
She also thanked sponsors for their continued support to the pageant, to Vincentian culture and the development of Vincentian women.
Minister of culture, Carlos James and CEO of the Carnival Development Corporation, Ricardo Adams also delivered remarks at last week's unveiling ceremony.