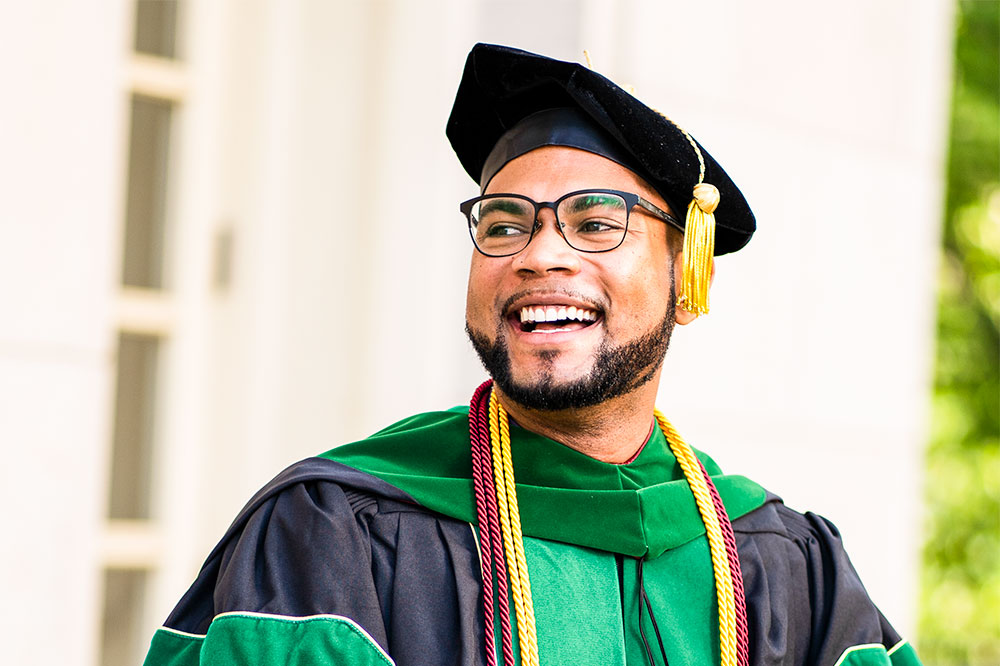 'Captain John' on a mission to mend hearts
He's produced music that has made the hearts of many people across the world sing.
And now that he's graduated from the Trinity School of Medicine, John 'Captain John' Rickards is looking to mend hearts, as he continues on his medical journey in pursuit of one day becoming a Cardiologist.
The Vincentian graduated this month from the University with gold and burgundy honour cords, signalling that he not only completed studies with a cumulative GPA above 3.5 but was bestowed with the highest distinction by faculty for outstanding performance.
"I appreciated receiving both but I especially appreciated the burgundy honour cord just because it showed me…that administration felt me worthy of graduating with distinguished honours. I think that in itself spoke to me as a culmination of the hard work I put in over the journey because I believe only four of us were given that honour at graduation," Rickards told SEARCHLIGHT in a recent interview.
The 26-year-old began his journey in pre-medicine at Trinity in 2016 and completed his studies at their clinical campus in Georgia, a place that symbolises one of the highlights of his studies.
"I think the support here and also the fact that you get to rotate with some of the doctors at the top of their field practicing here, I definitely think that was beneficial and allowed you to cultivate a habit of excellence…" he said.
But what the young doctor appreciated most is the family oriented nature of the Trinity School of Medicine.
The overall experience is one he described as "amazing" for the mere fact that Trinity is a small school when compared with other Universities meaning, students receive individualised attention, which in turn helps significantly in moulding one's medical path.
"Medicine is so diverse, everybody's path is different. I think that aspect of Trinity and the fact that once you enter, you're family. I really enjoyed that. They really help you out over a challenging path because in general, medicine is very challenging so I appreciated that with them too," he said.
Rickards' challenges pursuing medicine are similar to what many others pursuing the same path are likely to face with gruelling exams that can last as long as nine hours, and the taxing physical exertion that comes from juggling rotations, prepping for exams an assignments.
But the key, according to the St Vincent Grammar School alum, is not to procrastinate.
"For me, I think what was the most important aspect of how I managed my time was that I tried to map out my days as precisely as possible so that I didn't really waste any time. What we suffer from sometimes is that we plan our days but we don't really plan them as proficiently as we can. So, we just have a list of tasks instead of trying to boil it down to what we need to be doing per hour and how long it should take us," he said.
"… I think that sort of precise schedule, especially when it came to preparing for my board exam, when I did it down to the hour, to the minute — even if I didn't stick to it, it was a map that kept me motivated and I tried to keep myself on course by using it. Otherwise, it's really just a case of not procrastinating and as soon as a task comes up, once you can complete it, then complete it in its entirety. That in itself will put you ahead of the pack, just having things off your plate so if something does pop up at the last minute, you can deal with it."
As a popular DJ and producer, Rickards also used music as an outlet for when he encountered bouts of difficulty.
Captain John has produced riddims over the years that feature several big names throughout the region including Machel Montano, Skinny Fabulous, Problem Child, Voice, V'ghn and Konshens.
He told SEARCHLIGHT that given how expensive studying, particularly in the US can be, he was glad that he was able to cultivate his music to the point where it served as an additional income to supplement expenses he incurred while studying.
Rickards noted that the effects of the pandemic on the music industry didn't allow him to contribute as much as he wanted to in recent years, but persons can look forward to a ton of music that he plans to release soon.
At this stage in his journey, the son of Glynis Hay has his heart set on specialising in Cardiology and Electrophysiology.
This means Rickards has another three years of Internal Medicine, another three in Cardiology and another two in Electrophysiology to complete.
He told SEARCHLIGHT he is currently doing observerships and research in Georgia as he prepares to be matched with a medical facility next year, where he will do his residency.
But first, a vacation is long overdue as the aspiring Cardiologist seeks to take some time to decompress.
"But after that, I think I'm really putting a lot of effort into my applications for residency match that opens in September. And then following that, my hope is to match into a very good Internal Medicine programme and pursue Cardiology," he said.
No matter one's field of study, Rickards is encouraging all students to persevere.
"I know especially in studies, a lot of people have moments when things get very difficult and they don't see much hope or a way forward or a way to complete the path that they're on. That's happened to me several times during this degree and just that, a lot of times, the values or the parts of your journey that are the hardest are the parts that define you and allow you to really gain the strength to complete everything," he said.