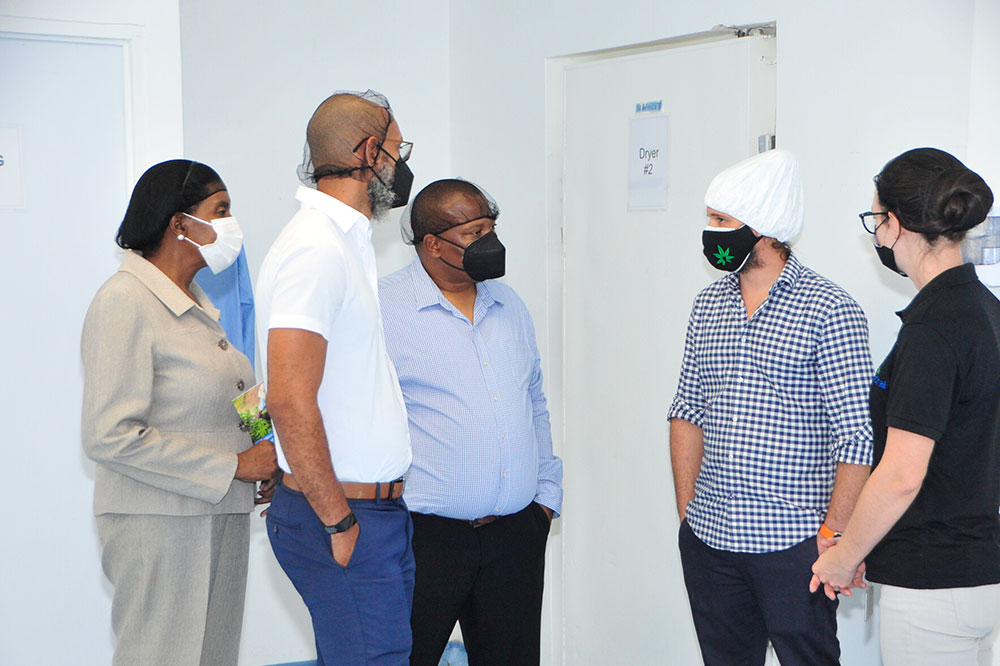 St Lucia Minister visits Medicinal Cannabis Industry facilities in SVG
A THREE-member delegation from the Government of St Lucia, led by Minister for Manufacturing, Business Development, Cooperatives and Consumer Affairs, Emma Hippolyte visited St. Vincent and the Grenadines this week for a tour of a number of medicinal cannabis facilities.
Hippolyte is Chair of St Lucia's Cannabis Task Force, and was accompanied by Deputy Chair, Dylan Norbert Inglis, and public relations officer Verne Emmanuel.
In addition to visiting the facilities,the delegation which arrived on Wednesday, June 8 met with Minister of Agriculture, Saboto Caesar and officials from that ministry as well as officials of the Medicinal Cannabis Authority.
Minister Hippolyte told SEARCHLIGHT on Thursday that, "We recognize the level of capital that is needed, the level of knowledge, the level of quality assurance, especially as it relates to the lab operations. From beginning to end, the level of documentation that is required, the good agricultural practices, cultivation practices".
She added: "We saw processing to finish products and creams and now we have seen in this establishment here, the receiving plant, and bringing it to a market product. So it's an eye opener for me, and then juxtapose what you have here in St.Vincent and what we want to do in St. Lucia."
Hippolyte, explained that the aim of the mission was to look at best practices for the way forward as the St Lucia industry takes shape.
"In St. Lucia, we are looking at both medicinal and recreational use, and St. Vincent (and the Grenadines), do not have recreational use. We looked as well in terms of protecting our traditional growers, and we really wanted to have the conversations which we did, both with a traditional grower, and also to have a conversation with the two investors who are here. How do they operate, what are some of the things they would like to see done differently to assist them with their investment, so I think it's all in all very, very good for us."
The St Lucia minister said what is needed to be done as soon as possible, "is to expose our medical team."
This came out of discussions with the Medicinal Cannabis Authority and the training that they offer to staff. With an increasing number of prescriptions being written for medicinal cannabis pharmaceuticals for use by patients to treat a number of ailments, Minister Hippolyte said: "I felt it was very important that our medical teams, our pharmacists, our nurses, are exposed to that training and conversation with their own professional colleagues".
This is "so that they understand how medicinal cannabis is used and the benefits that have been derived so far in St. Vincent, having that experience for about a year in terms of using it, and to see how we can embrace that so that the implementation in St Lucia is a lot faster."
Earlier, minister Caesar said, "We are prepared to share information with our brothers and sisters in St Lucia as we work to build a world class medical cannabis platform in the sub-region. St.Vincent and the Grenadines is a techno-pole for plant based research in the 21st century".
He added: "We have successfully established a brand in the Western Hemisphere as a prime destination for research in plant-based medicine, inclusive of cannabis. This new era is expected to attract investors interested in funding researchers, with the ultimate goal – the improvement of global healthcare for humanity."
A major area of concern for the St Lucia minister is, "how we protect our kids from consuming or thinking that it's okay to consume cannabis at an early age". She said, "…we have, and we are putting all structures in place to ensure… that we educate our young people, so that they understand that this is not something that you want to get into before a particular age."
The St Lucia minister also agrees that there is room for significant collaboration between the two countries, and the public and private sectors.
"There's significant collaboration. I think it's a win-win situation for everybody."