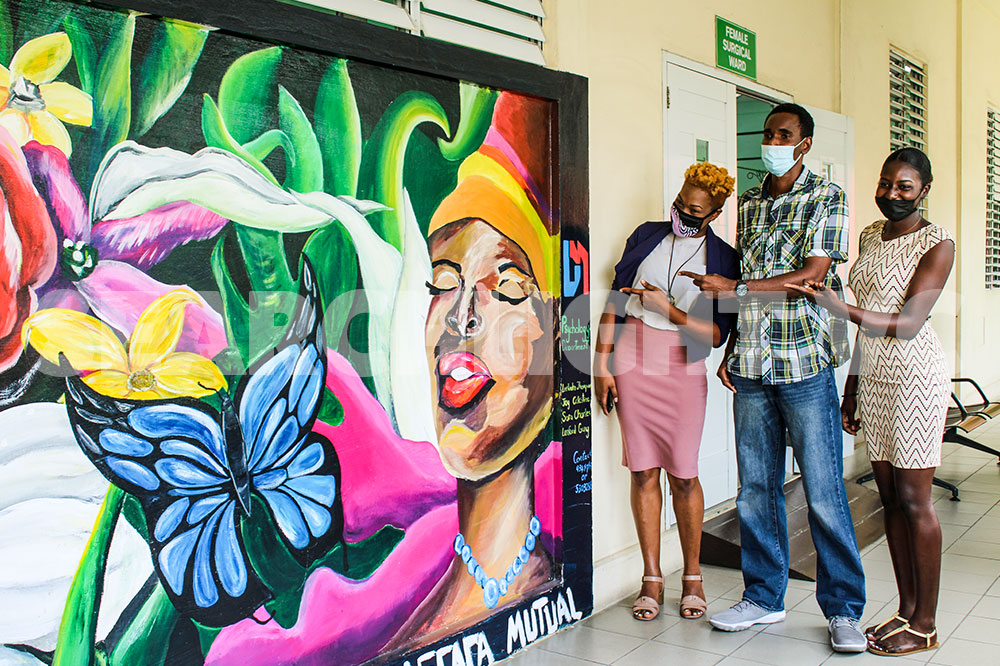 New murals at MCMH designed to create a calm and uplifting feeling
Four murals have been erected on various walls at the Milton Cato Memorial Hospital (MCMH) in an act that initiators hope will bring calm and uplifting feelings to all who occupy the space.

The initiative was spearheaded by the Psychology Department at the hospital and facilitated by Demerara Mutual Insurance Company and the General Employees Co-operative Credit Union, (GECCU).
"When we think of the hospital, we think of healing and we want to make sure that even as persons come, as patients who have family members who are waiting around, that you still feel a sense of healing, you still feel some comfort when you are here and we wanted to use art as a way of bringing that out," the head of the Psychology Department at the hospital, Dr Jozelle Miller said at a short ceremony on Tuesday to officially unveil the artworks.
Miller said the department has taken the initiative over the past year to carry out activities that will enhance the environment of the healthcare facility.
She noted that research shows how essential art can be in allowing persons to feel hopeful and optimistic when faced with challenges and that was the intention behind the murals now featured on the walls of the MCMH.
Miller said the project is ongoing, and the department hopes to introduce art therapy to patients and staff in the coming months, where persons will engage in artistic activities as a means of coping with challenges, stress or illness.
The murals were executed by several local artists and can be seen on walls at the atrium, Maternity B, Female Surgical and Male Medical wards.
One of four murals was sponsored by GECCU while the remaining three were sponsored by Demerara Mutual.
Branch manager at Demerara Mutual, Donamie Providence said it was a pleasure for the company to be involved in such an initiative.
Providence noted that comfort can be brought to patients and their families who may be feeling depressed or low in spirit.
"…I'm really happy to know that we were able to partner with the Psychology Department to make sure that the patients are taken care of mentally and physically," she said.
"I know that it was something that I really did not want to pass me by because when the idea was introduced to me, I immediately gravitated to it because I know it will make a difference."
Lee-Andra Thompson, one of the artists who worked on three of the murals described art as a form of expression that has the ability to communicate things that cannot be said only by words.
Thompson also attested to the calming benefits of art and said the murals were designed specifically to assist in taking people's minds away from negative thoughts and situations and replace them with peaceful ones.
"The colours that were used to invoke calmness while brighter reds and yellows help persons to think of something different, something other than trauma or stress persons may be facing…this is why the project was created, to give you hope," she said.
Other artists who participated in the project are Joy Celestine, Sara Charles and Ledford Guy.
Thompson also made mention of two students from the Dr J.P Eustace Memorial Secondary School who gave assistance in completing the murals.
The mural at the Maternity B ward, which depicts "A Hope Tree" was sponsored by GECCU, and painted by Tancha George.