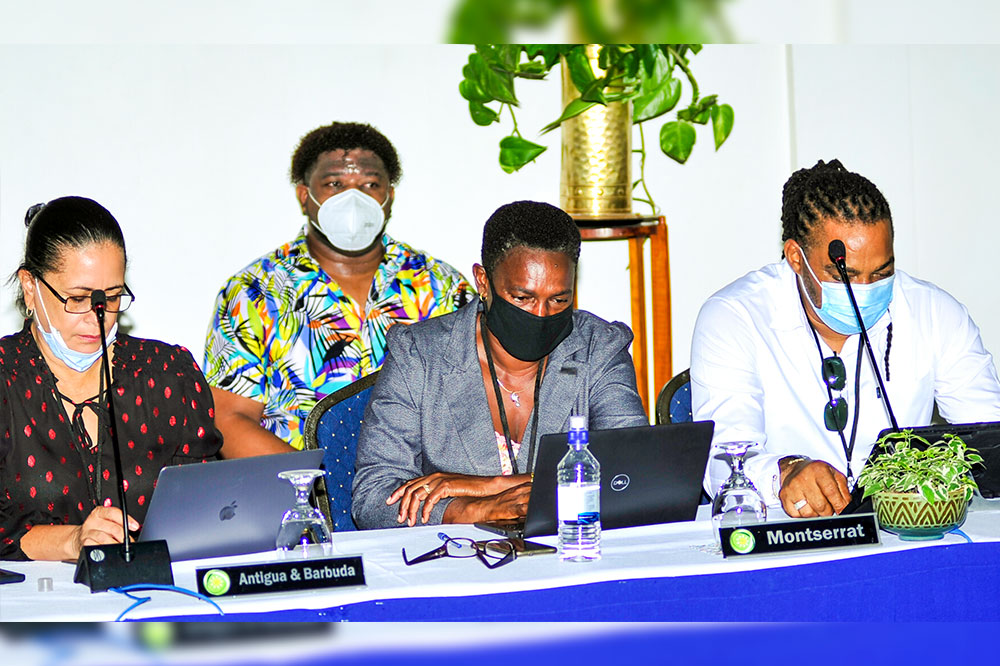 Minister calls for stronger, more focused and harmonised polices within the OECS
Member States of the Organisation of Eastern Caribbean States (OECS), have been called to develop stronger, more focused and harmonised policies that will champion the cause for Small Island Developing States (SIDS).
This call was made by Carlos James, Minister with responsibility for sustainable development, Carlos James as he addressed the ninth meeting of the OECS Council of Ministers on Environmental Sustainability conference (COM.ES).
The meeting began on May 31 and ended yesterday, June 2 and James, who served as chair of the Council of Ministers, said the meeting will allow for participants to shift their focus to more integrated approaches for sustainability and prosperity for SIDS in the OECS sub-region.
"We have had our share of challenges within the economic union from the global pandemic, a volcanic eruption here in St Vincent and the Grenadines- also felt in St Lucia in terms of the ash fall I believe- the inflationary rates brought on due to the Ukraine-Russia conflict, climate change threats resulting in droughts and rising sea levels, all of which continue to have an adverse impact on our ecosystems, food security and sustainable development," James said.
"Staying true to the St Georges declaration, we must develop stronger policy frameworks, focusing on strategic actions, to minimise the environmental vulnerability and to improve environmental management systems, while at the same time accelerating climate action in mitigating and adapting to climate change impacts."
The Sustainable Development minister noted that this calls for a commitment to environmentally sustainable practices to build thriving communities, to secure future growth potential.
He added that, "environmental sustainability done right means balancing development with good ecosystem management practices".
"We have to, from a Council of Ministers standpoint, from our position here, look at developing stronger, more focused and harmonised policies and initiatives from a national level but also from an OECS level in championing the cause and sending the message that Small Island Developing States, we do have a voice," James said.
Director general of the OECS Commission, Didacus Jules also gave brief remarks at this week's two-day meeting.
Jules acknowledged the disruptions and various challenges faced in the region within the last two years, but noted that some events, like climate change remain constant.
"Small Island Developing States are still the most vulnerable to climate change. "Tomorrow actually, the 1st of June will mark the start of a dreaded hurricane season. The pledges of resources and ambition that we got from the time of Hurricane Maria and Irma in Dominica, and several of the OECS Member States are still on paper, or are still tangled in a wasteland of words and unanchored promises," he said on Tuesday morning.
The director general said the resolve of the region cannot afford to wane, but rather grow stronger to address these challenges effectively.
"Just like nation building, the business of regional integration and co-operation does not stop in the face of crisis but its necessity is actually accentuated. We have come through this initial fire steeled in the knowledge that adversity can be turned to advantage and we've come to recognise the truth of the old Chinese saying that opportunity is crisis riding a dangerous wind," he said.
"Last year, the OECS with St Kitts and Nevis as chair of COM.ES, continued its collaboration with Member States, Regional Agencies and partners to make notable strides in pursuit of the vision and goals of the St Georges declaration and specific mandates of the Council of Ministers…"
The two-day Council of Ministers meeting ended yesterday, June 2 but was packed with a series of activities locally that focused on environmental sustainability.