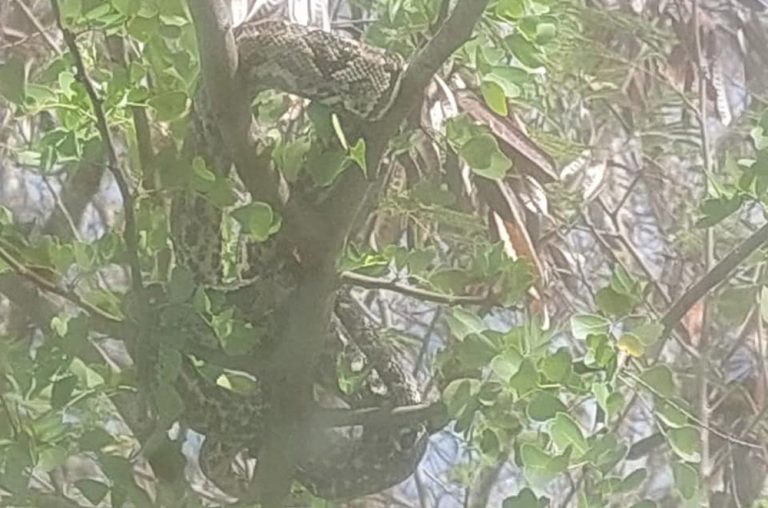 Snake spotted on Bequia not to be feared says forestry official
Officials of the Forestry Division have given the assurance that a snake that was spotted in a tree in Bequia on Tuesday, May 17 is not to be feared.
The reptile was spotted at a place called Hilltop House in an area referred to as Paradise, near to the Hope estate and posted to Facebook. 
Wild Life Officer, Bradford Latham and a team from the Forestry Division travelled to the Grenadine island on Wednesday when they were able to obtain the requisite boat passes having been alerted to the presence of the snake. 
The intention was "to try and capture and relocate that snake," he told SEARCHLIGHT.
What they found, however, was the skin which the snake had shed, and a thorough examination led to them conclude that it was not a danger to humans. The snake is referred to as a congo snake and is one of two species of Boa constrictor that are endemic to St Vincent and the Grenadines. Latham said the team believes the snake, which is active at nights, had gone into the tree to shed its skin, and evidence also suggests that it may have also been positioning itself to capture some bats on which these snakes commonly feed.
As it happens, today, May 20 is observed as endangered species day, and while acknowledging that some people may have a bit of phobia about snakes, Latham is nevertheless appealing for co-existence with these reptiles.
"These endemic species…that are located on islands such as St Vincent and the Grenadines have to share the habitat…and we have to really try and do our best to support, protect and conserve  the species," Latham told SEARCHLIGHT.
The snake that was spotted on Tuesday therefore was not found, and is likely to be spotted again. Latham said they would like to have the opportunity to capture and relocate it to another more heavily forested area on the island.