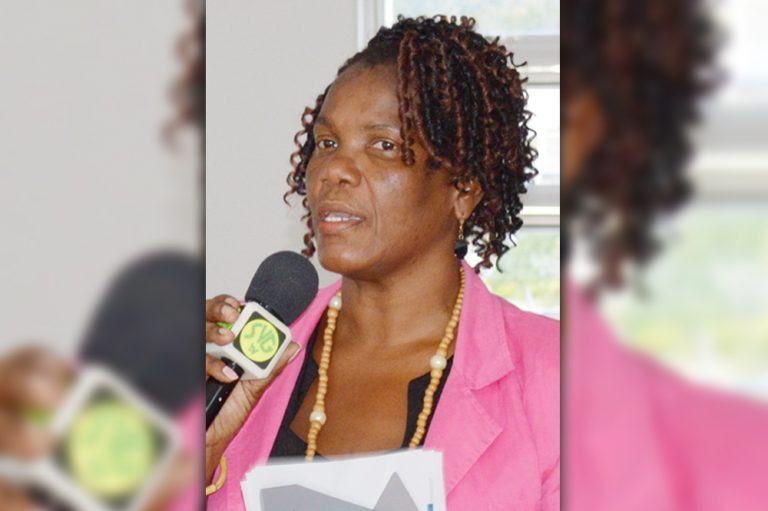 When will violence in our society end? – NCW president
THE PRESIDENT OF the National Council of Women, Beverly Richards this week asked the question, when will violence in our society end, and called on all Vincentians to speak up and work together to eliminate it.
At a press conference at the Kingstown Baptist Church on Wednesday, May 18, Richards indicated that they wanted to reach out to St Vincent and the Grenadines (SVG) "at this moment when we are going through this, I would call it, a perilous time."
Although Richards did not reference anything in particular at that point, her words come on the heels of the discovery of a decomposing body later determined to have been that of 17-year-old Precious 'P' Williams dumped and discarded in a bag near a Garage at Murray's Village road.
Additionally, on the first day of this month the body of Family Court counsellor, Luann Roberts was discovered in her car and her former boyfriend has been charged with her murder.
There has also been a series of shootings this month.
"I may not be directly hurt but my sister, my brother, my mother, my friend, they are hurting. Or a mother out there is hurting, a father is hurting and we ought to be our brother's keeper," Richards noted.
"On behalf of our affiliates and our members I speak to the survivors of victims of crime and violence in our country, we share your pain and we offer our love and concern," she said, noting that the scars can seem to never heal.
Richards observed that each time an act of violence is committed, the society mourns and she is calling for an end to the violence.
"But these campaigns are short lived. Then another act of violence, then another, more heinous, more gruesome. This begs the question: when will it end? Is the message being sent? And who is receiving the message? Will there be a next victim, who? and at the hands of who?"
"More and more the situation gets worse and frequent. How can we discard a woman's body in a crocus bag like a sack of trash or a forgotten bit of trash in the backseat of a vehicle? For heaven's sake this is a girl, this is God's creation…" she stressed.
"…It's a mother's daughter, it's a child's mother, a friend of a friendless."
The president made it clear that this was not the Council's reaction, nor a one-off response, but rather they are speaking to keep on top of matters and to voice their continued concern for the status of women in the country.
Generally, Richards emphasised that violence ought not to have a place in our lives.
"According to the Domestic Violence Act of 2015 of St Vincent and the Grenadines, it defines domestic violence as any controlling or abusive behaviour that harms the health, safety or wellbeing of a person or any child and includes but limited to the following, physical abuse, emotional abuse,
intimidation, harassment, stalking, damage or destruction to any property or entry into the applicants without consent where the parties do not share the same residence," she pointed out.
She encouraged persons on the receiving end of such abuse to share their information with someone.
"Because most of the time, the only time we know there [is] domestic violence is when death takes place or something very serious goes wrong. So we have to be careful, we must speak out, let persons know, share with a loved one, share with a friend what you are going through," she said.
She also called for "… increased vigilance by the police, harsher penalties for the perpetrator, justice for all."
However, she noted that they do not want the jail to be filled but for persons to be deterred from crimes.
"…We don't want to have a lot of prisons, we don't want our fathers out there in prison so when the child goes to school and the teachers asks where is your father? 'Oh he's in prison' We don't want that. We want the men to be a part of the equation," she said.
"And we are asking the men, those of you, come and help us to eliminate the act of violence that is perpetrated against our women, against our girls, against our children. Help us. We need people to be deterred," Richards continued.
She also pointed to the need for better dispute resolution beginning in the schools.
Richards also asked for changes to the curriculum to facilitate this and have more skills training.
"The girls should be told of their value, women's contribution to the society though small it may seem, should be awarded," she also noted.
Referring generally to all of the social ills that exist in the NCW president appealed to the public "The National Council of Women we need your help."
"Reach out, do not stay silent, staying silent is allowing the perpetrator to …advance ahead of you, speak out and speak up," she said, as she urged citizens to work together to eliminate violence.