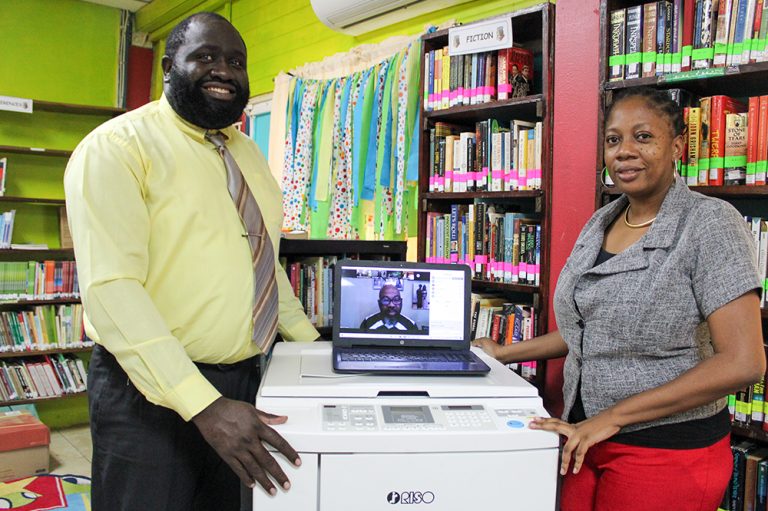 SAMPASA North America continues donations to their alma mater totaling over $29,300
ST MARTIN'S Secondary School Past Students Association (SAMPASA), North America is continuing its ongoing support to the school with donations totaling over $29,300 towards scholarship funds, the feeding program and equipment to print exams.
"It is no secret that the COVID-19 pandemic, along with other extenuating circumstances have caused quite a bit of our student population to experience some hardships and so with that in mind our school is trying to respond to the needs of our students in this way by providing them with some sort of financial support and assistance to enable them to get a good quality education, one that St Martin's Secondary School offers," principal, Yohance Gibson said at the official handover on Tuesday, May 17.
Having dialogued with SAMPASA North America about this, the organisation came to the aid of their alma mater.
The principal explained that in the first instance SAMPASA NA provided financial support for 10 students, which included food, transportation and activity costs. This donation was made at the beginning of the academic year and amounted to $12,162.16.
Days after this contribution, the past students sent over funds in the sum of $8,014.60 for use in a school feeding program.
"Secondary Schools cannot make use of the school feeding program offered by the Government and so we have to create our own because, of course, you have students who come to us every day in need of a hot meal, perhaps the only meal that they are offered for the day. And so SAMPASA North America has come to our assistance in that way," Gibson explained.
The St Martin's Secondary School (SMSS) has over the years been relying on the assistance of principal, Curtis Greaves and the Emmanuel High School, Mesopotamia to print their exams.
"Since taking over St Martin's Secondary School I have longed for the day when we were able to photocopy our own exams," Gibson revealed.
Thanks to SAMPASA they now have a very fast duplicating machine called a Risograph.
The "top quality" machine cost the group $9,180.02.
Therefore these contributions amount to EC $29,357.30 or US$10,873.18.
"We are very grateful for SAMPASA North America and for the assistance that they have been providing our school and all of it gets to the students, to make them holistic, well rounded and of course moving them from boys to gentlemen," Gibson said in reference to their school motto.
Among the teachers present was Gloria Williams.
"SAMPASA North America is a phenomenal group of men. They embrace humanity, they believe that each person must have a chance- at least a try and it's for this reason that they have come together and are adamant that these initiatives must be carried out," she said.
Williams added that SAMPASA and the SMSS enjoy a very purposeful and interactive relationship which "has brought rewards on both sides, for even as our students and the school benefit materially, administration and staff has embraced the example set by SAMPASA and transmit the same spirit of paying it forward to pay it back to our boys."
"SAMPASA too has embraced a rekindling of the flame that moulded every one of its members into St Martin's boys who became gentlemen," she added.
The event, held at the school's library was attended by SAMPASA's president, Ivan Morgan and other members via Zoom.
Morgan said that it was their pleasure and honour to give back to their alma mater.
SAMPASA NA has around 70 members of which 27 are very active.
"Paying it forward – part of our mission statement is that we want to unite through our skills and our generosity to provide for the staff and students of St Martin's Secondary School that would enable the students who enter the doors to leave with an excellent education and a sense of pride. We have taken on this endeavour graciously and with pride," Morgan said.
"For over 60 years St Martin's Secondary School has given us so much, a sense of pride, lasting friendship of brotherhood and it is time that we, and every student who have entered the doors to do likewise and we have an open invitation to any past student or any person who is willing to work with us," Morgan added.
"We are open to those discussions as long as you have the best interests of the students and staff of St Martin's Secondary School and as a whole the people of St Vincent and the Grenadines."
The president pledged SAMPASA NA's continued support to the all-boys educational institution.