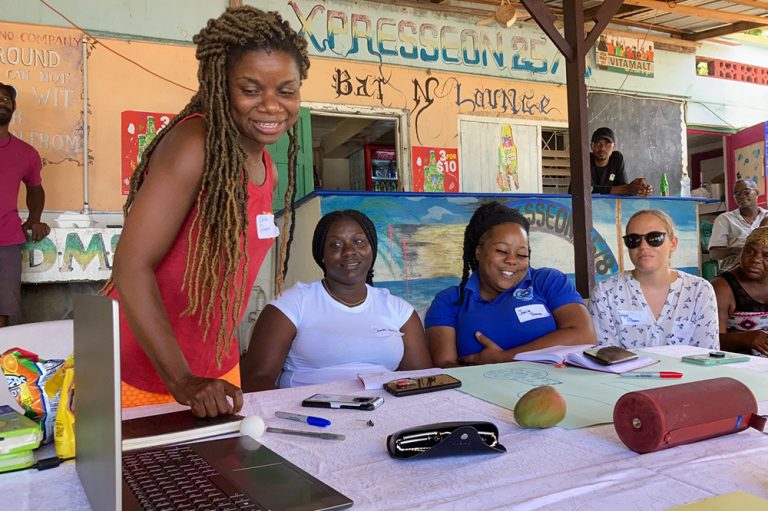 Turtle monitors to be deployed this nesting season
Conservation minded residents in communities along the Southern and Leeward coasts have pledged that they will monitor their beaches for the six month long turtle nesting season. 
From June to December approximately 17 individuals will rise every day at the break of dawn to traverse beaches at Brighton, Questelles, Clare Valley, Roucher, Jackson, Bambareaux, Troumaca, Chateaubelair, and Richmond. 
Their goal: to observe signs that Hawksbill, Leatherback and Green sea turtles have been nesting on these beaches and to record the details of their observations. 
The project geared towards the protection of the endangered reptiles- in the case of the Hawksbill critically endangered – is an initiative of the St Vincent and the Grenadines Environment Fund (SVGEF). 
The Executive Director, Louise Mitchell, spoke with participants at a session held on April 16 to mark the close of the training sessions. 
"In January 2017 there was a ban placed on the harvesting of sea turtles, on the collection of eggs, on any handling of turtles whatsoever. And since that time we have been just hoping that people will honour the ban and ensure that sea turtles are protected when they come to nest on our beaches. But in the absence of active monitoring programs by coastal communities the ban could never be completely effective," Mitchell disclosed. 
The residents who put their names down for the mammoth task are being asked to be custodians of their beaches and of the legislation. 
"Without the support of the coastal communities then the turtles will never be fully protected. It's only when you as communities decide that protecting this endangered species is actually important to our community, that's the time when the turtles could be fully protected," Mitchell said. 
Spearheading the training in this exercise is Barbadian, Carla Daniel, the Executive Director of the Barbados Sea Turtle Project. 
"While there's small pockets of information that have been collected, we don't know the big picture, and without the data you don't know how many turtles are nesting, where they're nesting, what the primary threats are and what conservation actions, if any, we can put in place to help to safeguard those populations," she explained. 
The numbers will be important, Daniel said, "when you're able to come with hard facts and say we've had 15 nests here and every year we get a 50% increase in nesting; those are the types of things that people will listen to. So having information helps to empower you to protect but also to preserve your community and your beaches. Numbers can inspire change."
During the training sessions Daniel, as well as the participants visited the beaches that will be monitored and were able to ascertain what characteristics are present that would be conducive or a hindrance to nesting. 
High levels of development, disorienting lighting, narrowed areas of beaches that provide less nesting space, wide river mouths, ash deposits, and a history of poaching are some of the factors that were discussed. 
The conservationist also emphasised that management of the coastline is crucial in order for future generations to benefit. 
"We are small islands and we have limited options when it comes to our economies but we need to do so in a way that ensures that we don't destroy our environment for economic gain," she said. 
There are also at least three other beaches on the Leeward coast that were observed as having great potential for nesting and Daniel suggested that monitoring should be attempted for those as well. 
Overall, she noted, "I believe that this is a fantastic opportunity to make real change, not just talking and making speeches and writing things on paper but this is an opportunity to make a difference for St Vincent."
She told the participants that as a conservationist for 17 years she is excited and joyful at their willingness to join the effort that needs to be a regional one. 
"Turtles start nesting at 30 years, it's a miracle for them to make it that long to be able to reproduce and they are quite long-lived but they need to survive to be able to continue nesting and to be able to add to the species," Daniel said, "For one female turtle to replace herself, to get one offspring that survives, she needs to nest about two nesting seasons and that could be up to four years. So if she doesn't live for those four years to nest for those two nesting seasons she is not replaced. So eventually when she dies that's a hole in the population, there's nobody to carry on, there's nobody to follow on."
This is the first step, she said. 
Petit Bordel resident Veneshia Harry has custody of Richmond beach.
"There is usually turtle activity behind there because I've seen in for myself but now…I can be able to identify the tracks and know what sort of turtle it is," Harry said in reference to the training.
She revealed that it hurt her to hear how easily the animals could be killed, especially the hatchlings. 
"We can prevent all of this and it just takes a little mistake or a little careless reaction from our side to endanger these beautiful animals," Harry reflected. 
"…We could do a lot more so hopefully that's why I brought my son along so that he can learn and encourage his friends to do what is right…," she said.
The mother revealed that she wants the turtles to be there for future generations, and, "if we don't take care of them now we're going to lose them so hopefully we take our vow seriously."
A participant from Questelles , Hasmay Sheperd noted that he learned a lot, including about the turmoil that the turtles go through. 
"…the difficulties that (the mother turtle) has to go through, getting those eggs out, I tell you I personally take up the challenge to protect turtles. I will be there doing my duty because I will put myself in place of the turtle and I'm glad for the information, getting the youths on track," he said. 
Participant, John Renton said that he was looking forward to getting a baseline so that, "when we have the data we will be able to be armed and able to defend the turtles in a much better way."
Another participant from Troumaca, Nakas George, is hoping that his community sees the turtles in a different light. 
The training sessions also saw attendance from representatives from the National Parks, Rivers and Beaches Authority; Forestry and Fisheries Divisions. 
Minister of Agriculture, Forestry and Fisheries, Saboto Caesar, highlighted how far the country has come in conservation and the role that conservation plays in making an income. 
"When we put the ban on capturing turtles I had the opportunity to go to Tortola and I saw where a man with a glass bottom boat that could hold 20 persons at a time was charging $40$," he recalled, "that's $800US he was making every single hour, could you imagine that? $800US per hour. And he was doing five trips per day – five times eight. Then I realise that there are a lot of things in our environment, if we really spend time enjoying them we can both protect them and we can also have an income and that is the platform upon which we are building this thrust."