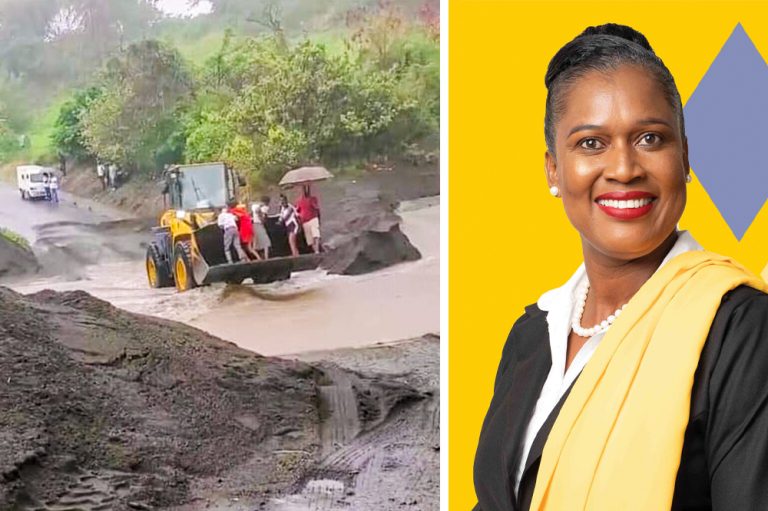 Opposition senator calls for permanent bridges in North Windward
WHILE THE GOVERNMENT is trying to source Bailey bridges to place across three rivers in the North Windward constituency, a call has been made for the construction of permanent bridges instead.
This call was made by opposition senator, Shevern John on the New Democratic Party's (NDP) new times programme on Wednesday, April 27 .
It came in the wake the passage of a trough which dumped heavy rains on Monday night into Tuesday morning that caused turbulence at the Overland river crossing.
The situation caused a pile up of traffic on both sides of the river.
Students were delayed getting to school and people travelling to work also had to wait in vehicles until the river was safe enough to cross.
This problem has been ongoing for a long time and the river crossing is one of three above the Rabacca Dry River where the government intends to place Bailey bridges. John said however that the residents in those communities "deserve better."
She said on Tuesday that "many people came down very early" and they had no knowledge that the river crossing at Overland was a problem.
Apart from the heavy flow John said deposits of sediment at the river crossing also posed a problem on Tuesday and even though there was a tractor onsite clearing the debris, crossing the river was still risky.
"We don't deserve any temporary bridge there, we need permanent bridges," she insisted commenting on the promise of Bailey bridges.
The NDP Senator said the situation "is a matter of urgency" and she hoped it will be addressed quickly.
NDP Vice President, Nigel Stephenson who was also a guest on the programme said, "The movement of people should not be impeded by a river," as he supported the position of his colleague.
His suggestion to solve the problem at Overland,is to use dynamite to sink the river and construct a permanent bridge.
In February this year Parliamentary Representative for North Windward, Montgomery Daniel announced plans to order three Bailey bridges from overseas for the river crossings at Overland, Noel and London.
However, while speaking on NBC Radio on April 20, Daniel spoke about the possibility of getting the Bailey bridges on loan from St Lucia "for our immediate use" as the bridges that were ordered may have been delayed.
If the request is granted these bridges will be placed at the river crossings at Overland, Noel and London.