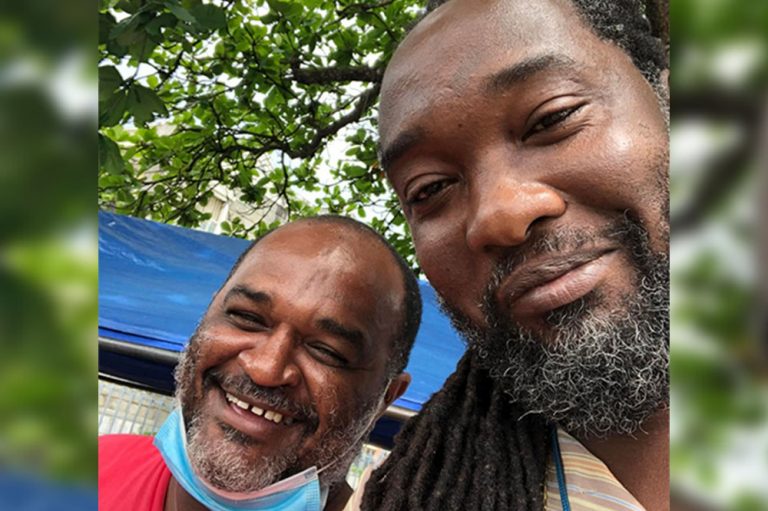 Friends and well wishers rallying around fire victim
While police and fire officials continue to investigate the cause of a fire which destroyed the home of Delarno DuPont in Lodge Village last Saturday, April 23, friends and well wishers are rallying around the fire victim to help him get back on his feet.
DuPont is a very popular chef, who operated his food business opposite the SVG Postal Corporation in Kingstown.
That business has now been put on hold as he was unable to save as much as a pot during Saturday night's fire.
However, Vincentians at home and in the Diaspora, are pouring out their love to this humble small business operator in his hour of need.
One such person is radio announcer/artist, Donnie Prince Collins. He heads the organisation, Solutions in Motion which has set about to raise the sum of five thousand dollars to assist DuPont.
Prince, an announcer at NBC Radio, told SEARCHLIGHT that the money will be raised through the sale of some of his paintings, and the proceeds will be donated to Dupont.
He has organised a special sale for three of his paintings in this charitable effort.
One hundred percent of one painting will go towards the effort and sixty percent from each of the other two.
Collins said he has so far raised $2,800 from these sales and other contributions to help DuPont.
"When I started back painting a few years ago, Delarno was one of my biggest supporter and encourager."
Collins described DuPont as a close friend and said that the fire at his friend's home was both "devastating and heart wrenching."
Collins said he has also organised for persons from the UK to send small appliances to help DuPont get back into his food business.
Another fund raising effort is ongoing by members of the Kalypso Kollege to assist DuPont and there are postings on social media of other individuals who have rallied to assist.
The Lodge Village resident told SEARCHLIGHT on Monday that he was at a supermarket stocking up on supplies for his business when he received a call that the house, which has been in his family for generations, was on fire.
DuPont said he has no idea what caused the fire.
Head of the fire department of the Royal St Vincent and the Grenadines Police Force (RSVGPF), superintendent Joel James told SEARCHLIGHT on Tuesday April 26, that the cause of the fire which destroyed the four bedroom dwelling house was not yet determined; the matter is still being investigated.