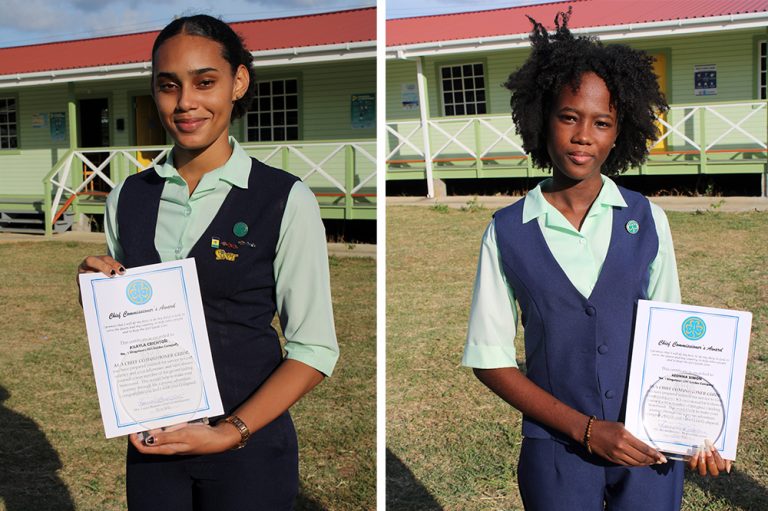 Two earn Chief Commissioner's award
TWO YOUNG ladies are now revelling in the success of their hard work throughout their years as girl guides, having been bestowed what is considered the most prestigious and internationally recognised award in the Guiding movement.
Akayla Crichton and Keonna Simon both received the Chief Commissioner's Award last Friday evening before the current members of their former guide company, the No 1 Kingstown Guide Company.
The award is usually given to guides who have completed all the necessary prerequisite activities throughout their 4-year journey as a girl guide.
"I feel very grateful. I've put in a lot of hard work over the years. It's an award I've known about for a very long time and I've been working towards it so to finally achieve it, I feel very grateful, very ecstatic," Crichton told SEARCHLIGHT just moments after receiving her award.
The young leader said becoming a guide seemed only natural for her, as all of the women in her immediate family were a part of the organisation from a young age.
She treasures the experiences that being a part of the organisation has given her over the years, which include hiking, camps, participating in national parades and doing numerous good turns.
Crichton, who has one more year as a Ranger Guide, also said she would encourage young girls to be a part of the Association for a few reasons.
"…Even if you weren't in Brownies, I think everyone should have a little experience with Guides…it teaches you a lot of things, even stuff you might not learn at school. There's a set of discipline taught with Guides and there are a lot of useful skills for everyday life and it teaches you to empower girls and to help them find their voice," she said.
For Keonna Simon, receiving the Chief Commissioner's Award is a tangible reminder of all her hard work throughout her years as a girl guide and she is elated that it has paid off.
Simon also values the experiences that she has had during that time, which include the accumulation of many volunteer hours at various institutions with the
elderly, and youth.
"The movement has definitely helped to redefine my definition of myself for the better," she told SEARCHLIGHT. "I started at Brownies so I decided to continue with Guides and I would definitely encourage any young lady or girl to join the movement as it's quite empowering and it teaches you a lot of skills, sharpens your leadership skills and also everyday skills you can use in life."
The No 1 Kingstown Guide Company also hosted the Chief Commissioner's Exhibition on Friday, April 22, also celebrated as Caribbean Link Day, to showcase the work of final year guides who will now be considered for the Chief Commissioner's Award in 2023.