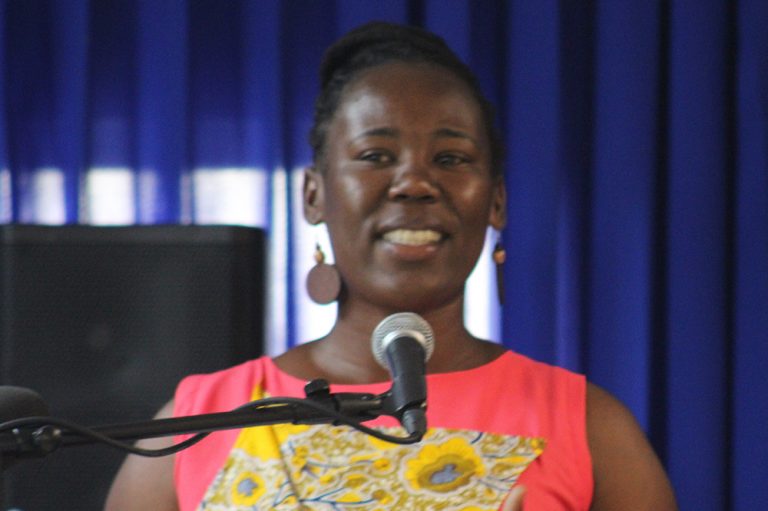 Vincentian poet releases her first publication
A dream was realised this month when Vincentian poet, Marcella Dublin officially launched her first ever publication. 
Dublin, who writes under the pen name, Mar-C Poetry, held a book launch for her poetry book, 'Art, Spirit, Passion,Lyfe' on April 5 with an intimate ceremony at Frenches House, attended by Prime Minister, Dr Ralph Gonsalves, close family, friends and supporters. 
The young writer said that poetry served as her platform "to make a difference in lives, to leave a legacy, to become the change". 
"My poetic journey was — is — full of struggles. It started around the age of 12. I found pleasure in taking pen and paper and putting words together in a way that makes the connection seem like a painting. I was so particular that I spent longer than usual just to fit my words together because if it didn't fit well the piece would not hit me. And it was not finished if it didn't hit," she said. 
Dublin, who is a mother, added that "it was not until I became pregnant at age 16 and was challenged by the consequences of disappointment that I realised that poetry is so much more, more than just colourful words, they are parts of the writer and the experiences from which they are drawn". 
Many of the poems in her debut publication is inspired by her daughter and she expressed happiness in being able to share this latest accomplishment with her daughter and the rest of her family and friends. 
She noted that poetry is more than a hobby for her, having taken the time to pen all her poems with the aim of making a positive impact, challenging, encouraging, inspiring, educating and entertaining readers. 
The graduate teacher and poet also aspires to also add politician to her list of titles in the future. 
She feels that poetry is not perceived to be as exciting as other art forms in the Caribbean. 
"…But poetry has throughout the ages been a medium used to advocate for justice, and uplifting our people. In light of this, many Caribbean poets never pursue it as a career, now that we are in the era of the orange economy. I appeal to all creative, young and upcoming artists, more specifically writers, to embrace your skill and talent and use it as your platform to fulfil your purpose. Work assiduously to become the best at what you do, remember that art needs dedication," the Diamond resident said. 
She also appealed to the relevant authorities and stakeholders in the creative industry to put measures in place to harness the wealth of talent that, in her opinion, is so often overlooked. 
Prime Minister Dr Ralph Gonsalves also addressed those present at Mar-C's book launch, taking persons present on the journey of when he first met the poet, and the bond they have formed throughout the years. 
Gonsalves congratulated the young poet on her latest achievement and took some time to read excerpts from some of the poems in the book. 
Other readings of Mar-C's poetry were also done at the April 5 book launch. 
'Art, Spirit, Passion,Lyfe' by Mar-C Poetry is currently available on Amazon in both Kindle and paperback versions.