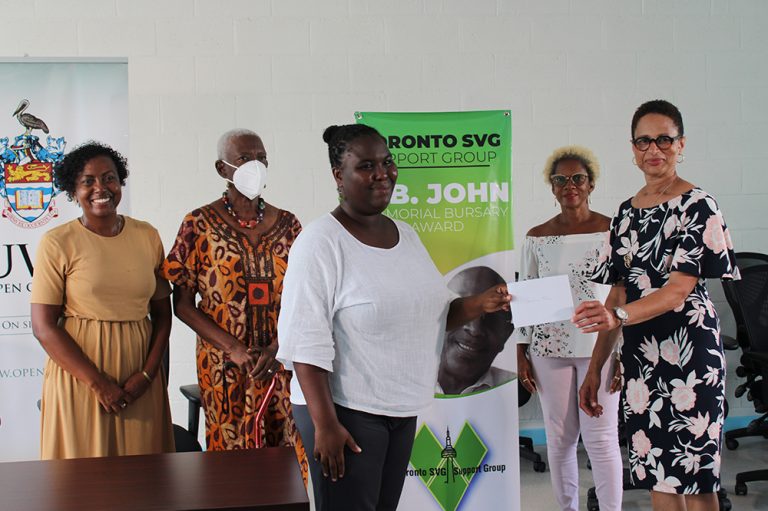 Toronto group disburses first E.B John memorial bursary
The first EB John Memorial Bursary was conferred on media worker, Lucinna Poyer by the Toronto SVG Support Group this week at a brief ceremony at the UWI Open Campus. 
The award was established by the group to honour the memory of its founder and Vincentian veteran broadcaster, Evans Bernard John, who died in August, 2020. 
"I am grateful and I am extremely honoured to receive this. I grew up listening to Mr EB John so I'm very humbled. I'm excited. I can't even put into words how I feel. This is somebody I admired, I respect and I also work in the media field. I'm so excited," Poyer said, as she thanked the group for selecting her to be the first recipient. 
Poyer, who has been employed at SVGTV since 2016, told persons present at the ceremony that she has only ever heard good things about John and his contributions to the nation. 
He served at the National Broadcasting Corporation (NBC) for over three decades, and is a former general manager of the station. 
He also served as Consul General at the Consulate of St Vincent and the Grenadines in Toronto, Canada from 2002 to 2006; Senior Communications Officer at the Ministry of Foreign Affairs from 2007 to 2010; and Chief Liaison Officer at the Eastern Caribbean Liaison Service in Toronto, Canada from 2010 to 2016.
He was also a member of the service group, the Lions Club South. 
John's widow, Shelley John delivered brief remarks at this week's ceremony in her capacity as secretary of the Toronto SVG Support Group. 
"In recognition of Bernard's work — and I don't ever say EB — Bernard's work and his passion for the communications field, the group established this education bursary in his honour to be awarded annually to a national of St Vincent and the Grenadines pursuing studies in media, communication, public relations, in that field, at the UWI Open Campus," she said. 
Giving an overview of the requirements, John stated that the award is open to all students enrolled in the programme at the UWI and that it would be awarded based on "academic performance, financial need, an essay by the applicant in support of their application and the applicant's community service and volunteerism". 
She said the group's goal is to grow the bursary award so that more individuals will benefit annually, which would lead to an expansion in the pool of media professionals locally. 
The Toronto SVG Support Group was established in 2012 by EB John, and he was instrumental in realising the group's objectives; some of which included promoting and facilitating positive interaction among nationals of St Vincent and the Grenadines throughout the Diaspora, partnering and supporting any other SVG and other Caribbean groups in Toronto or persons with a similar vision. 
The group will celebrate its 10th anniversary this year and Shelley John believes that it was significant for the award to be done at this time. 
Head of the UWI Open Campus, Deborah Dalrymple described EB John as an icon in Mass Communications and the local media industry. 
She said when the group approached the Open Campus for an appropriate course or programme which they can fund as a memorial to EB John, the decision was made that the site would offer Public Relations Management, one of the Continuing and Professional Education programmes. 
"This we felt was a good fit, though it was broader than media per se, it included a strong media content. The programme consists of three modules or courses: Managing Public Relations communication, Strategic Public Relations for a changing world and Media Relations and social networking," she said.
 
Graduates of this programme are expected to function more effectively in their professional role, engage in effective public relations communication, manage media relations and social networking, design strategic and tactical public relations programmes for the digital age, respond immediately and react efficiently to demands for media requests and recognise the fit between enhanced professional certification and marketplace demands. 
Dalrymple said a decision was also taken by the site to offer the course, even if the requisite number of students to make it financially viable did not sign up for it. 
Dalrymple expressed the open campus' intention to "market the programme vigorously both at home and to other sites". She also expressed confidence that its popularity will grow. 
"We felt that we should insist on getting the EB John Memorial Bursary off the ground and provide the opportunity to a deserving student to follow EB John's path which he had laid down and we thank them for choosing to honour Mr John in this way and we congratulate Ms Lucinna Poyer as the first recipient of the EB John Memorial Bursary and wish her every success," Dalrymple said.