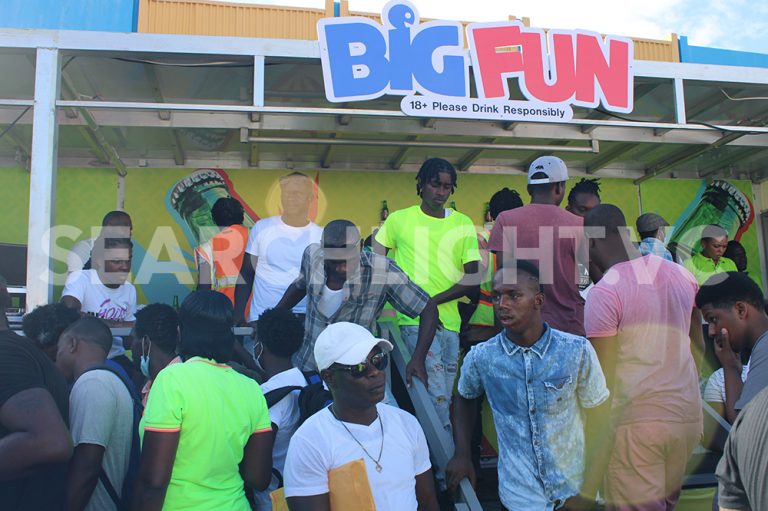 The Brewery's 'Smallie' makes big debut
Smallie, the newest product of the St Vincent Brewery Ltd has hit the shelves with great force unequal to its size, gaining much attention and promising big fun.
"We call it Smallie because we think of it as – it's Hairoun's little sister. It's a smaller bottle, smaller presentation, and you know it's just a fun word, it's a fun beer," noted the Brewery's Commercial Manager, Lamont Medica.
Medica was speaking over the loud buzz of the crowd which had gathered in an area of Kingstown for the launch of the beer on Friday, April 1. Liquor flowed out of storage and into hands while persons enjoyed music and took part in life-sized games such as bowling.
Smallie, described as a uniquely Vincentian product, is developed by local brewers and fits into a 250ml bottle.
"It's a different flavour profile to Hairoun, which everyone is accustomed to from the brewery, a little lighter, a little sweeter, has a different finish," Medica summarised.
The intention was to create an easy drinking beer that "anyone could enjoy in any setting."
In terms of the feedback that Medica received from the drinking public that day, he noted "everyone loves it."
"…Hundreds and hundreds of persons have passed through and I've not gotten one negative comment, everyone loves it, they love the flavour of the beer, they love the whole marketing around it," he said.
He invited "anyone" to try the beer which is available for purchase at retail outlets nation-wide.