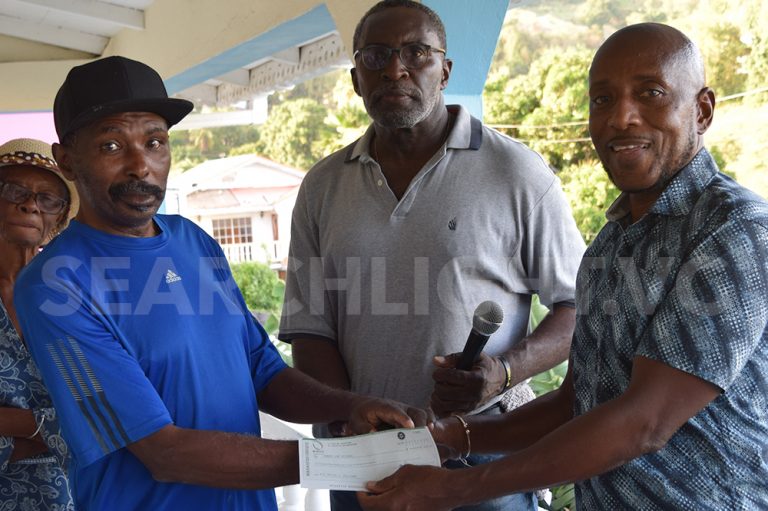 Family receives financial help for son's medical expenses
The family of Dorian Woodley, has expressed gratitude to all those who have been contributing towards his medical expenses.
Woodley, 21, fell seriously ill in February and was warded at the Milton Cato Memorial Hospital, where he was in an induced coma.
He has since been transferred to a hospital in Trinidad and Tobago, receiving additional medical attention.
Woodley's condition is "improving" according to his grandmother, Azulma Woodley.
She noted that she recently was able to see him via video call recently, a development that warmed her heart and lifted her spirit.
The Woodley family received more comfort last Saturday at their home in Mala Village, Sion Hill, when a generous financial donation was presented to them.
A cheque in the sum of $2015.17 was handed over to the family; the proceeds of a barbecue and car wash held recently at the Sion Hill intersection and the Anglican Church parking lot.
In making the presentation of behalf of the group of organisers, Parliamentary Representative for East Kingstown, Fitzgerald Bramble reminded those in attendance that Dorian's plight can befall anyone, noting, "The way life treats us these days, anything can happen at any time".
Citing that the donation is one of many, Bramble related, " I want to extend sincere appreciation to everyone who contributed to the fundraiser…this is only the first of several initiatives we intend to undertake".
Plans are afoot for another fundraiser scheduled for May 1, with a walkathon earmarked to raise more funds to assist Woodley.
Bramble reaffirmed: "As the representative for East Kingstown, my job is to represent the people of East Kingstown".