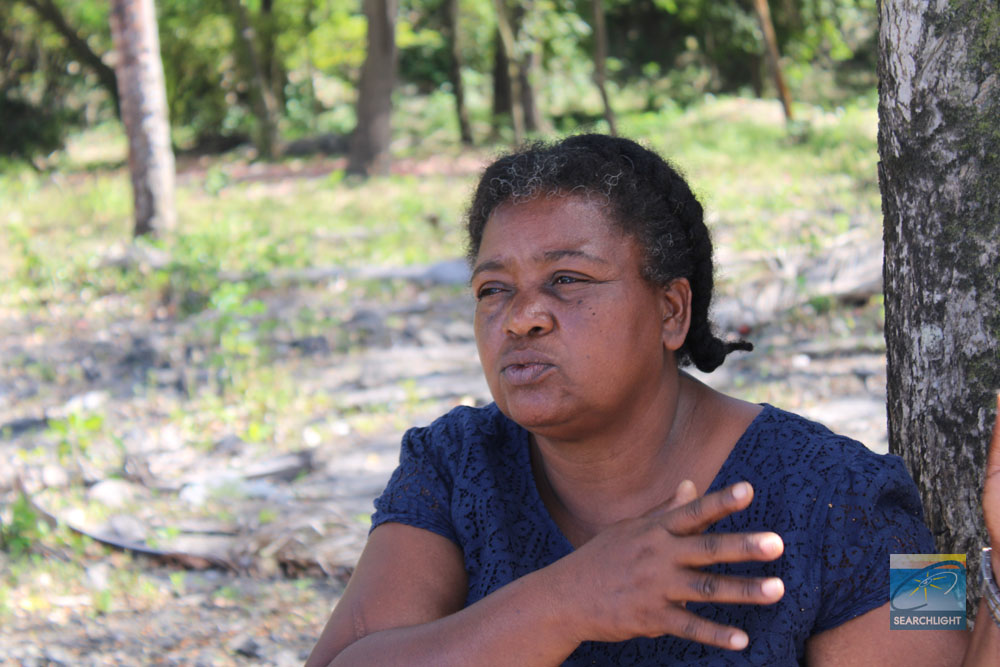 Chateaubelair resident gets bounty of Soufriere coals after eruption
A Chateaubelair resident who collects gravel and catches tri tri at Richmond collected five sacks of 'Soufrière coals' from that area after last year's eruption. 
Annis McDowall said that her mother who experienced the volcanic eruption of 1979 told her "Listen Annis, you would have to go round there when the river come down. When the river come down is where the coals dem come down from the Soufrière, like whatever trees did catch ah fire and thing. So we call it 'Soufrière coals'.
"I came round here one day and I pick up a sack first and then I came back another day I pick up about two sacks. I end up pick up five sacks," McDowall said, speaking as she sat a short distance away from the Richmond river.
The river now cuts through deposits of ash and flows near a bank aligned with dead trees. She explained that she picked up coals, which she kept for personal use, under those trees.
She said other persons picked up as many as 60 to 100 sacks of coals.
"It's no joke about it. That is a truth from it, from the Soufrière," she revealed.
McDowall did not stay in North Leeward during the eruption, although she would have liked to experience it.
She was collecting coarse gravel on Thursday, April 8, the day before the explosions.
She said that a a cousin of hers came to hustle her to leave earlier in the day but she jokingly told her "Girl, that (the volcano) dey sit up there, that nah trouble me and me nah trouble um."
Some time later, she noticed, "when I do look up I see around the Soufrière, the dome itself done reach up and it black, throwing smoke."
She recalled "calling the children them to show them. I said look at it, look at how the Soufriere looking."
A friend of hers came to ask her if she wasn't leaving, but Annis replied "Me nah ready yet".
"…At the same time now I call him and I showing him 'Look the Soufriere, it glowing, it glowing' and he said to me "Annis we have to go home" I say yes I going pack up for us to go home," she said.
When they reached into the town everyone was bustling with suitcases and they realised that it was an evacuation.
Annis and her children hustled home to pack dry goods and clothes and they caught the second boat out.
"…But while the boat is going I went outside on top of the boat and watch the Soufriere itself blazing – the fire. So it was a very good experience though I would have loved to experience more of it," she explained.
She experienced a little of the 1979 eruption, but she said her experience with the 2021 eruptions was more than this.
"I would have loved to even experience more of it to see more of it and to see more reaction of it. I didn't get to see more reaction of it but I still feel good knowing to myself it's ours and I experience it," she said.
In her estimation, she believes, "That (La Soufrière) is okay where it is there right now. I don't believe that that is going to erupt until in another space of a couple years. Nothing impossible you know? that it can blow tomorrow or it can blow another day but by God grace, blessings of God, I don't believe that that would really blow right off at this point in time again. It already done like it's do its time."
The tri tri fisher has settled back into her routine of catching the fish for some months now and says that the fishery has not been showing any change as a result of the eruption.
This is despite the fact that ash and debris settled on the higher flanks of the mountain have been flowing down with the river and cover a significant area.
"Even though the lahar (mud flow) itself coming down we still go over when the river slowing down … and we still go in the sea itself and catch our tri tri," she noted.
Last year's explosive eruption brought with it tonnes of ash.
"There is a lot of ash is up there still, needed to get rid of and I know it's not going to get rid of just so, one time. It gonna need the rain to come to wash off a lot of what's up there," McDowall said about the volcano itself.
Although "the Soufriere is trying to settle back a lot of us still cannot catch ourself," she disclosed, when speaking about the difficulties the Northern Leeward communities are facing.
"Because some of us our houses need repairs from the Soufriere. Some of us will need rebuild over and we still dey displaced other places," she said.
Some are not working and others try to do fishing to "try to make little ends meet where we have we children them to send to school who have to go far and near."
"We still need a lot of help, a lot, a lot of help. We still need a lot of help. We need a lot of support wherein we need the Government to still support, still help us out. Cause there's a lot of us we are still not working," she said.