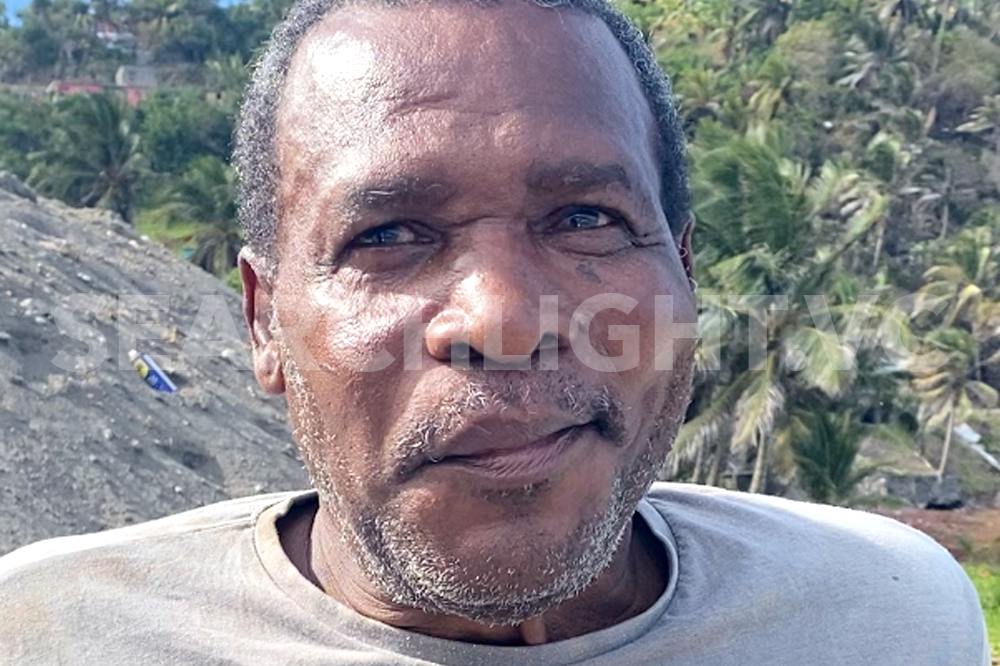 La Soufrière eruptions was a good and bad experience – Owia resident
THE 2021 EXPLOSIVE eruptions of La Soufrière were "triple times" dangerous as compared with 1979 says one Owia resident who lived through a treacherous night of explosions.
Last year the communities closest to the volcano had been perched on the brink of danger for months as the volcano continued to exude hot material at a pace, and earthquakes shook them.
On April 8, evacuations began as it became very likely that an explosion was imminent.
As a dome grew rapidly inside the crater on the night of April 8, residents hastily loaded onto vehicles and boats with little luggage.
However, 64-year-old James Nanton stayed behind.
When SEARCHLIGHT visited Owia, the resident wanted to tell his story about that night so that future generations would know.
"I want the other generation to come to know that Soufrière is a very dangerous thing. When you hear about Soufrière and they telling you that Soufrière is going to come – and especially the scientists these days is very good you move out. Move out and evacuate yourself," Nanton said.
"Don't stay here, because I believe that if people, if everybody stay here that night and Soufriere erupt in the night when nobody ain move out, I believe some people mighta dead.
"Because I is not a coward man you know? But I tell you that night my heart was pounding. And you know what I believe? Some people woulda dead with heart attack. It's not an easy thing to hear and to face," the Owia resident concluded.
Before the explosion Nanton said that they were hearing about the volcano all the time and the scientists said it would blow "but some of us have doubt."
"But it happen so it blow," he said, and when it did, he was in the mountain farming. The ash had already started to fall when he got home.
"That time people fleeing, people running. That time it have a lot of people done gone already," he recalled.
He asked his wife if she was leaving and she said she wasn't moving.
"…Seeing that she not moving, I is her husband, I don't want to leave her. I willing to go but she don't want to go so I don't want to leave her," Nanton explained.
Darkness began to fall before 5:00p.m.
"We stay around, we dey around and we hearing the rumbling and the grumbling and when it erupt it go up with the big noise and so on," Nanton said.
"…The ashes start falling and falling. It start on the galvanise 'tik tik' there's some stones dropping on the galvanise," he said, but wasn't afraid at this point.
"But in the night – there the trouble start. Because I tell you it was rumbling and rumbling and blowing and when the fire go up in the air it had something going like lightening."
His wife said there was lightening and he told her that it was Soufrière that was "throwing" the lightening.
"I tell you if I did frighten….I frighten," he recounted.
"I was just like a policeman, from one part of the house to the other, from one part of the house
to the other drilling and drilling, and my heart was pounding because I was very frighten."
They made it through the night though it wasn't easy.
"When it boil, it boil," he commented noting that he was saying in his mind, "if that ha to boil and buss apart here and run down the sulphur – is dead people, all of us dead out down here."
Nanton and many residents of these northern communities have described that daylight did not break on that Saturday morning, April 10, 2021.
"The place very, very dark. It was very, very dark."
They waited on the jetty of the Owia fishing complex for the Coast Guard to come pick them up as the ash rained on them.
"A lot of people stop back in the village because people think that it woulda happen like 1979. And plenty of us think that it going happen like 1979 but it was far more dangerous – it was triple times dangerous than 79," Nanton emphasised.
Before he could leave Owia, a church roof and house roofs had already started to cave in because of the weight of the ash.
When the Coast Guard arrived the ash was falling on the glass of the vessel requiring someone to wash it off.
"This Soufrière, it wasn't easy. And as I live – if another Soufrière have to erupt…this Soufrière have to erupt again and somebody give us warning and tell us that Soufriére is going to blow – I'll move. I would not stay back. Because I see the danger of Soufrière," he said, adding, "this Soufrière is a very, very hard nut to deal with. Very hard to deal with."
He felt happy only when he was on board leaving the village and his heart rate also returned to normal.
Nanton noted that, "it was a very, very great experience. It was a good and bad experience."