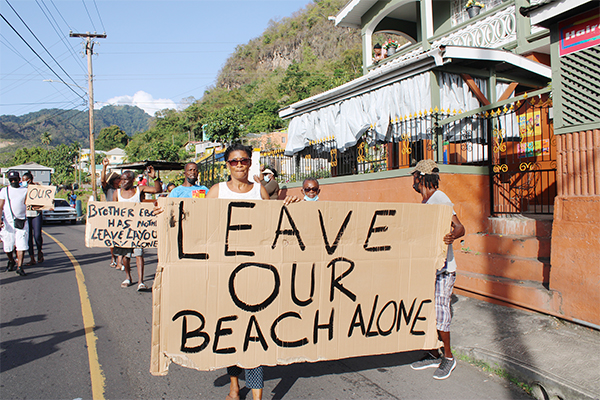 Mixed messages being sent about decision on proposed Layou jetty
One official at the Physical Planning Unit said on Wednesday, March 30 that a decision had not been made by the Board as it concerns the application (in-principle) for a rock fill jetty in Layou, while the Town Planner, who heads that Unit is refusing to comment. 
Earlier that same day, Prime Minister, Dr Ralph Gonsalves said on radio that someone from 'Planning' who is responsible for the matter indicated to him that the application by SVG Aggregate Inc had been refused. 
SEARCHLIGHT reached out to officials from the Physical Planning Unit for clarification on the decision that was reportedly taken last Thursday, March 24, before the period for public commentary closed one day later, on March 25. 
"No, a decision was not made as yet," an official stated on Wednesday, March 30.
The Town Planner and Secretary to the Physical Planning and Development Board, Dornet Hull, was also contacted.
"I have no comments on that application," she said when SEARCHLIGHT enquired. 
When asked whether the information should not be public seeing that the Prime Minister had spoken about it on radio, she noted, "Well maybe you can call him and have him verify that story."
When it was noted that the Prime Minister is not the Physical Planning Unit, she asked "Do you have any further questions?"
It was pointed out that a question had been asked and she replied "And I already answered it so do you have any further questions?"
When it was contested that she had answered the question, the Town Planner said "Yes I did, I said I had no comments on that application, that's an answer."
Hull was asked if it should not be public knowledge if a decision had been made, to which she replied "I have no further comments on that application, do you have any further questions? If you don't, have a good day."
The people of Layou have strongly voiced their opposition to the construction of another jetty in that waterfront town- which would make it three jetties in Layou. Their opposition has so far included a public protest march which culminated at Jackson Beach, the site where the developers had earmarked for the new jetty.