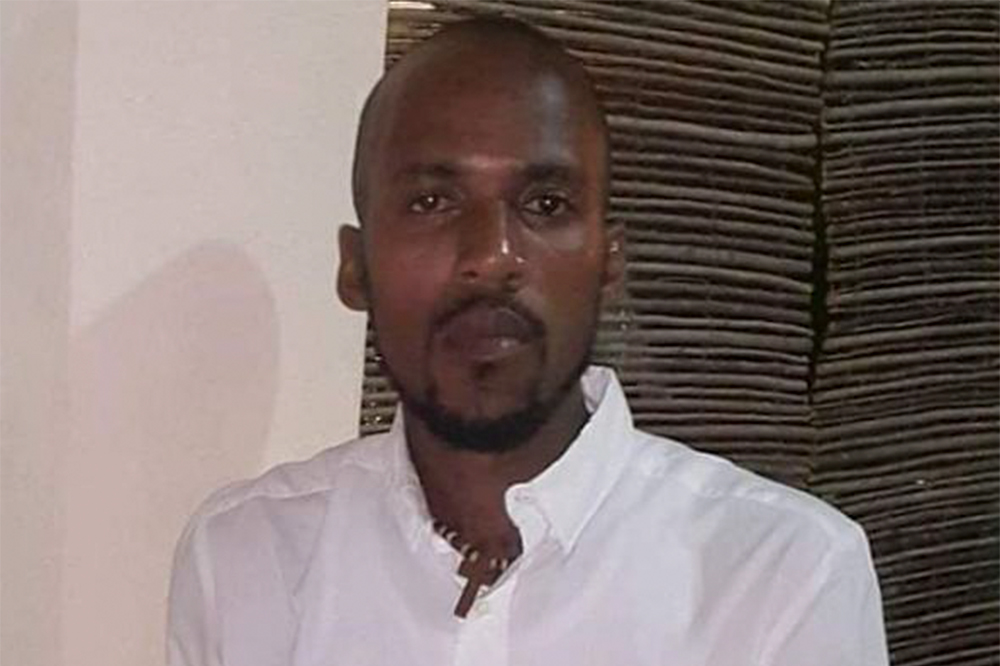 Family pleading with public for information on relative's murder
The family of a Walvaroo resident who was shot approximately seven times about his body in the wee hours of Sunday morning, is asking for anyone with information on the murder to come forward.
"If there is anyone who knows what really happen. If there is any information please come forward and say something. Don't just whisper between yourselves. 'Oh I know this happen, and I know that happen.' Go to the police or come to me if it's a fact if you know for sure, come to me. Or go to the police," said Korry Danzine, who grew up with and lived in the same dwelling house as his now deceased cousin, Andy Baptiste.
"Do something. If it's something that can be proven, come to us. We want answers because we don't know what could have caused it. We don't know what happened. We want answers. We want closure. Please," he asked.
Baptiste, a 33-year-old father of a two-year-old son, was slain while hanging out in the vicinity of Options Supermarket/Status nightclub at Arnos Vale.
According to information from the police, Baptiste was in the area at about 2:20a.m and some time later he was approached by an assailant and shot multiple times about his body.
Danzine himself was out that night, and he returned home around a quarter past two in the morning.
"I went out and when I got here I heard the gunshots," he said. Their house in Walvaroo provides a good view of the area that contains the decommissioned ET Joshua Airport and the Options supermarket. As an ambulance passes in the distance it is clearly heard from their porch.
The cousin described standing on the steps to go up into the house when he heard the shots.
"I didn't know it was him, but I heard them," he recalled.
He was sleeping and was awakened by his sister at 3:00a.m, who told him that she heard Baptiste was killed. She showed him a video of his cousin lying motionless which was taken by individuals who were in the area at the time of the shooting.
"But then (afterwards) she was also told that he was taken to the hospital and that he's alive," he said.
"…She went there. I stayed home because I couldn't function after hearing it. She later called me and then told me that he succumbed to the gunshot wounds," Danzine said.
They haven't received information on a post-mortem as yet, but it is reportedly around seven gunshots that he is said to have received.
"I didn't think it was real. Even though I saw him and I immediately recognised him, it still didn't feel real. I still had to process it.
It just- nothing felt right, everything just felt out of place. And even now it still doesn't feel, it doesn't feel like reality," the cousin revealed.
Baptiste was said to be someone focused on making a better life for his son.
He was described as "The life of the party. He was always jovial. It was difficult to keep him upset. Like you may be able to get him upset but to keep him upset, that didn't happen. He lived good with everyone, basically. He's this 'out there' kind of person."
The cousin said it is the first time that gun violence has hit close to the family, and it was a real shock.
Since that day, the cousin disclosed that the days have "been up and down, to be honest but there hasn't been a day when we haven't laughed and recall on the good memories."
However, he said there will be times when the family members lose their appetites.
On the subject of the videos taken of his cousin lying on the ground, Danzine reasoned, "While it's something that I expect yes, but I think that we have a responsibility to be sensitive to other families."
"…Because I'm telling you…that video with him laying on the ground, that keeps replaying in my mind at nights when I want to sleep."
A media outlet and a radio station posted it, the cousin said, and he feels that they too should be sensitive to the family members of the deceased.
"When he was alive some persons picked him up, put him in the vehicle, and carried him to the hospital – that helped. Filming him did not help," he said.