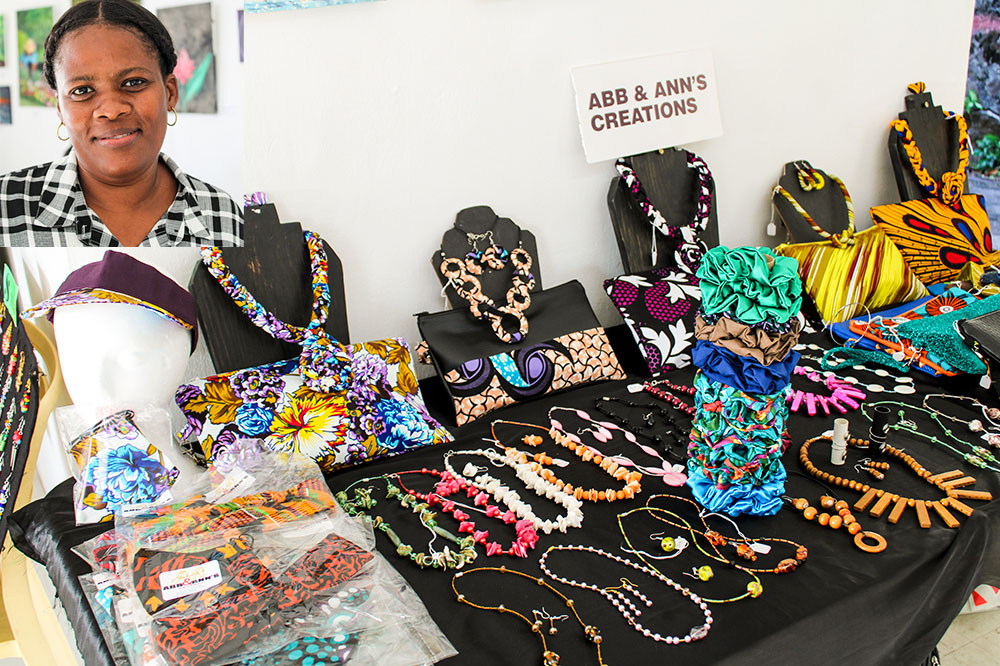 Women in craft hope for increased business from weekend exhibition
A number of talented, Vincentian craft women put their products on display over the weekend in the hopes of garnering some much needed exposure for their local businesses.
The 'Vincy Women's Craft Fair', which opened on Friday, March 25 and ended on Sunday, March 27 was a part of several activities organised by the Youlou Arts Centre to celebrate women artists during the month of March.
When SEARCHLIGHT visited on Friday afternoon, the stalls displayed products by Camille Warren, the owner of Brio Che, a line of care products; Ernie Harris, a macramé artist and proprietor of Ernos; Melissa Patterson, a jewellery maker and name behind Abb & Ann's Creations; Isha Wilson, owner of Earthly Aesthetics and Merle Gellizeau, veteran craft maker behind Merle's Arts and Crafts.
The fair was the first official exhibition for Isha Wilson who started her business, Earthly Aesthetics, four years ago.
"…It seems to be going pretty good so far. I think it's really important for people to come out and see what people can do because you might learn something from somebody," the businesswoman told SEARCHLIGHT, adding that she was looking forward to meeting people and receiving orders for custom made pieces.
Wilson deconstructs wooden clothespins to create a variety of unique pieces, including napkin holders, mirrors, vases, flower pots, pencil holders that double as toothbrush holders, picture frames and fruit and vegetable baskets.
Photos of these custom pieces can be seen on Facebook and Instagram via Earthly Aesthetics and orders can be placed using telephone number; 1(784)593-2716.
Melissa Patterson, a jewellery maker established Abb & Ann's Creations a decade ago and specialises in purses with matching necklaces and earrings.
Other products offered include headbands, visor hats, clutches, rings and scrunchies.
"I try to take part in as many exhibitions as I can once the opportunity arises," Patterson said, explaining that craft fairs tend to offer a lot of exposure for her business which sometimes results in sales.
She noted that sales have drastically decreased for her since the covid pandemic and she hoped that participating in last weekend's craft fair would manifest an increase in sales.
The Kingstown Park resident has a small store in Kingstown Park but she can also be reached at 1(784) 526-1029. She is also available via Instagram @abbanncreations.
Macramé artist Ernie Harris turned her childhood skill into a business at the beginning of the pandemic, creating bags, earrings, and other jewellery using a variety of macramé knots.
She told SEARCHLIGHT that she has participated in quite a few craft markets since and "it's very important because although I have social media, a social media page, Instagram and Facebook, not everyone on the ground knows about me so by attending these workshops, I'm getting my name out there".
"People might not buy or be able to buy but they take note," Harris, the owner of Ernos said.
A custom piece from Ernos is just a call away via telephone number 1(784)495-1184 but a line up of pieces created by Harris can be seen via Facebook and Instagram @ernosmacrame.