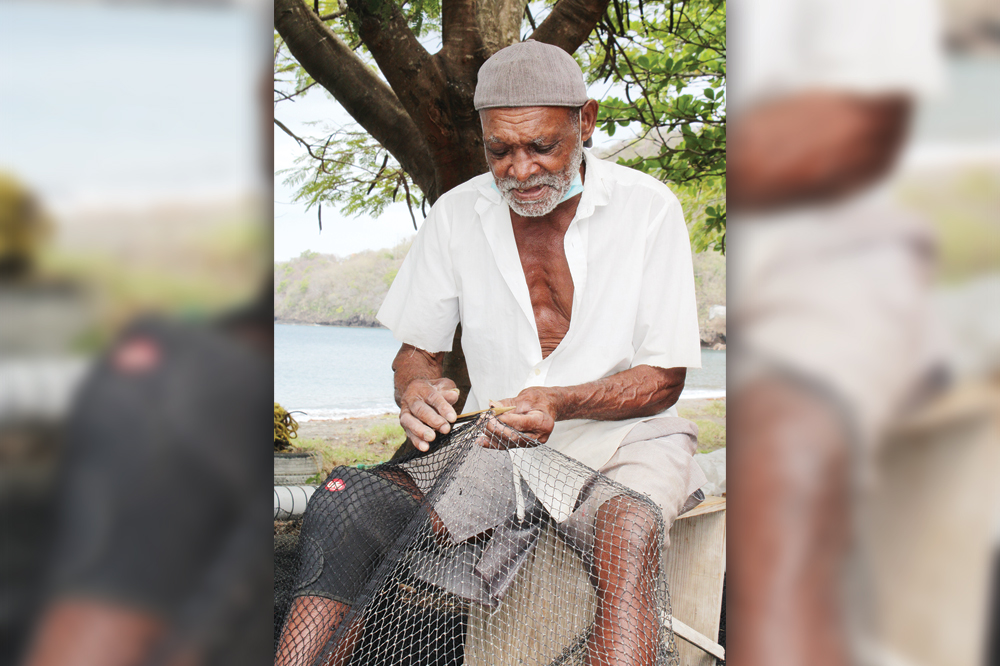 Jetty will 'humbug' fishing, old folks bathing – Residents
Layou fishers say they will not be able to set their nets if a jetty is developed at Jackson Bay, Layou, and they are against the proposal to erect one.
Aggregate SVG Inc. is seeking "approval in principle" for the development of a rock fill jetty, which if built will be the third jetty in the Layou bay.
Junior Joseph is 64 years old and has been fishing all his life. Together with his late wife, the fisherman raised three children through his earnings from the craft.
"I see no reason for it," he said from his Layou home on Wednesday, March 23.
There is a fish called the Skipjack tuna, Joseph revealed, "When those fish are running you catch all those fish at Jackson Bay because they would swim down…swim come down and we set a trap."
He said that they start throwing the net from right where the area earmarked for the jetty is.
"If that wharf build – never can happen. Never, never, never, never. And for the rest of my life till, I will demonstrate against it. And I think I ha support of other guys as well," the Captain who works with a crew of five to six persons, declared.
He estimated that there are 30 to 40 fishers in the seaside town, and when asked whether they would all be affected, Joseph responded, "All of them. Every one. Every one. It's not good. Not something should build there."
Secondly, he reasoned that "If they going to put a wharf like the stone wharf – that will not be good for the community
of Layou."
The resident informed SEARCHLIGHT that where the first stone jetty is there are a lot of eels called 'Congo', there are green eels as well as the invasive Lion fish which breed in the area.
"For the older set of people that side" who take sea baths daily a stone jetty "will not be good," Joseph said.
He does not know of any consultations having taken place.
Joseph said, "it's either they break down the next wharf, the wharf that we have, or they buy the land from CO Williams (the first rock filled jetty is constructed by this Barbadian company) and continue with that process. But to put one down in Jackson Bay there is bad and we would argue for it until well…who come out victorious."
He also noted, "My thing is that I am hoping that the Government is not in favour of this, I'm hoping that. And if they're in favour of this, it is very bad for the community."
Benjamin 'Smallie' Miller has been a fisherman for over 25 years.
"Most of my fishing here is bottom line fishing, long line – fishing in small boats," he said.
"So this beach down here is where we throw seine net," he explained, "If they hah to build wharf here it going to humbug we a lot, especially all the fisherman."
"…Because the same space where them going and utilise – we want that to utilise too because we does throw seine from this area go down," Miller said.
He was also concerned about access to the beach and the older persons who swim there daily. He felt the proposed project does not make sense.
The fisherman also suggested that as there is already "a stone wharf, all they have to do continue it – carry it off deeper and use that."
Further down the beach beside the vessels and piles of nets, sat Patrick 'No name' Sam, mending a seine.
Sam has been fishing for much of his life, but also worked with the public health department. However, at the age of 72 years, he said "my real work now is mending the net right through."
"We need our bayside," Sam said.
"We don't want it too oily no more because it hah a lot of oil," he noted.
"…Down there (Jackson Bay) is so decent. We don't want the jetty down there," he stated.
He commented on the dangerous fish that hang around the stone of the jetty, citing the congo and green eel.
"Only if you have a glass on your face you could see the bottom so you go ain't end up and know how dangerous the fish dem be," he noted, "So you might be frighten and damage yourself so we don't want that. We don't need it at all."