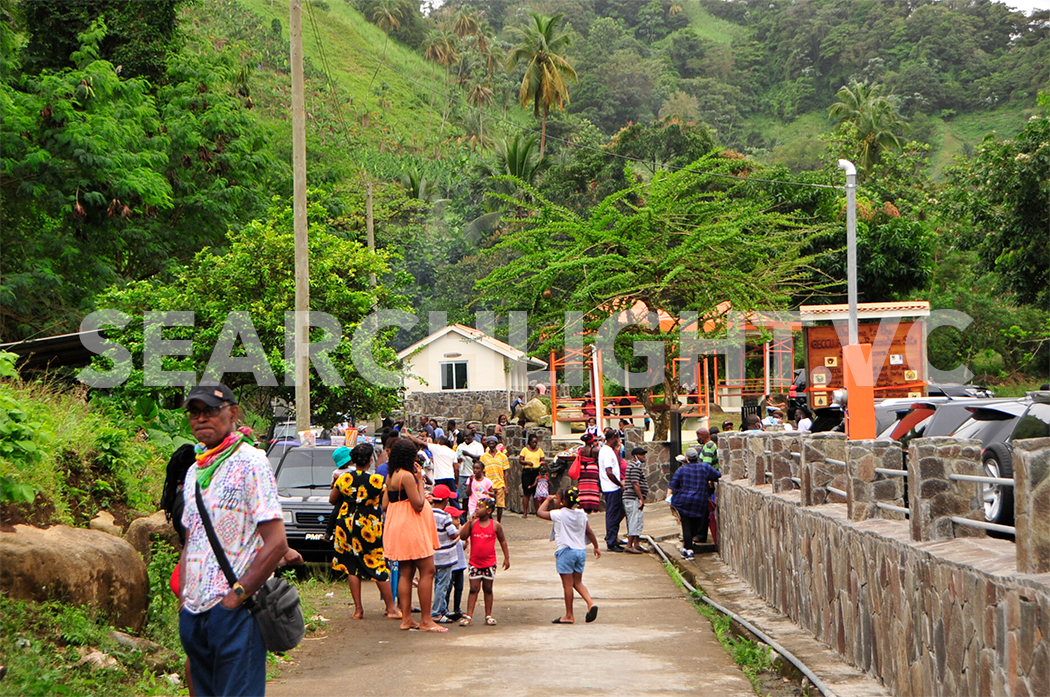 River 14 Recreational Park, 'no ordinary project' says Bowman
FORMER CHIEF Executive Officer (CEO)of the General Employees Co-operative Credit Union (GECCU), Lennox Bowman has said that the recently opened River 14 Recreational Park at South Rivers, "is no ordinary project."
"I could have just come here today and adopt the attitude that this project is simply just another good initiative by GECCU", however Bowman said Vincentians had come to a place where they expect good initiatives and projects from GECCU and, "…This is no ordinary project," He joined with the present CEO, Rohan Stowe in declaring that the South Rivers project "is a big deal."
"This is a big deal 'cause it's not just for GECCU and its members."
Bowman insisted that the River 14 Recreational Park is for all credit union members in St Vincent and the Grenadines and world-wide; "this is what we exist for," he added .
The former CEO said that in July this year, GECCU will be celebrating 58 years "of excellent service to this country."
The credit union now has about $300 million in assets and 46,000 members and operates in six locations, including at South Rivers.
Bowman explained that the credit union's South Rivers branch was acquired on October 1, 2012; it was previously the South Rivers Credit Union.
"When we acquired South Rivers, we made three promises to them."
Bowman said these promises were: to treat every member coming over from South Rivers, as though they were at GECCU from the time they joined South Rivers Credit Union. Another promise was to look into the possibility of building an office in South Rivers. Bowman said the third promise was for GECCU to do something special for the area of South Rivers.
"Today, we are keeping our promises."
Speaking at the opening of the River 14 Recreational Park on Thursday March 10, Bowman said GECCU continues to impact "the social and economic development of this country, in an extremely significant way." He expressed the view that to achieve what GECCU has done over the years, "we must be doing great things, and as a consequence, we have been, and continue to live the co-operative philosophy."
Bowman said further that for the duration of the project GECCU staff and volunteers spent much time advocating and working to see the project come to completion.
GECCU, he said prides itself in community engagement and this is what the organisation is all about.
"We are a people's organisation, people helping people,"he noted.
During the construction phase, Bowman recalled that they engaged the community of South Rivers in many discussions and in turn, "the people of South Rivers came on and they gave us our full support."
He said he was grateful to have been part of the project.
In thanking former Chief Agricultural Officer, Philmore Isaacs for his input, Bowman recalled that they both spent a lot of time working to ensure that the River 14 Recreational Park, which occupies 1.5 acres of land became a reality.
He said it was Isaacs who negotiated with the Governor General's deputy, Dawn Smith for the purchase of the land.
Isaacs, who was the project manager, delivered the vote of thanks at the opening ceremony.
Bowman noted as well that Prime Minister, Dr Ralph Gonsalves who is the Parliamentary Representative for the constituency of North Central Windward which includes South Rivers was kept updated about the progress of the River 14 project.
A lot of liming was previously done at the River 14 site in South Rivers, Bowman said.