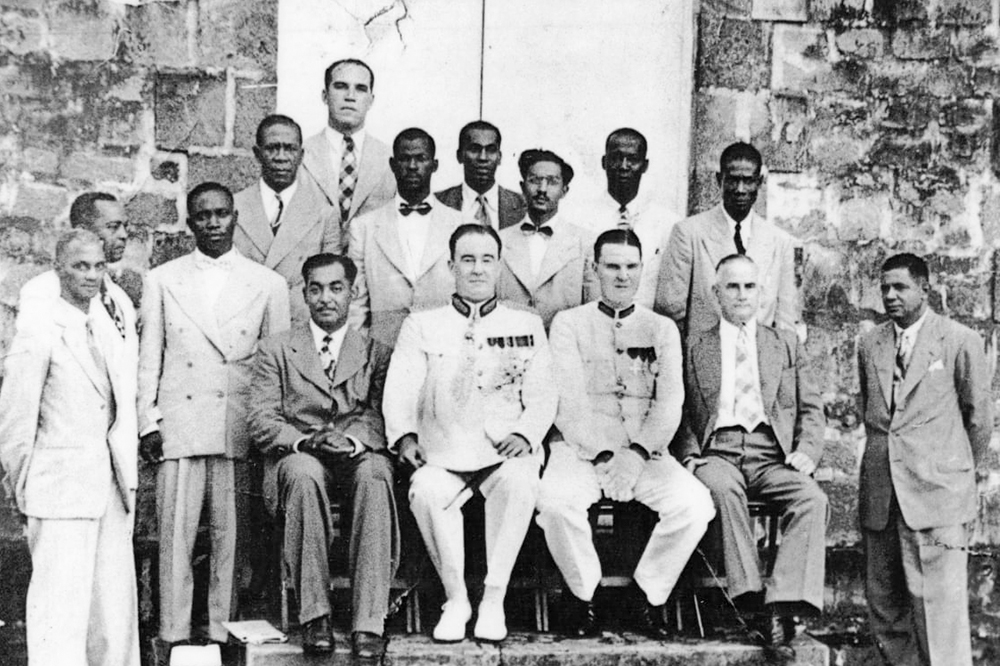 Last member in the Eighth Army of Liberation administration dies in Canada
THE LAST surviving member of the first Legislative Council of St Vincent and the Grenadines (SVG), is being buried today in Canada where he died.
"It is with great sorrow we announce the passing of Evans Berkley Morgan.
Mr. Morgan was born in Richland Park, St. Vincent and the Grenadines and resided in Canada for much of his life," the SVG Association of Toronto Inc, said in a statement about Morgan's death at the age of 95.
Morgan was the last surviving member of the first Legislative Council that was elected after universal adult suffrage in St. Vincent and the Grenadines. In 1951, Morgan and his colleagues, Rudolph E. Baynes, Julian A.
Baynes, George H. Charles, Ebenezer T. Joshua, Samuel E. Slater, Herman F.
Young and Clive L. Tannis contested the first General Elections after voting rights were granted to Vincentians. Their political party was known as the Eighth Army of Liberation (EAL). The party was an amalgamation of The United Workers and the Peasant and Ratepayers Union. Their campaign slogan was "A Better day, A Brighter Day and a More Prosperous Day".
The election was a landslide victory for the eight comrades as all eight of them won their seats with Morgan gaining 85% of the vote. The EAL formed the government. However, in 1953 internal conflicts led to a breakaway faction that then formed the Peoples Political Party. The EAL did not contest any other election. Evans Morgan, 24 years of age at the time, was the youngest of his colleagues to contest the election.
A few years later, Morgan moved to Enlgand to further his studies earning a Master of Science in economics and worked for the Shell Oil company in multiple countries.
He relocated to Canada in 1968 and worked as a Chief Cost Accountant with Northern Telecom before he was recruited by the government of St.Vincent and the Grenadines to be the Deputy Accountant General. However, during his transition to that role there was a change in government. With that change, he resigned his post and went to work for CDC in SVG where he stayed for some time.
Morgan was honoured by the St. Vincent and Grenadines Association of Toronto in 2019 for his political contribution to St. Vincent and the Grenadines as a member of its first Legislative Council after adult suffrage, and for his humanitarian contribution through his church to the people of SVG whenever disasters struck. That same year he was interviewed by Concordia Radio in Canada about his early political life in St. Vincent and the Grenadines. He was 93 years old at the time and had this to say: "We worked very hard to try and bring about a better day for the people of St. Vincent and the Grenadines. One of the changes I am happy that we made was to introduce the West Indian Reader into the school system which replaced the Royal Reader.
This was a big leap in our educational curriculum at the time". As a teacher before becoming a politician, Morgan felt that students "needed something that was more reflective of their own lives".
When asked by Concordia Radio what he did when he was not working, Morgan quickly said, "I play cricket. I played cricket all my life. I played until I was 83 years old". He was one of the founders of the Etobicoke Cricket League; and, when asked what was the secret to his long life, he responded, "don't smoke, don't drink, and play cricket".
Morgan is survived by his wife Erene, and their children, Gail and Mark; his sister, Elize Rodney; brother, Samuel Morgan in SVG; Leroy Morgan in England and many nieces, nephews, cousins and countless other relatives in Canada, England, the United States, Trinidad and St.Vincent and the Grenadines.
The funeral service which begins at 11:00 a.m. on Friday, March 18 will be live streamed at: https:// ipickart.com/stream/Morgan