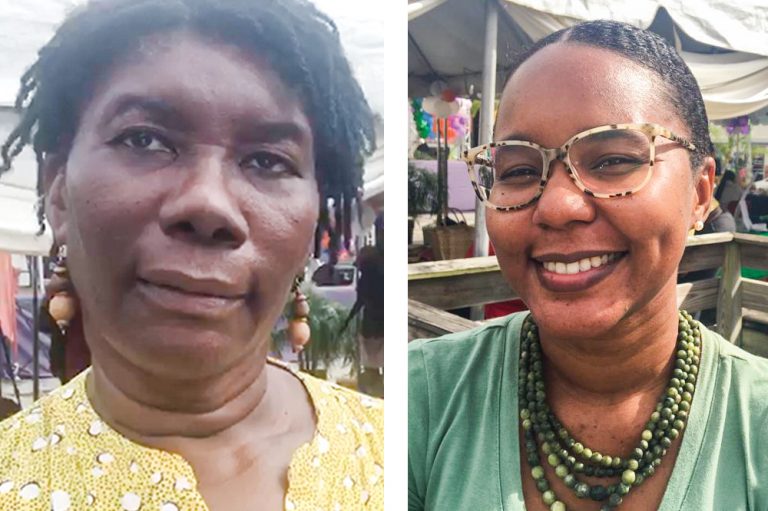 Gender Affairs Division showcases talent of women
Exotically scented candles, neatly handcrafted straw handbags and delicious snacks made by Vincentian female entrepreneurs were among a number of items on display this week in the heart of Kingstown.
The exhibition, which was hosted by the Gender Affairs Division, was held in celebration of International Women's Day on Tuesday, March 8 to celebrate the talented women who excel in the arts, culture and entertainment locally.
Among the handful of women at Tuesday's display was Cherise King, the woman behind Isla Antilles, a brand that has become known for scented candles and cement trays.
"Actually, the idea was my sister's because our mother is in the beauty industry and we thought it would be a nice complimentary product to sell along with beauty treatment and it became a hobby and we decided to make it a business," King told SEARCHLIGHT.
The 27-year-old entrepreneur explained that her business has been in operation for a year and three months and she intends to diversify her offerings soon.
"At the moment, we have about 11 or 12 fragrances. I know that's a lot but we're hoping to cut down so we can introduce new ones at the end of the year. For the Christmas season, we also introduce Christmas fragrances," King said, adding that her 'Coral Reef' scented candle was her favourite so far.
"…I just love it because it's not too sweet, it's not too musky. It's a fresh smell, it's really nice," she said.
All Isla Antilles cement trays are also custom designed and come in an array of colours.
King's products are sold at the Onyx Spa, which is located at the Paradise Beach Hotel in Villa.
Interested persons can also place orders via Instagram (@islaantilles) and Facebook.
Also at Tuesday's exhibition was Merle Gellizeau, the proprietor of Merle's Arts and Crafts.
Gellizeau considers herself a "one stop shop" where customers can cop an array of handcrafted straw and vetiver grass mats, straw and canvas handbags and baskets, coasters and more.
The businesswoman also offers screen printing and tie-dye t-shirts.
"I grew up in it and I feel like when you have a talent, you should pursue your talent and see how far it takes you and this is how far my talent has taken me; over 20 years in business now and a number of clients in different countries and around St Vincent and the Grenadines as well," she said, adding that she enjoys creating one-of-a-kind pieces for her clients.
Gellizeau's products can be bought at several locations including the craft shop in Frenches; Crafter's Cove, a newly opened craft shop in New Montrose at the former Imani Pre-school Building and at her workshop in Campden Park.
Interested persons can also express their interest to purchase via the Instagram and Facebook platforms.