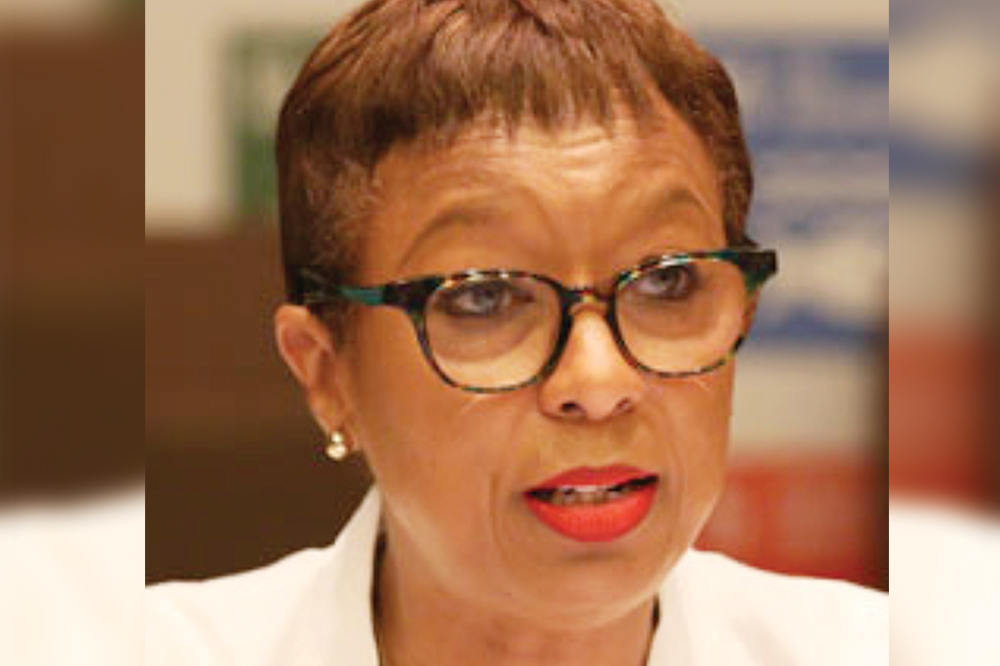 SVG's representative to UN tells Russia 'Stop the war!'
The Russian Federation's invasion of Ukraine is "neither necessary nor desirable" but rather "an affront to the United Nations charter". 
This is the view expressed by Rhonda King, this country's permanent representative to the United Nations (UN) as she delivered a statement at an emergency special session of the UN General Assembly this week. 
This is the 11th time that such a session has been convened in the organisation's 76 years of existence and was held to address the Russia-Ukraine conflict after Russia, as a permanent member on the UN Security Council, used its veto powers last Friday, February 25 to stymie the passage of a resolution that would have called for an immediate halt to its attack on Ukraine and a withdrawal of all troops.
"Given the historical context of the geopolitical situation in the region and Russia's articulation of its legitimate security concerns and perspective on the political situation in the Donbass region, we acknowledge the need for constructive diplomatic efforts that thoroughly address these concerns," King said at the UN General Assembly on Tuesday afternoon. 
She added, that "the 'special military operation', however, cannot reasonably be justified. It only endangers international peace and security and will exacerbate human suffering across the globe. Let us be clear, no member state of our organisation will be immune from the ripple effect of this armed conflict." 
Russia launched a full scale invasion of Ukraine on February 24 and the battle between both states has resulted in hundreds of deaths, thousands being injured and in almost one million refugees, according to international news reports. 
The invasion has left the world's population pondering whether this would incite a greater war between states.
St Vincent and the Grenadines' ambassador underscored the importance of a country's sovereignty and territorial integrity, among other principles in her statement and called for a peaceful resolution to the Russia-Ukraine conflict. 
King expressed SVG's devotion to the purposes and principles of the UN Charter, which prohibit the threat or use of force against territorial integrity or political independence of any state, as well as non-interference in the internal affairs of states and the right to self-determination.
King said on Tuesday that her country's existence as a sovereign and independent, small nation state is owed to these "international sacrosanct norms and non-negotiable, timeless principles".
"Saint Vincent and the Grenadines is a stout champion of the purposes and principles of the United Nations Charter and their primacy in our multilateral 5 system. We must, and I repeat, we must give peace a real chance to succeed. We must stop this war and return to diplomacy," she said.
In her statement, which has since been described by the UK ambassador to the UN, Dame Barbara Woodward as "very moving", King said "we firmly believe that the nobility of peace is far preferable than an ignoble military adventure. History has taught us that peace is a great cause and great causes have never been won by doubtful men or women". 
"While we are encouraged by the recent meeting that was held on the Belarusian border between both sides, we must put on record that the use of nuclear weapons is inconceivable and wholly unacceptable— we counsel against the mere suggestion by anyone. We counsel further that space for continued dialogue must remain open," she said. 
Many other UN member countries echoed similar sentiments during the special emergency session of the UN General Assembly, which began on Monday. 
SVG was among 141 UN member states that voted in favour of a resolution on Wednesday afternoon that deplores Russia's aggression against Ukraine and demands its withdrawal of troops from the country and an end to the fighting. 
Five states including Russia, Belarus, the Democratic People's Republic of Korea, Eritrea and the Syrian Arab Republic voted against the resolution, while 35 countries abstained from casting a vote.